Filter
22 offers
for your holiday in England
Surfer Suite
roadsurfer 4/5106 km from England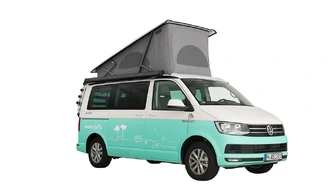 +10
4 adults
Automatic
Diesel
Kitchen
Unlimited kilometres
2 beds
AC
Pets allowed
€2,025.00
 / 
€144.64

 per night
Bunk Campers Nomad
Bunk Campers 3/5109 km from England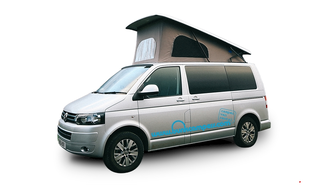 +8
2 adults
Manual
Diesel
Kitchen
Unlimited miles
2 beds
AC
€2,263.00
 / 
€161.64

 per night
Comfort Standard
McRent 4.5/5109 km from England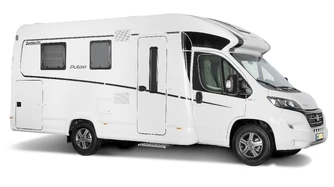 +8
2 adults
Manual
Diesel
Kitchen
Unlimited kilometres
1 beds
AC
Shower/WC
€2,354.00
 / 
€168.14

 per night
Family Standard
McRent 4.5/5109 km from England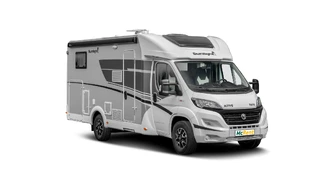 +11
4 adults
Manual
Diesel
Kitchen
Unlimited kilometres
3 beds
AC
Shower/WC
€2,551.00
 / 
€182.21

 per night
Family Plus
McRent 4.5/5109 km from England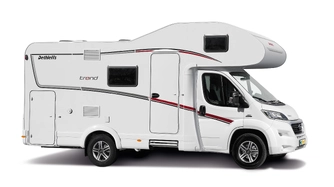 +12
3 adults/2 children
Manual
Diesel
Kitchen
Unlimited kilometres
4 beds
AC
Shower/WC
€2,560.00
 / 
€182.86

 per night
Bunk Campers Aero
Bunk Campers 3/5109 km from England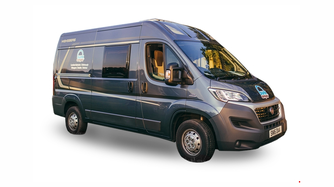 +9
2 adults
Manual
Diesel
Kitchen
Unlimited miles
1 beds
AC
Shower/WC
Pets allowed
€2,589.00
 / 
€184.93

 per night
Bunk Campers Aero Plus
Bunk Campers 3/5109 km from England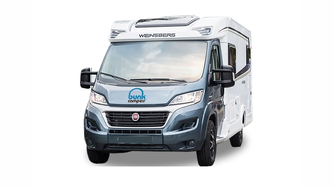 +8
2 adults
Manual
Diesel
Kitchen
Unlimited miles
2 beds
AC
Shower/WC
Pets allowed
€2,710.00
 / 
€193.57

 per night
Duo
Apollo 4.5/5109 km from England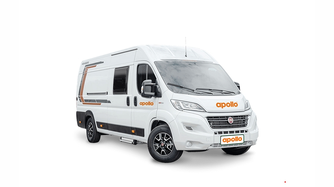 +8
2 adults
Manual
Diesel
Kitchen
Unlimited miles
1 beds
AC
Shower/WC
€2,747.00
 / 
€196.21

 per night
Comfort Luxury
McRent 4.5/5109 km from England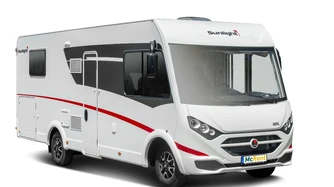 +9
4 adults
Manual
Diesel
Kitchen
Unlimited kilometres
2 beds
AC
Shower/WC
€2,848.00
 / 
€203.43

 per night
Duo Plus
Apollo 4.5/5109 km from England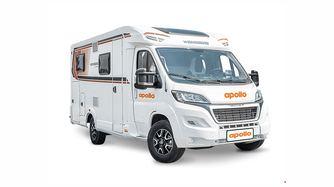 +9
2 adults
Manual
Diesel
Kitchen
Unlimited miles
1 beds
AC
Shower/WC
€2,869.00
 / 
€204.93

 per night
Bunk Campers Europa
Bunk Campers 3/5109 km from England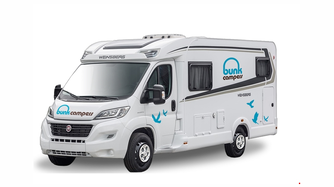 +12
4 adults
Manual
Diesel
Kitchen
Unlimited miles
2 beds
AC
Shower/WC
Pets allowed
€2,915.00
 / 
€208.21

 per night
Family Luxury
McRent 4.5/5109 km from England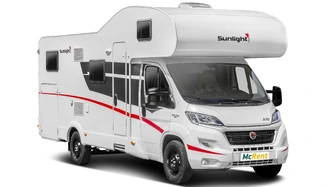 +9
3 adults/2 children
Manual
Diesel
Kitchen
Unlimited kilometres
3 beds
AC
Shower/WC
€2,941.00
 / 
€210.07

 per night
Voyager 4 Berth
Just go 4/563 km from England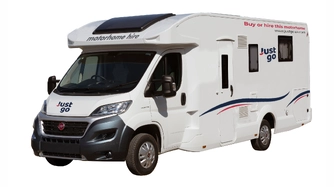 +11
2 adults/2 children
Automatic
Diesel
Kitchen
Unlimited miles
2 beds
AC
Shower/WC
Pets allowed
€2,948.00
 / 
€210.57

 per night
Pathfinder 4 Berth
Just go 4/563 km from England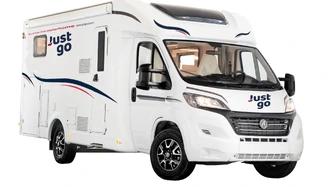 +9
4 adults
Automatic
Diesel
Kitchen
Unlimited miles
3 beds
AC
Shower/WC
Pets allowed
€2,948.00
 / 
€210.57

 per night
Wanderer 4 Berth
Just go 4/563 km from England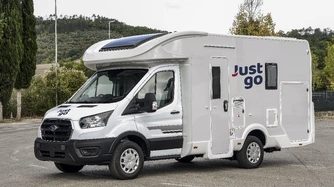 +1
4 adults
Automatic
Diesel
Kitchen
Unlimited miles
2 beds
AC
Shower/WC
Pets allowed
€2,948.00
 / 
€210.57

 per night
Challenger 4 Berth
Just go 4/563 km from England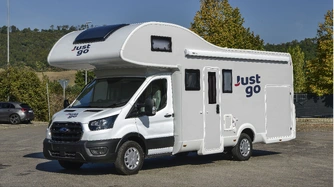 +1
4 adults
Automatic
Diesel
Kitchen
Unlimited miles
2 beds
AC
Shower/WC
Pets allowed
€2,948.00
 / 
€210.57

 per night
Traveller Plus
Apollo 4.5/5109 km from England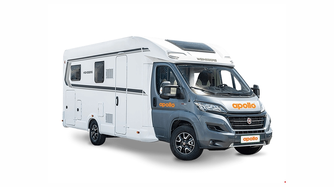 +12
4 adults
Manual
Diesel
Kitchen
Unlimited miles
2 beds
AC
Shower/WC
€3,065.00
 / 
€218.93

 per night
Navigator 5 Berth
Just go 4/563 km from England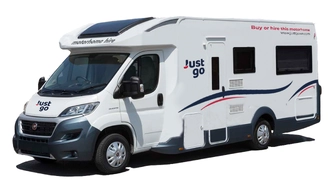 +9
5 adults
Automatic
Diesel
Kitchen
Unlimited miles
2 beds
AC
Shower/WC
Pets allowed
€3,107.00
 / 
€221.93

 per night
Trekker 5 Berth
Just go 4/563 km from England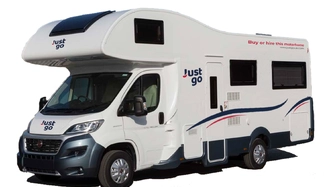 +15
5 adults
Automatic
Diesel
Kitchen
Unlimited miles
3 beds
AC
Shower/WC
Pets allowed
€3,107.00
 / 
€221.93

 per night
Adventurer 6 Berth
Just go 4/563 km from England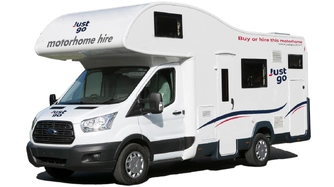 +9
4 adults/2 children
Automatic
Diesel
Kitchen
Unlimited miles
4 beds
AC
Shower/WC
Pets allowed
€3,250.00
 / 
€232.14

 per night
Bunk Campers Grande
Bunk Campers 3/5109 km from England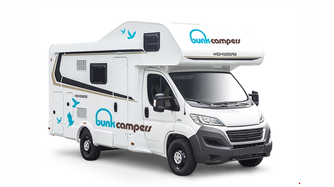 +8
6 adults
Manual
Diesel
Kitchen
Unlimited miles
4 beds
AC
Shower/WC
Pets allowed
€3,478.00
 / 
€248.43

 per night
Voyager
Apollo 4.5/5109 km from England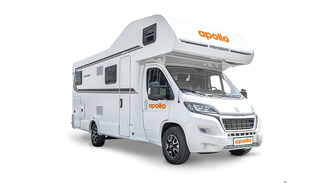 +12
6 adults
Manual
Diesel
Kitchen
Unlimited miles
4 beds
AC
Shower/WC
€3,633.00
 / 
€259.50

 per night
Destinations and rental stations in the United Kingdom
By Region
By City
A unique holiday experience
Motorhome rental in England
How does the site work?
Booking your RV rental in England is straightforward with CamperDays. Enter your preferred pick-up point and vacation dates to see a selection of available camper rentals in England with pictures and details. Click one of these or refine your search further by filtering for price, vehicle size and type, standard equipment, and rental company. Fine-tune your camper in England by selecting insurance and mileage packages, and add extras such as GPS and child seats. When you're happy with the camper rental you've selected, enter your personal and billing details and make a payment via the secure portal to request your booking.
Simply enter your dates and location to begin your search.

Request or book the campervan you want to rent for a great price.

Complete your booking and your unforgettable adventure can begin!
Why is it worth booking a campervan in England early?
With an impressive network of toll-free motorways and meandering country roads, exploring in an RV rental in England makes for a delightful vacation. From the flat coastlines of the east to the rugged charms of Cornwall and Yorkshire, England's coastline is beautifully varied while inland you'll find national parks, forests, and peaks dotted with vibrant towns and charming villages. This is a relatively small country so with a campervan hired in England, you can cover much of it during a two to three-week road trip. A road trip that brings freedom to do as you wish when you wish and the delights of waking up somewhere different every day. The peak season for campervan rentals in England is May to August. If this is when you want to have your vacation, CamperDays recommends booking several months in advance. By being an early bird, you'll get the best price possible as well as your pick of campers to rent in England. It's not a problem if your vacation dates have to change. Every booking comes with no extra charges for date alterations along with a fair and transparent cancellation policy. You also have the support and advice of the CamperDays customer service team. A team member can answer any questions you have and even help you plan your road trip route. If you think a campervan in England seems expensive compare it to the cost of hotel rooms, car rental, and eating out in restaurants. You'll soon discover that it is a very budget-friendly way of taking a vacation.
FAQs
The main driver should always have their credit card when collecting a campervan. It is needed for a security and damages deposit.

The legal minimum age for driving a campervan in the UK is 21 but most rental companies prefer the main driver to be at least 25. There is usually a surcharge for younger drivers.

Generally, a full and valid driving license issued in your country of residence is sufficient. You should have had the license for at least a year.

There are no border restrictions in the United Kingdom so you can drive freely between England, Scotland, and Wales. Just inform your rental company if you intend on taking the ferry to Northern Ireland.

As long as you are not causing an obstruction and are following local notices, you can park anywhere for short stays in England, even in national parks. There are, however, numerous campsites to suit all budgets in all areas of the country.

Campervans are ideal for family vacations with the home comforts and freedom they offer. If traveling with babies or young children, just make sure you have appropriate child seats. Most rental companies have pet-friendly campervans.
Most booked companies camper hire in England
CamperDays has formed partnerships with several camper rental companies in England. These all offer a 100% professional service. Your campervan is guaranteed to be well-designed for comfort as well as being well-equipped, safe, and fun to drive.
iNDiE campers
iNDiE has collection depots in London and Manchester. These offer flexible pick-up, giving you a flexible start to your road trip whether you're setting off from near London or further north. Prepaid transfers from nearby airports can be arranged and standard insurance is included with your booking. iNDiE has mainly compact campervans sleeping two to four people.
McRent
McRent is a popular campervan rental company with a fleet of two to six-berth vehicles. All bookings come with unlimited mileage and standard insurance. Paid transfers to its pick-up depots in Manchester, Blackpool, Rye in Sussex, and near London can be prebooked. Standard insurance, unlimited mileage, and an awning are included with every booking.
Just go
Just go campers can be collected from its London depot. Just go campervans range from two to six-berth models, most of which are only a year or two old. Basic insurance and unlimited mileage are standard with every booking.
Apollo
Pick up a compact two-berth campervan or larger four and six-berth models from Apollo's London depot. Standard insurance, unlimited mileage, and a bicycle rack are included.
Bunk Campers
Pick up your two to six-berth campervan from the Bunk Campers depot in London. Standard insurance, unlimited mileage, and GPS are included with your booking.
More than 700 locations worldwide
Worldwide campervan rental
Compare the prices for different campervans, locations, and dates in our price comparison tool and find the most affordable option for your trip.
We will help you find the perfect campervan for your trip

Our partners are available across the globe at more than 700 locations

We guarantee clear pricing and 100% transparency