Filter
48 Offers
for your holiday in Auckland
Jucy Cabana
Jucy 3/54 km from Auckland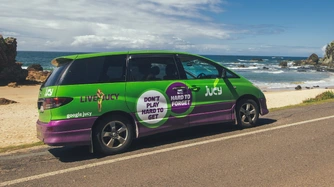 +10
2 adults
Automatic
Petrol
Kitchen
Unlimited kilometres
1 beds
AC
€380.00
 / 
per night 

€27.14
Chubby Camper
Travellers Autobarn 3/54 km from Auckland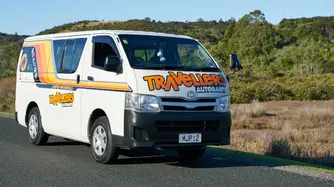 +12
2 adults
Automatic
Petrol
Kitchen
Unlimited kilometres
1 beds
AC
€438.00
 / 
per night 

€31.29
Beta
Spaceships 3/59 km from Auckland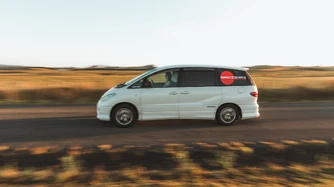 +13
2 adults
Automatic
Petrol
Kitchen
Unlimited kilometres
1 beds
AC
Pets allowed
€439.00
 / 
per night 

€31.36
Beta 2S
Spaceships 3/59 km from Auckland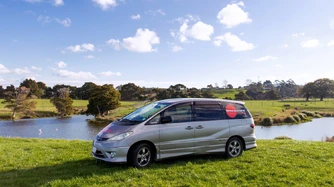 +11
2 adults
Automatic
Petrol
Kitchen
Unlimited kilometres
1 beds
AC
Pets allowed
€465.00
 / 
per night 

€33.21
Dream Sleeper Mini
Spaceships 3/59 km from Auckland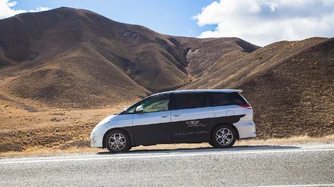 +9
2 adults
Automatic
Petrol
Kitchen
Unlimited kilometres
1 beds
AC
€483.00
 / 
per night 

€34.50
Dream Sleeper Mini Stealth
Spaceships 3/59 km from Auckland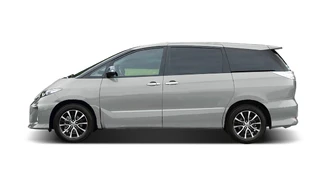 +7
2 adults
Automatic
Petrol
Kitchen
Unlimited kilometres
1 beds
AC
€510.00
 / 
per night 

€36.43
Kuga Camper
Travellers Autobarn 3/54 km from Auckland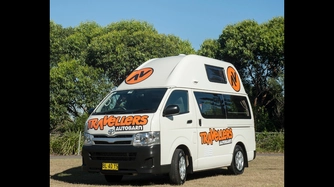 +19
2 adults/1 children
Automatic
Petrol
Kitchen
Unlimited kilometres
2 beds
AC
€667.00
 / 
per night 

€47.64
Jucy Condo
Jucy 3/54 km from Auckland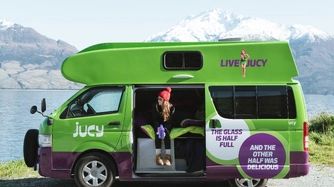 +12
4 adults
Automatic
Kitchen
Unlimited kilometres
2 beds
AC
€752.00
 / 
per night 

€53.71
HI5 Camper
Travellers Autobarn 3/54 km from Auckland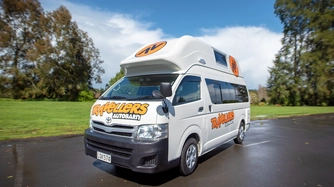 +23
2 adults/3 children
Automatic
Petrol
Kitchen
Unlimited kilometres
2 beds
AC
€790.00
 / 
per night 

€56.43
JUCY Chaser
Jucy 3/54 km from Auckland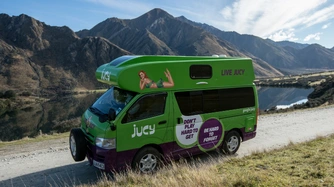 +11
3 adults
Automatic
Petrol
Kitchen
Unlimited kilometres
2 beds
AC
Shower/WC
€916.00
 / 
per night 

€65.43
Cheapa Endeavour
Cheapa Campa 2.5/52 km from Auckland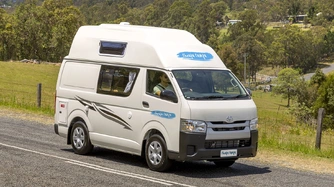 +12
2 adults/2 children
Automatic
Kitchen
Unlimited kilometres
2 beds
AC
Pets allowed
€1,460.00
 / 
per night 

€104.29
Cheapa Hitop
Cheapa Campa 2.5/52 km from Auckland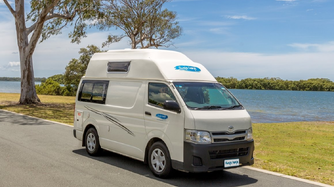 +10
2 adults
Automatic
Kitchen
Unlimited kilometres
1 beds
AC
Pets allowed
€1,460.00
 / 
per night 

€104.29
Compact Plus
McRent 4.5/534 km from Auckland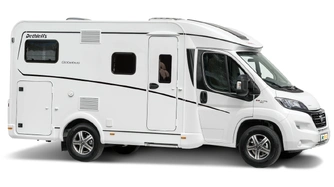 +7
2 adults
Manual
Diesel
Kitchen
Unlimited kilometres
2 beds
AC
Shower/WC
€1,547.00
 / 
per night 

€110.50
Cheapa 2 Berth
Cheapa Campa 2.5/52 km from Auckland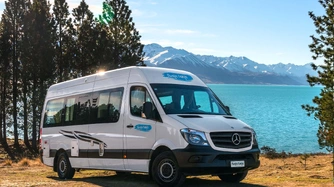 +10
2 adults
Automatic
Diesel
Kitchen
Unlimited kilometres
1 beds
AC
Shower/WC
Pets allowed
€1,567.00
 / 
per night 

€111.93
Family Standard
McRent 4.5/534 km from Auckland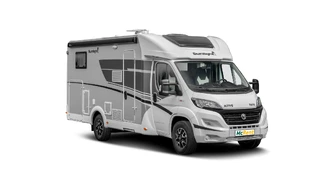 +11
4 adults
Manual
Diesel
Kitchen
Unlimited kilometres
3 beds
AC
Shower/WC
€1,642.00
 / 
per night 

€117.29
Comfort Standard
McRent 4.5/534 km from Auckland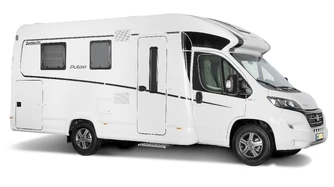 +8
2 adults
Manual
Diesel
Kitchen
Unlimited kilometres
1 beds
AC
Shower/WC
€1,663.00
 / 
per night 

€118.79
Family Plus
McRent 4.5/534 km from Auckland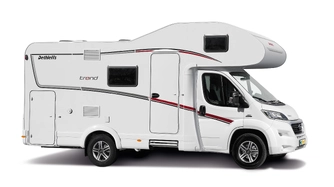 +12
3 adults/2 children
Manual
Diesel
Kitchen
Unlimited kilometres
4 beds
AC
Shower/WC
€1,702.00
 / 
per night 

€121.57
Polaris 4
STAR 4/54 km from Auckland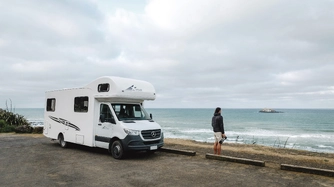 +8
4 adults
Automatic
Diesel
Kitchen
Unlimited kilometres
2 beds
AC
Shower/WC
€1,716.00
 / 
per night 

€122.57
Polaris 6
STAR 4/54 km from Auckland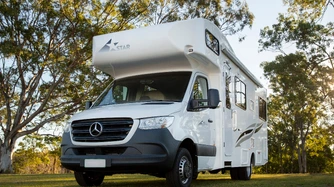 +8
4 adults/2 children
Automatic
Diesel
Kitchen
Unlimited kilometres
3 beds
AC
Shower/WC
Pets allowed
€1,724.00
 / 
per night 

€123.14
Apollo Euro Tourer
Apollo 3.5/52 km from Auckland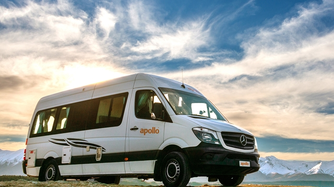 +13
2 adults
Automatic
Diesel
Kitchen
Unlimited kilometres
1 beds
AC
Shower/WC
Pets allowed
€1,769.00
 / 
per night 

€126.36
Britz HiTop
Britz 4/52 km from Auckland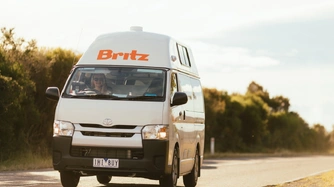 +12
2 adults
Automatic
Kitchen
Unlimited kilometres
1 beds
AC
€1,772.00
 / 
per night 

€126.57
Comfort Luxury
McRent 4.5/534 km from Auckland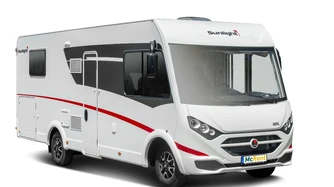 +9
4 adults
Manual
Diesel
Kitchen
Unlimited kilometres
2 beds
AC
Shower/WC
€1,789.00
 / 
per night 

€127.79
Mighty Highball
Mighty 3/52 km from Auckland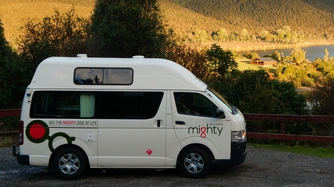 +9
2 adults
Automatic
Kitchen
Unlimited kilometres
AC
€1,853.00
 / 
per night 

€132.36
Britz Voyager
Britz 4/52 km from Auckland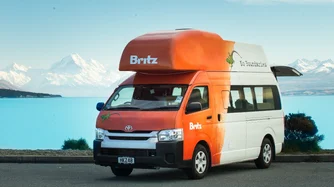 +10
4 adults
Automatic
Kitchen
Unlimited kilometres
2 beds
AC
€1,874.00
 / 
per night 

€133.86
Mighty Double Down
Mighty 3/52 km from Auckland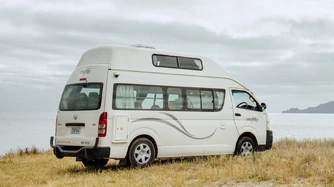 +9
4 adults
Automatic
Kitchen
Unlimited kilometres
AC
€1,966.00
 / 
per night 

€140.43
Hippie Endeavour
Hippie 2/52 km from Auckland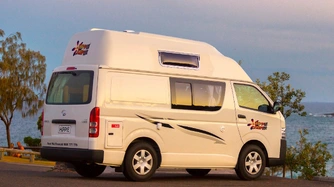 +12
2 adults/2 children
Petrol
Kitchen
Unlimited kilometres
2 beds
AC
Pets allowed
€1,974.00
 / 
per night 

€141.00
Hippie Hitop Camper
Hippie 2/52 km from Auckland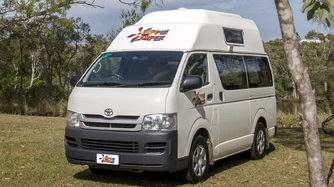 +10
2 adults
Petrol
Kitchen
Unlimited kilometres
1 beds
AC
Pets allowed
€2,018.00
 / 
per night 

€144.14
Apollo Euro Camper
Apollo 3.5/52 km from Auckland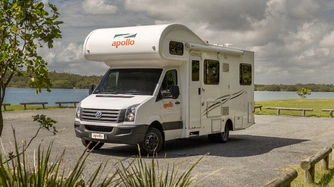 +10
4 adults
Automatic
Diesel
Kitchen
Unlimited kilometres
2 beds
AC
Shower/WC
Pets allowed
€2,274.00
 / 
per night 

€162.43
Britz Venturer
Britz 4/52 km from Auckland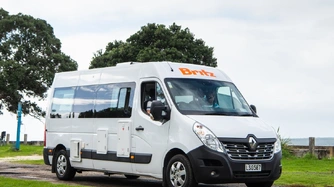 +9
2 adults
Automatic
Diesel
Kitchen
Unlimited kilometres
1 beds
AC
Shower/WC
€2,343.00
 / 
per night 

€167.36
Apollo Euro Deluxe
Apollo 3.5/52 km from Auckland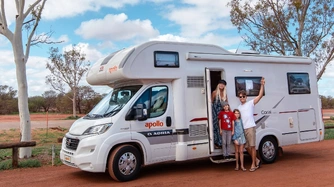 +14
6 adults
Automatic
Diesel
Kitchen
Unlimited kilometres
3 beds
AC
Shower/WC
Pets allowed
€2,390.00
 / 
per night 

€170.71
Britz Venturer Plus
Britz 4/52 km from Auckland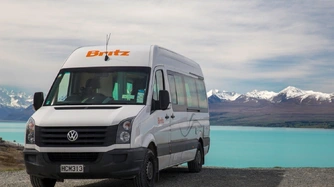 +10
2 adults/1 children
Automatic
Diesel
Kitchen
Unlimited kilometres
2 beds
AC
Shower/WC
€2,425.00
 / 
per night 

€173.21
Mighty Deuce
Mighty 3/52 km from Auckland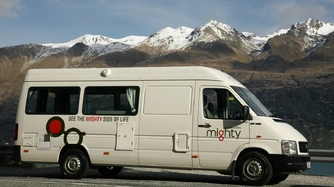 +10
2 adults
Automatic
Diesel
Kitchen
Unlimited kilometres
AC
Shower/WC
€2,446.00
 / 
per night 

€174.71
Mighty Deuce Plus
Mighty 3/52 km from Auckland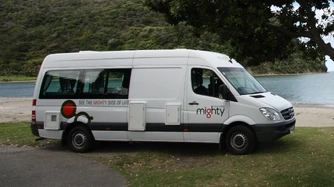 +9
2 adults/1 children
Automatic
Diesel
Kitchen
Unlimited kilometres
AC
Shower/WC
€2,537.00
 / 
per night 

€181.21
Maui Ultima
Maui 4.5/52 km from Auckland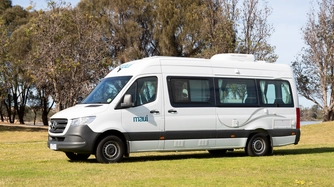 +8
2 adults
Automatic
Diesel
Kitchen
Unlimited kilometres
1 beds
AC
Shower/WC
€2,725.00
 / 
per night 

€194.64
Britz Discovery
Britz 4/52 km from Auckland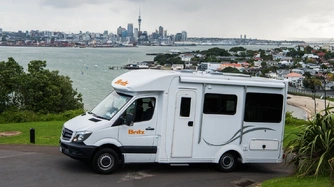 +10
4 adults
Automatic
Diesel
Kitchen
Unlimited kilometres
2 beds
AC
Shower/WC
€2,800.00
 / 
per night 

€200.00
Britz Explorer
Britz 4/52 km from Auckland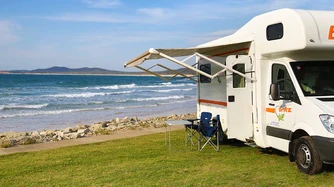 +10
4 adults
Automatic
Diesel
Kitchen
Unlimited kilometres
2 beds
AC
Shower/WC
€2,800.00
 / 
per night 

€200.00
Maui Ultima Plus
Maui 4.5/52 km from Auckland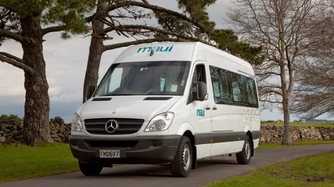 +11
2 adults/1 children
Automatic
Diesel
Kitchen
Unlimited kilometres
2 beds
AC
Shower/WC
€2,808.00
 / 
per night 

€200.57
Britz Frontier
Britz 4/52 km from Auckland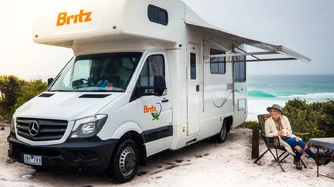 +10
6 adults
Automatic
Diesel
Kitchen
Unlimited kilometres
3 beds
AC
Shower/WC
€2,898.00
 / 
per night 

€207.00
Mighty Double Up
Mighty 3/52 km from Auckland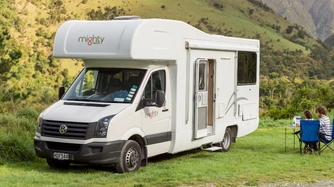 +10
4 adults
Automatic
Diesel
Kitchen
Unlimited kilometres
AC
Shower/WC
€2,927.00
 / 
per night 

€209.07
Mighty Big Six
Mighty 3/52 km from Auckland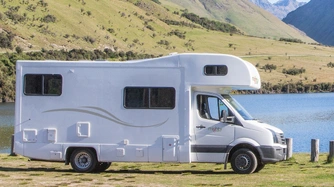 +11
4 adults/2 children
Automatic
Diesel
Kitchen
Unlimited kilometres
AC
Shower/WC
€3,025.00
 / 
per night 

€216.07
Maui Ultima Elite
Maui 5/52 km from Auckland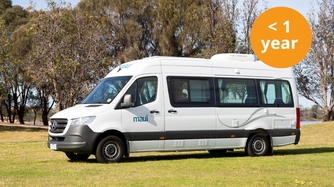 +8
2 adults
Automatic
Diesel
Kitchen
Unlimited kilometres
1 beds
AC
Shower/WC
€3,071.00
 / 
per night 

€219.36
Maui Cascade
Maui 4.5/52 km from Auckland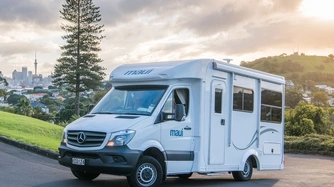 +11
4 adults
Automatic
Diesel
Kitchen
Unlimited kilometres
2 beds
AC
Shower/WC
€3,124.00
 / 
per night 

€223.14
Maui Ultima Plus Elite
Maui 5/52 km from Auckland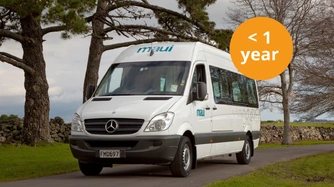 +11
2 adults/1 children
Automatic
Diesel
Kitchen
Unlimited kilometres
2 beds
AC
Shower/WC
€3,154.00
 / 
per night 

€225.29
Maui Beach
Maui 4.5/52 km from Auckland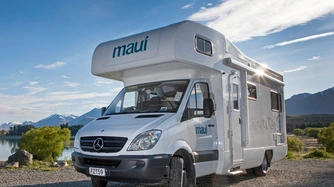 +10
4 adults
Automatic
Diesel
Kitchen
Unlimited kilometres
2 beds
AC
Shower/WC
€3,222.00
 / 
per night 

€230.14
Maui River
Maui 4.5/52 km from Auckland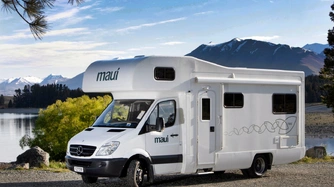 +9
6 adults
Automatic
Diesel
Kitchen
Unlimited kilometres
3 beds
AC
Shower/WC
€3,320.00
 / 
per night 

€237.14
Maui Cascade Elite
Maui 5/52 km from Auckland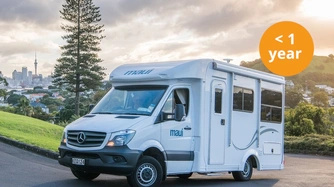 +11
4 adults
Automatic
Diesel
Kitchen
Unlimited kilometres
2 beds
AC
Shower/WC
€3,470.00
 / 
per night 

€247.86
Maui Beach Elite
Maui 5/52 km from Auckland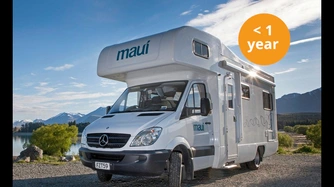 +10
4 adults
Automatic
Diesel
Kitchen
Unlimited kilometres
2 beds
AC
Shower/WC
€3,568.00
 / 
per night 

€254.86
Maui River Elite
Maui 5/52 km from Auckland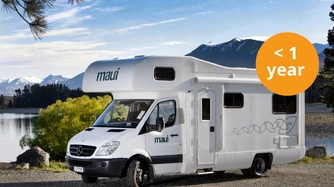 +9
6 adults
Automatic
Diesel
Kitchen
Unlimited kilometres
3 beds
AC
Shower/WC
€3,665.00
 / 
per night 

€261.79
Destinations and rental stations in New Zealand
A unique holiday experience
Motorhome rental in Auckland
How does the site work?
If you're planning on taking a vacation in an RV rental from Auckland, CamperDays makes booking one quick and easy. Start by entering your vacation dates and a page opens with pictures and details of available campervans. Click on one of these or refine your search even further by using the filters in the left-hand column. You can filter for price, vehicle type, vehicle size, standard equipment, and rental company. Click on 'configure' to view your chosen campervan in Auckland and add any extras you want. These include insurance and mileage packages, GPS, tolling devices, bicycle racks, child seats, awnings, and picnic tables and chairs. To complete booking your camper in Auckland, enter your personal and billing details before making a payment using the CamperDays secure portal. Your camper rental in Auckland is now requested for you and will be ready to drive away when you arrive. All you have to do in the meantime is plan your vacation route.
Simply enter your dates and location to begin your search.

Request or book the campervan you want to rent for a great price.

Complete your booking and your unforgettable adventure can begin!
Why is it worth booking an RV rental in Auckland early?
Picking up a campervan in Auckland is the ideal starting point for exploring both New Zealand's North and South Islands. New Zealand has an excellent network of roads and wherever you travel, stunning vistas open up before you. With a camper rented in Auckland, you can see so much more of the country than if you just stayed in one city. You have the freedom of the road and the thrill of waking up to a new vista every morning. You can enjoy traveling in a campervan rental from Auckland all year round but the greatest demand for vehicles is between October and February. To be sure of getting the best deals and the dream campervan you want, CamperDays recommends booking several months in advance. If you're still not convinced a campervan vacation is for you, have a chat with someone on the CamperDays customer service team. They can answer your questions and, with their local knowledge, help you plan a vacation route. All bookings come with a transparent cancellation policy and no additional charges should you have to change your vacation dates. Hiring a camper in Auckland may seem expensive at first glance. It really isn't when compared to the total cost of hotel rooms, car rental, and dining out.
FAQ
As long as it is written in English, all you need is a full driving license issued in your country of residence.

Yes. The main driver's credit card is always required for a security and damages deposit.

The minimum age for driving a campervan in New Zealand is 21. Many rental companies prefer drivers to be at least 25 and may add a surcharge for younger drivers.

Most roads in New Zealand are excellent but there may be some that aren't suitable for larger campervans. Your rental company can give advice on these.

With the freedom of the road and no timetables, a vacation in a camper is perfect for babies and young children. Just make sure to rent appropriate child seats.

Most rental companies have a few dog-friendly campervans. Always enquire when booking and be sure to read the terms and conditions carefully.
Most booked companies for camper rentals in Auckland
CamperDays has formed partnerships with several rental companies in Auckland. These all operate in a 100% professional manner. This guarantees that every vehicle in their fleets is safe, modern, well-equipped, and carefully designed to be both comfortable to live in and fun to drive. All rental partners in Auckland include standard insurance and unlimited mileage as part of your booking.
Britz
The Britz pick-up depot is adjacent to Auckland Airport ensuring a smooth start to your vacation. GPS is included as standard when you rent one of its two to six-berth campervans.
Mighty Campers
The Mighty Campers depot is close to the terminals at Auckland Airport making it easy to pick up your vehicle. Choose from compact two-berth models, perfectly designed for couples to large campervans that comfortably sleep a family of six or a group of friends.
Jucy Rentals
Jucy Rentals campervans are bright green so you definitely won't mislay them on campsites. Its pick-up point is just a five-minute drive from the airport. The Jucy Rentals fleet contains two to four-berth campers.
Hippie
Hippe two to six-berth campervans are competitively priced, ideal if you're heading off for some summer music festivals. Its pick-up depot is less than five minutes from Auckland Airport.
Cheapa Campa
Cheapa Campa campervans are affordably priced and dogs are allowed in all of its vehicles. Select from two to six-berth campers which can be collected from its depot close to Auckland Airport.
Categories of campervans in Auckland
Small RV
2 - 4 people
Fuel consumption: 10 - 20 l / 100 km
For people who don't need much space
Pros: mobile, compact, low rental price
Luxury RV
3 - 7 people
Fuel consumption: ca. 25 l / 100 km
For people who like high comfort
Pros: spacious, high comfort, exclusive equipment
Large motorhomes
3 - 7 people
Fuel consumption: ca. 25 - 35 l / 100 km
For experienced drivers
Pros: comfortable, spacious
4WD campers
2 - 4 people
Fuel consumption: ca. 16 l / 100 km
For people who love exploring the landscape
Pros: powerful engine, all-terrain
Truck campervan
2 - 5 people
Fuel consumption: ca. 30 l / 100 km
For intermediate drivers
Pros: all-terrain, comfortable, mobile, powerful engine
Panel truck
Travellers who opt for a small campervan for 2 will find the features they search for in a panel truck. Their compact size will allow you to find a parking space in any city in next to no time. These vehicles are very economical thanks to the low fuel consumption.
Alcove
Alcove campervans are the quintessence of comfort as they come in varieties that can accommodate up to 7 people. The characteristic alcove on top of the vehicle comes in handy during the day and can be used as an additional storage space. Alcove campervans are ideal for both urban and country roads.
Semi-integrated
As the name suggests, semi-integrated campervans have the living space partially integrated with the driver's cab. These campervans offer plenty of space inside and will be ideal for family trips. Despite their larger size, they are still very low-maintenance.
More than 300 locations worldwide
Worldwide campervan rental
Experience an Alaskan winter, explore the Australian Outback or embark on a road trip through Europe – renting a campervan is the best way to travel any part of the world! Discover the ideal starting point for your holiday at our international locations. At CamperDays you can rent a campervan from the USA, Canada, Australia, New Zealand, Namibia, Botswana and many other destinations.
Internationally, we work with many well-established providers who rent out campervans/motorhomes: from Cruise America and Road Bear RV, who are well-known U.S. rental companies, to Jucy, whose core business is Australia and New Zealand, and Apollo, which is a global company with lots of locations in Europe, Australia and New Zealand.
Discover gorgeous cities, sunny Mediterranean beaches, deep green forests, and endless mountain ranges across Europe. With an RV, you are the master of your own destiny. Whether you want to visit multiple countries or linger around in one area for a longer period, having an RV at your disposal gives you plenty of choices.
Compare the prices for different motorhomes, locations, and dates in our price comparison tool and find the most affordable option for your trip.
United Kingdom | France | Germany | Italy | Norway | Portugal
One of the best ways to explore the beautiful countryside and cities of the USA and Canada is a good old-fashioned road trip. There is an abundance of different routes to take and tourist attractions to see. From Route 66, the most iconic road trip in the USA, to the breath-taking national parks, every adventurer will find something to their liking. Experience the scenic landscapes of North America with an RV and discover its diverse regions on a camper trip of a lifetime.
USA
Las Vegas | Los Angeles | Denver | Houston | Phoenix | Salt Lake City | Anchorage | Miami | Orlando
Canada
We will help you find the perfect campervan for your trip

Our partners are available across the globe at more than 700 locations

We guarantee clear pricing and 100% transparency