39 offers
for your holiday in Auckland
Chubby Camper
Travellers Autobarn4.4(5 Reviews)4 km from Auckland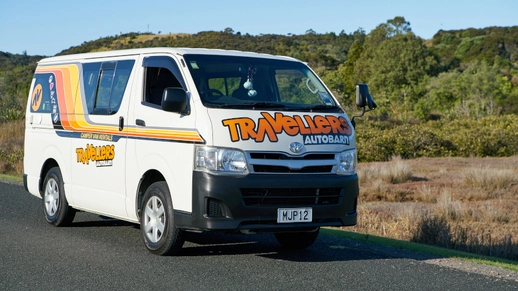 +11
2 adults
Automatic
Petrol
Kitchen
Unlimited kilometres
1 beds
AC
€1,558.00
 / 
€111.29

 per night
Beta 2S
Spaceships4(5 Reviews)9 km from Auckland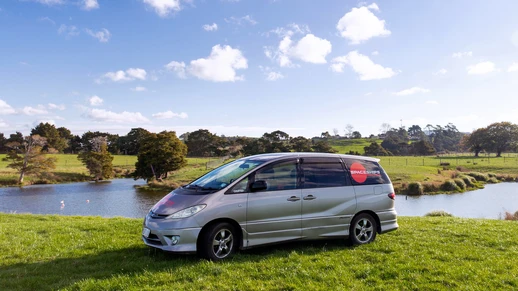 +10
2 adults
Automatic
Petrol
Kitchen
Unlimited kilometres
1 beds
AC
Pets allowed
€1,628.00
 / 
€116.29

 per night
Dream Sleeper Mini Stealth
Spaceships4(5 Reviews)9 km from Auckland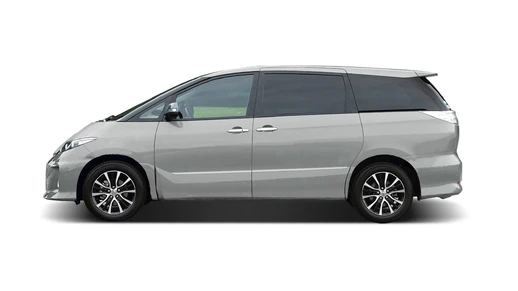 +6
2 adults
Automatic
Petrol
Kitchen
Unlimited kilometres
1 beds
AC
€1,837.00
 / 
€131.21

 per night
Beta 2S SC (self-contained)
Spaceships4(5 Reviews)9 km from Auckland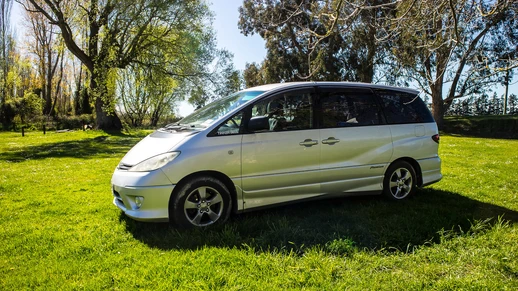 +10
2 adults
Automatic
Petrol
Kitchen
Unlimited kilometres
1 beds
AC
€2,129.00
 / 
€152.07

 per night
Kuga Camper
Travellers Autobarn4.4(5 Reviews)4 km from Auckland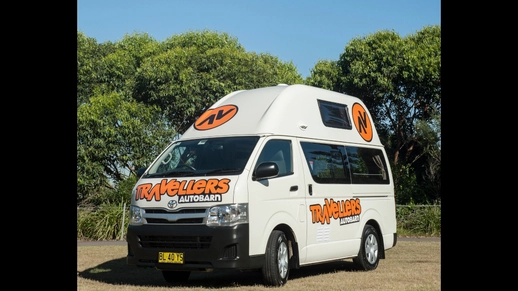 +18
2 adults/1 children
Automatic
Petrol
Kitchen
Unlimited kilometres
2 beds
AC
€2,301.00
 / 
€164.36

 per night
HI5 Camper
Travellers Autobarn4.4(5 Reviews)4 km from Auckland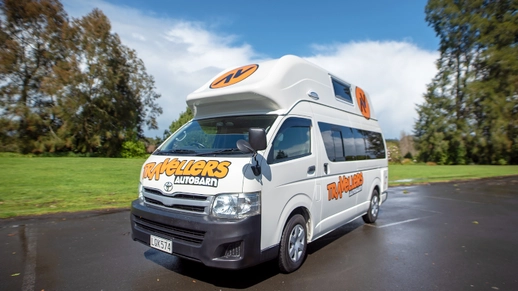 +22
2 adults/3 children
Automatic
Petrol
Kitchen
Unlimited kilometres
2 beds
AC
€2,638.00
 / 
€188.43

 per night
Hippie Hitop Camper
Hippie4.5(2 Reviews)2 km from Auckland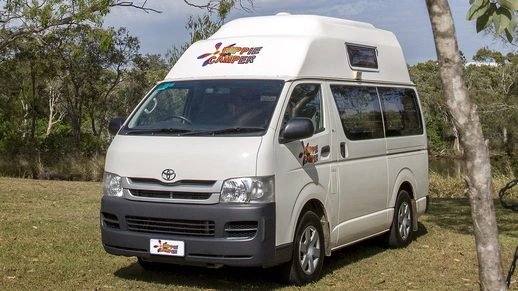 +9
2 adults
Petrol
Kitchen
Unlimited kilometres
1 beds
AC
€2,724.00
 / 
€194.57

 per night
HI5 Camper (Self-Contained)
Travellers Autobarn4.4(5 Reviews)4 km from Auckland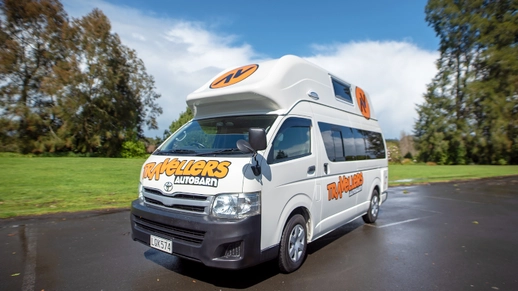 +22
2 adults/3 children
Automatic
Petrol
Kitchen
Unlimited kilometres
2 beds
AC
€2,724.00
 / 
€194.57

 per night
Hippie Endeavour
Hippie4.5(2 Reviews)2 km from Auckland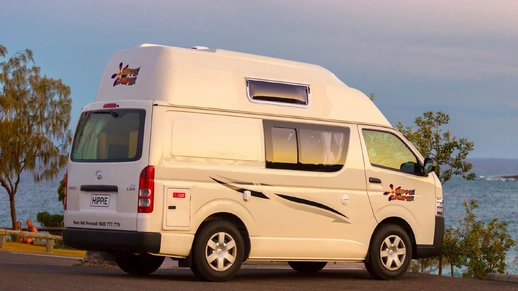 +11
2 adults/2 children
Petrol
Kitchen
Unlimited kilometres
2 beds
AC
€2,783.00
 / 
€198.79

 per night
Mighty Highball
Mighty4.3(9 Reviews)2 km from Auckland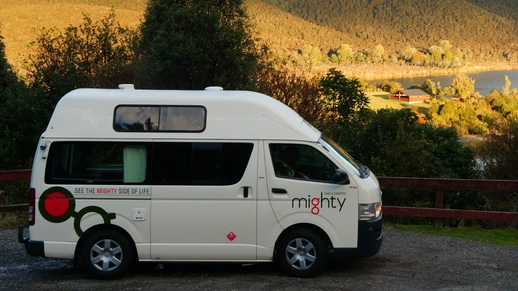 +8
2 adults
Automatic
Kitchen
Unlimited kilometres
AC
€2,932.00
 / 
€209.43

 per night
Cheapa Hitop
Cheapa Campa4.4(8 Reviews)2 km from Auckland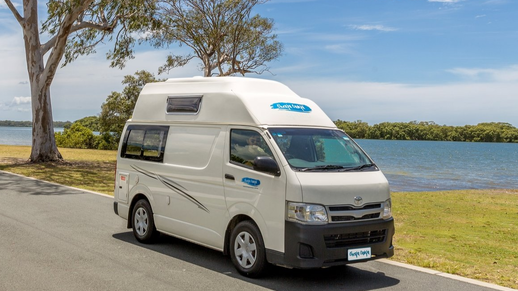 +9
2 adults
Automatic
Kitchen
Unlimited kilometres
1 beds
AC
€3,020.00
 / 
€215.71

 per night
Mighty Double Down
Mighty4.3(9 Reviews)2 km from Auckland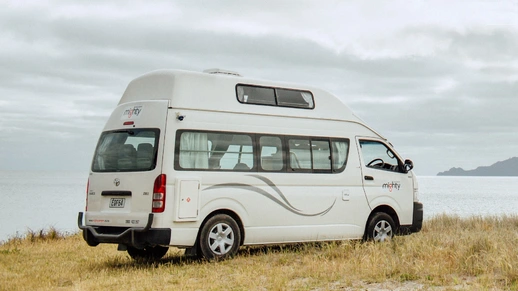 +8
4 adults
Automatic
Kitchen
Unlimited kilometres
AC
€3,035.00
 / 
€216.79

 per night
Cheapa Endeavour
Cheapa Campa4.4(8 Reviews)2 km from Auckland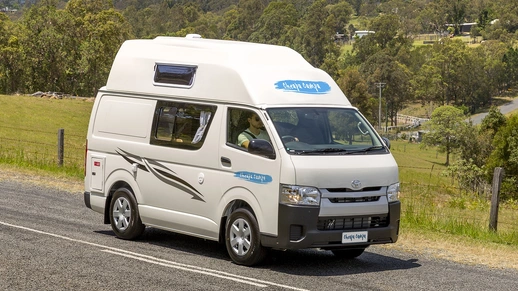 +11
2 adults/2 children
Automatic
Kitchen
Unlimited kilometres
2 beds
AC
€3,079.00
 / 
€219.93

 per night
Mighty Deuce
Mighty4.3(9 Reviews)2 km from Auckland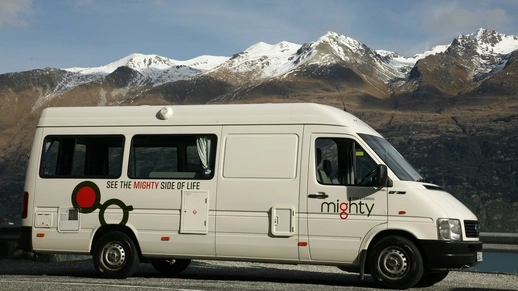 +9
2 adults
Automatic
Diesel
Kitchen
Unlimited kilometres
AC
Shower/WC
€3,948.00
 / 
€282.00

 per night
Mighty Double Up
Mighty4.3(9 Reviews)2 km from Auckland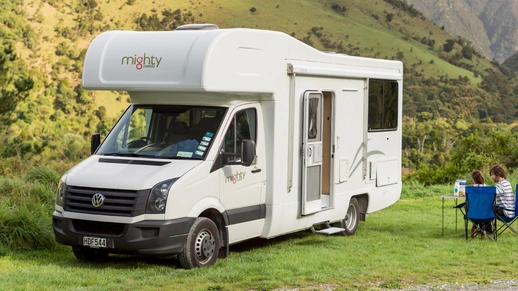 +9
4 adults
Automatic
Diesel
Kitchen
Unlimited kilometres
AC
Shower/WC
€4,016.00
 / 
€286.86

 per night
Cheapa 2 Berth
Cheapa Campa4.4(8 Reviews)2 km from Auckland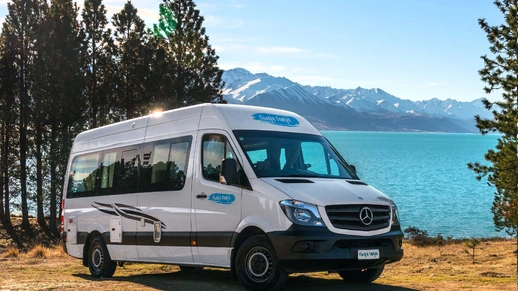 +9
2 adults
Automatic
Diesel
Kitchen
Unlimited kilometres
1 beds
AC
Shower/WC
€4,032.00
 / 
€288.00

 per night
Mighty Deuce Plus
Mighty4.3(9 Reviews)2 km from Auckland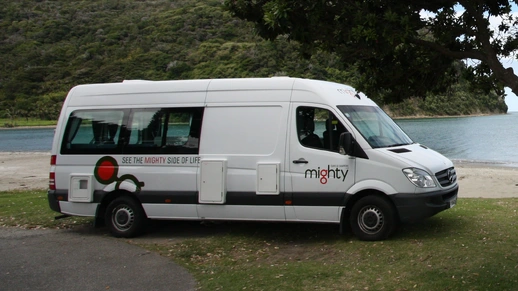 +8
2 adults/1 children
Automatic
Diesel
Kitchen
Unlimited kilometres
AC
Shower/WC
€4,083.00
 / 
€291.64

 per night
Apollo Euro Tourer
Apollo4.1(17 Reviews)2 km from Auckland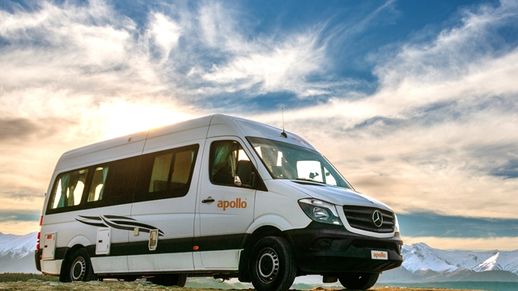 +12
2 adults
Automatic
Diesel
Kitchen
Unlimited kilometres
1 beds
AC
Shower/WC
€4,112.00
 / 
€293.71

 per night
Cheapa 4 Berth
Cheapa Campa4.4(8 Reviews)2 km from Auckland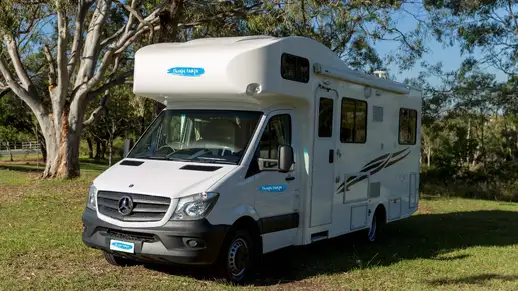 +6
4 adults
Automatic
Diesel
Kitchen
Unlimited kilometres
2 beds
AC
Shower/WC
€4,117.00
 / 
€294.07

 per night
Mighty Big Six
Mighty4.3(9 Reviews)2 km from Auckland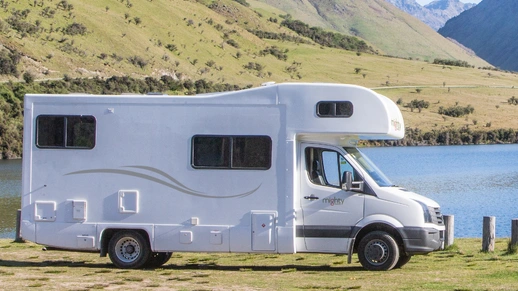 +10
4 adults/2 children
Automatic
Diesel
Kitchen
Unlimited kilometres
AC
Shower/WC
€4,159.00
 / 
€297.07

 per night
Polaris 6
STARNew provider4 km from Auckland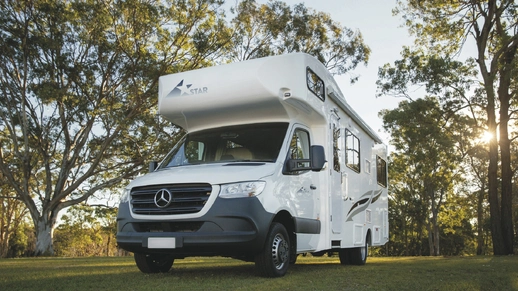 +6
4 adults/2 children
Automatic
Diesel
Kitchen
Unlimited kilometres
3 beds
AC
Shower/WC
Pets allowed
€4,209.00
 / 
€300.64

 per night
Britz Venturer
Britz4.4(7 Reviews)2 km from Auckland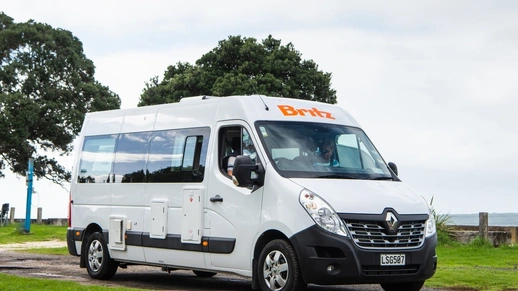 +8
2 adults
Automatic
Diesel
Kitchen
Unlimited kilometres
1 beds
AC
Shower/WC
€4,226.00
 / 
€301.86

 per night
Maui Ultima
Maui4.2(9 Reviews)2 km from Auckland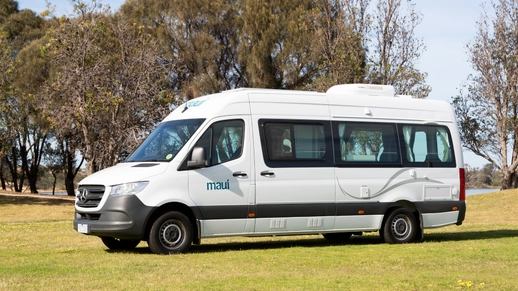 +7
2 adults
Automatic
Diesel
Kitchen
Unlimited kilometres
1 beds
AC
Shower/WC
€4,231.00
 / 
€302.21

 per night
Cheapa 6 Berth
Cheapa Campa4.4(8 Reviews)2 km from Auckland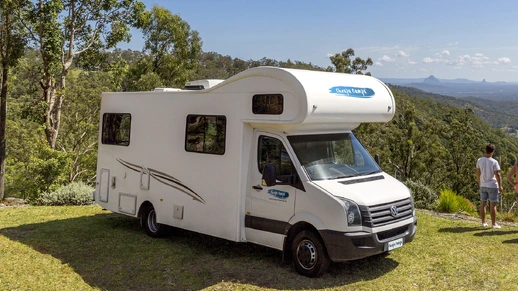 +7
6 adults
Automatic
Diesel
Kitchen
Unlimited kilometres
3 beds
AC
Shower/WC
€4,239.00
 / 
€302.79

 per night
Maui Ultima Plus
Maui4.2(9 Reviews)2 km from Auckland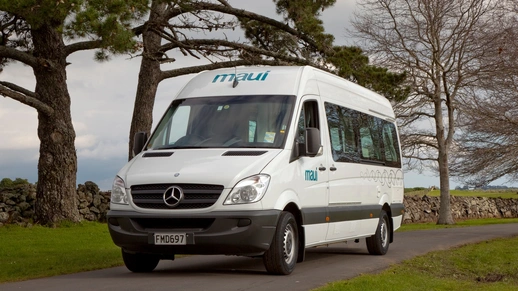 +10
2 adults/1 children
Automatic
Diesel
Kitchen
Unlimited kilometres
2 beds
AC
Shower/WC
€4,358.00
 / 
€311.29

 per night
Britz Venturer Plus
Britz4.4(7 Reviews)2 km from Auckland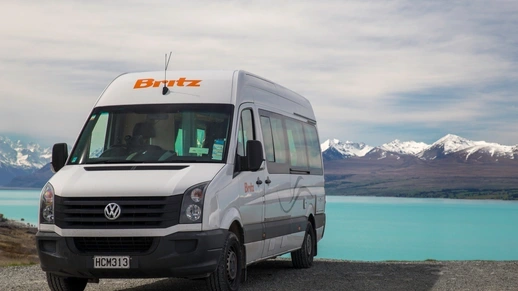 +9
2 adults/1 children
Automatic
Diesel
Kitchen
Unlimited kilometres
2 beds
AC
Shower/WC
€4,369.00
 / 
€312.07

 per night
Britz Frontier
Britz4.4(7 Reviews)2 km from Auckland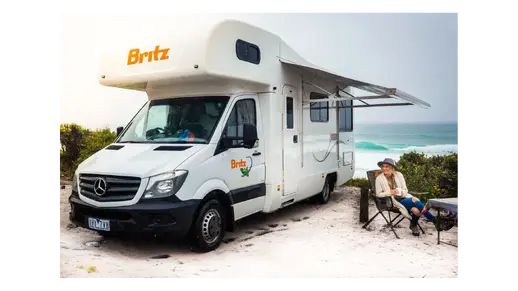 +9
6 adults
Automatic
Diesel
Kitchen
Unlimited kilometres
3 beds
AC
Shower/WC
€4,445.00
 / 
€317.50

 per night
Britz Explorer
Britz4.4(7 Reviews)2 km from Auckland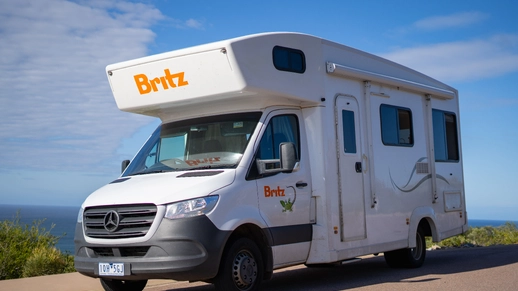 +9
4 adults
Automatic
Diesel
Kitchen
Unlimited kilometres
2 beds
AC
Shower/WC
€4,445.00
 / 
€317.50

 per night
Britz Discovery
Britz4.4(7 Reviews)2 km from Auckland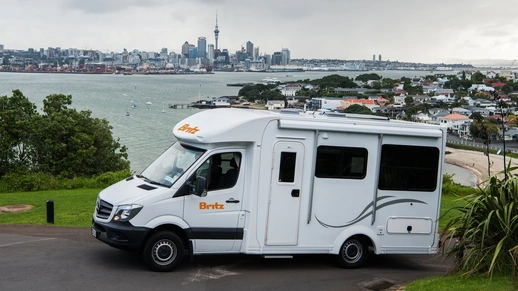 +9
4 adults
Automatic
Diesel
Kitchen
Unlimited kilometres
2 beds
AC
Shower/WC
€4,445.00
 / 
€317.50

 per night
Apollo Euro Deluxe
Apollo4.1(17 Reviews)2 km from Auckland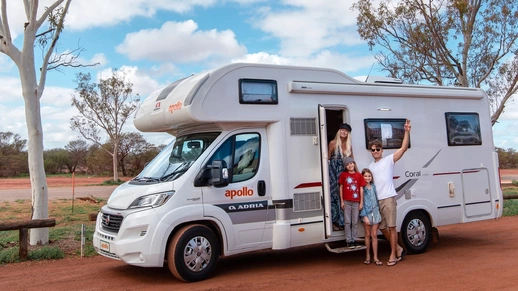 +13
6 adults
Automatic
Diesel
Kitchen
Unlimited kilometres
3 beds
AC
Shower/WC
€4,485.00
 / 
€320.36

 per night
Apollo Euro Camper
Apollo4.1(17 Reviews)2 km from Auckland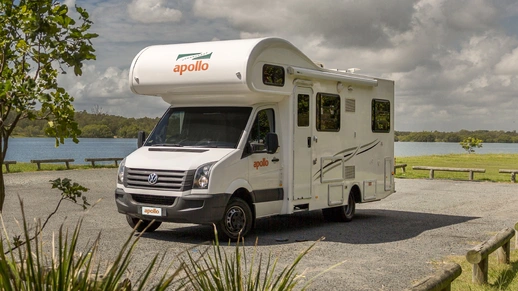 +9
4 adults
Automatic
Diesel
Kitchen
Unlimited kilometres
2 beds
AC
Shower/WC
€4,485.00
 / 
€320.36

 per night
Maui Ultima Elite
Maui4.2(9 Reviews)2 km from Auckland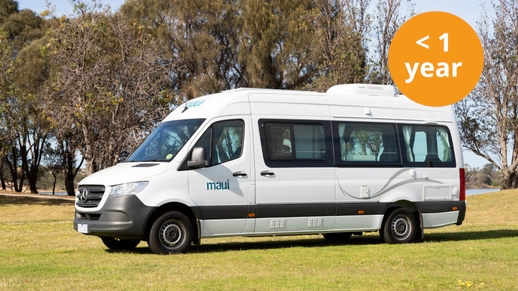 +7
2 adults
Automatic
Diesel
Kitchen
Unlimited kilometres
1 beds
AC
Shower/WC
€4,551.00
 / 
€325.07

 per night
Maui Cascade
Maui4.2(9 Reviews)2 km from Auckland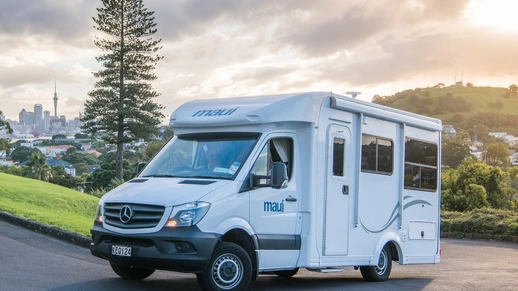 +10
4 adults
Automatic
Diesel
Kitchen
Unlimited kilometres
2 beds
AC
Shower/WC
€4,552.00
 / 
€325.14

 per night
Maui River
Maui4.2(9 Reviews)2 km from Auckland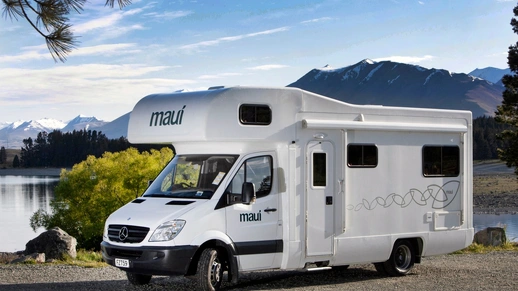 +8
6 adults
Automatic
Diesel
Kitchen
Unlimited kilometres
3 beds
AC
Shower/WC
€4,678.00
 / 
€334.14

 per night
Maui Beach
Maui4.2(9 Reviews)2 km from Auckland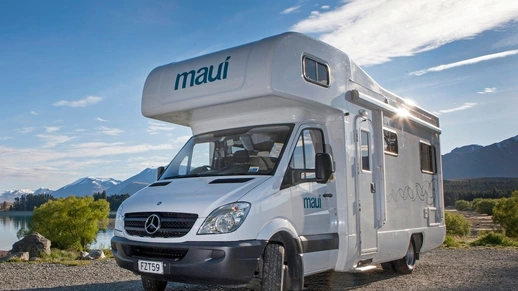 +9
4 adults
Automatic
Diesel
Kitchen
Unlimited kilometres
2 beds
AC
Shower/WC
€4,678.00
 / 
€334.14

 per night
Maui Ultima Plus Elite
Maui4.2(9 Reviews)2 km from Auckland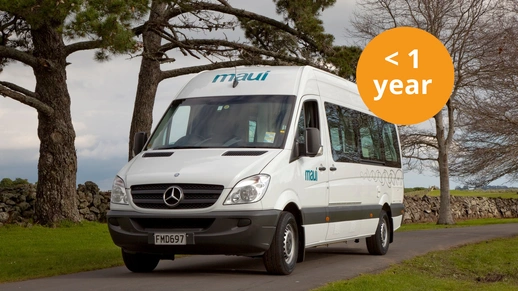 +10
2 adults/1 children
Automatic
Diesel
Kitchen
Unlimited kilometres
2 beds
AC
Shower/WC
€4,678.00
 / 
€334.14

 per night
Maui Cascade Elite
Maui4.2(9 Reviews)2 km from Auckland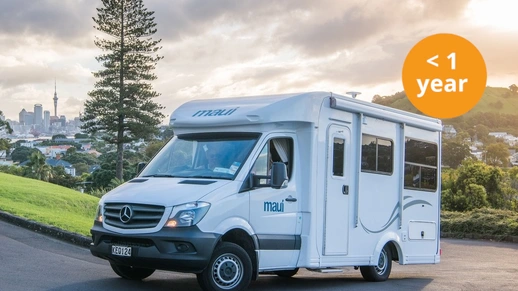 +10
4 adults
Automatic
Diesel
Kitchen
Unlimited kilometres
2 beds
AC
Shower/WC
€4,872.00
 / 
€348.00

 per night
Maui River Elite
Maui4.2(9 Reviews)2 km from Auckland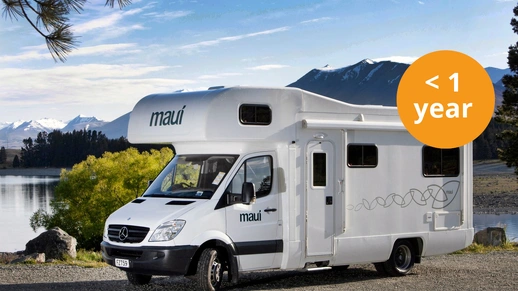 +8
6 adults
Automatic
Diesel
Kitchen
Unlimited kilometres
3 beds
AC
Shower/WC
€4,999.00
 / 
€357.07

 per night
Maui Beach Elite
Maui4.2(9 Reviews)2 km from Auckland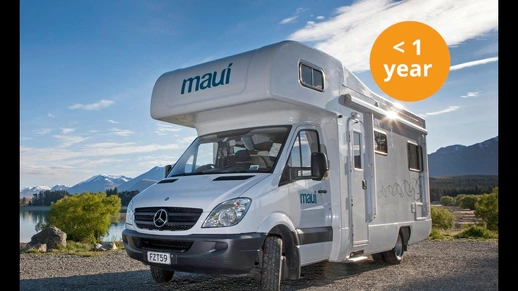 +9
4 adults
Automatic
Diesel
Kitchen
Unlimited kilometres
2 beds
AC
Shower/WC
€4,999.00
 / 
€357.07

 per night
Reviews Overview
CamperDays stands for transparency! That's why we give every customer the opportunity to share their experiences with other customers after their campervan trip.
Destinations and rental stations in New Zealand
Renting a campervan in New Zealand
New Zealand is a great country to explore by campervan. It has a well-developed road network, which makes even quite remote places easy to get to. The Department of Conservation has a network of basic overnight stops with basic amenities. They are cheap; however, your campervan must be self-contained to stay on these sites. There are also lots of campsites that are campervan friendly and usually well equipped.
You are likely to see many campers on the road and meet some like-minded people that are enjoying the relaxed pace of life that New Zealand is known for.
In New Zealand there are several small cities and 3 larger cities, which are spread over the 2 islands. The northern parts of the North Island have a subtropical climate and it is also more populated. The South Island is less populated and there is a large mountain range. A campervan is the perfect way to explore both islands.
Why is it worth booking an RV rental in New Zealand early?
Beautiful beaches, languid lakes, majestic mountains, and historic heritage turn campervan vacations in New Zealand into memorable experiences. Whether you stick to the main islands or do a spot of island-hopping, wherever you go you'll enjoy traveling on quiet roads and discover peaceful spots for overnight stays. The best season to book a campervan hire in New Zealand is November to February but this is also when vehicles are in peak demand. So, to ensure you get the best choice of camper in New Zealand for your budget along with the vacation dates you want, be an early bird and make your booking up to four months in advance. If you have any queries before you commit, simply contact the friendly and knowledgeable CamperDays customer service team. Your booking comes with transparent cancellation terms and no extra charges if your dates change. Cleverly equipped for living, sleeping, and cooking, your camper rental in New Zealand is a comfortable mini-hotel on wheels. This makes the price of an RV rental in New Zealand surprisingly affordable when compared with the cost of hotel rooms, car hire, and restaurant dining.
Most booked companies for a camper rental in the UK
You can rest assured when you pay your camper rent in New Zealand that your vehicle will be safe, comfortable, and modern as CamperDays only partners with 100% professional rental companies. With pick-up stations in major cities such as Auckland, Christchurch, and Queenstown, it's easy to plan your perfect New Zealand road trip.
Spaceships
With pick-up and drop-off points in Auckland and Christchurch, 24/7 opening hours, and unlimited mileage packages, Spaceships offers flexible campervan travel in New Zealand.
Jucy Rentals
Jucy Rentals has pick-up points in Auckland, Christchurch, and Queenstown. The bright green Jucy campervans sleep between two and four people.
Cheapa Campa
Pick up your Cheapa Campa vehicle from depots in Christchurch or Auckland. Its campervans range in size from two-berth to six-berth and dogs are allowed in all vehicles.
Hippie
Hippie features budget campervans for younger drivers with pick-up points in Auckland and Christchurch. Its compact vehicles are designed for solo drivers, couples, or small families.
Apollo
Apollo offers a choice of modern pet-friendly campervans designed to sleep between two and six people. Start your New Zealand journey with Apollo in Christchurch or Auckland.
Mighty Campers
With three pick-up points - Auckland, Christchurch, and Queenstown - Mighty Campers offers a flexible start to your New Zealand road trip. Select from compact two-berth campervans to "mighty" vehicles that sleep up to six, perfect for friends and family vacations.
Britz
Britz campervans can be picked up in Christchurch, Auckland, and Queenstown. Plan a one-way or return road trip in campers that sleep two to six people plus your family dog.
McRent
Start your journey with a McRent campervan in either Auckland or Christchurch. McRent campervans sleep from two to six people and all are less than three years old.
Maui
Collect your Maui campervan in Christchurch, Auckland, or Queenstown and either return it to the same point or enjoy a one-way road trip. The spacious Maui vehicles sleep from two to six people.
Star RV
Star RV has pick-up and drop-off depots in Auckland and Christchurch. Its smaller campervans sleep two while large models can accommodate four adults and three young children.
Travellers Autobarn
Travellers Autobarn has depots in Auckland, and Christchurch ensuring a flexible start to your vacation. Its custom-built vehicles sleep from two to four people.
More questions about renting a campervan?
Would you like to enquire about your campervan before you book or do you need more information? We are here for you! You can reach us from Monday to Friday (9:00 am to 5:00 pm) by telephone or at any time at our .
Tips for renting a campervan in New Zealand
Aside from backpacking, touring in a campervan is the most popular way to explore New Zealand. There are so many varied and exciting places to visit with a campervan. People visit New Zealand from all over the world and the demand for campervans in the high season usually outstrips supply. To ensure that you get the best choice and price, book several months in advance and you could save up to £75/day with early-bird discounts.
Campervan offers for couples in New Zealand
For a romantic trip for two exploring New Zealand and other cities nearby, a smaller motorhome is just right. Discover our selection of vehicles for two people and explore together.


Campervan offers for families in New Zealand
If you want to go on a family camping holiday in New Zealand, we recommend a large motorhome. Alcove models are very popular with families with children, as the motorhomes are spacious and have several sleeping and seating areas.


Campervan offers for dog owners in New Zealand
Whether it's a campervan or a classic motorhome, there are now several rental companies in New Zealand that allow pets in their vehicles. In the CamperDays search, you can easily search for suitable offers using the "Pets allowed" filter.


The must-see parts of New Zealand
New Zealand has a unique biodiversity and a rich and fascinating history.
Te Papa Museum, Wellington
Enjoy free entry and learn about Māori history in New Zealand's most well-known museum.

See the only colossal Squid on display. The giant squid weighing around 79st (approx. 500kg) and spanning over 13ft (approx.4m) in length was caught in 2007.

Check the website to see what exhibitions are on. There is a wide range of exhibitions such as science, art and history.
Rotorua Geothermal Pools
Visit Hell's Gate, the largest mud spa and active geothermal complex in New Zealand.

Bathe in 3 types of mud: black for arthritis and rheumatism, white for burns, and grey for exfoliation.

Take a tour and see the largest hot waterfall in the Southern hemisphere along with coloured pools, bubbling mud, steaming cliffs and much more.
Kayaking in the Able Tasman Park
Take a water taxi out and spend 1-3 days kayaking the coastline.

Join a guided tour and learn about the history while taking in the spectacular scenery.

Walk part of the Able Tasman Park and kayak the rest.

Take a kayak out from one of the many beaches and visit one of the many small islands.
Spot Whales in Kaikoura
See the local whales in their natural habitat from either a boat, small plane or helicopter.

Take a flight from 30 mins to 90 mins and get amazing views of the whales (along with other wildlife)

Enjoy a boat trip up to 4hrs long and see the Sperm whales along with seals, dolphins and endangered albatross.
Jet Boating in Queenstown
Enjoy an adrenaline packed jet boat ride in the Shotover River.

The only way to explore the unique Shotover Canyons from the river is via a jet boat ride

Combine the jet boat ride with a scenic helicopter ride, canyon swing, tasting session or 4WD tour and experience Queenstown at its best.
Popular events in New Zealand
Auckland International Buskers Festival (January): for 4 days, the centre of Auckland is full of lively local and international entertainment from fire breathing, balancing acts, acrobatic, rola bola, comedy cyr wheel and so much more.
Rhythm and Alps (December):Rhythm and Alps is the South Island's largest music festival. Over 3 days, up to 10,000 people gather and enjoy some of NZ's best music.
Hokitika Wild Food Festival (March): each March, the small town of Hokitika on the middle of the west coast on the South Island, hosts the wild food festival packed full of local delicacies, fresh fish, wild meats, music and entertainment.
March Fest (March): in Nelson at the top of the South Island, hosts this craft beer festival. Situated in Founders Park, a full-sized mock village based on early settler's homes, the festival is packed full of local foods, beer and music.
Crankworx Mountain bike Festival (November): each November Crankworx world tour visits Rotorua and attracts bikers from around the world. Even if you don't bike, it is worth watching the best bikers show off their skills on jumps and berms for the chance to get crowned the King or Queen of Crankworx.
Campsites in New Zealand
Amber Kiwi Holiday Park
Blenheim Road 308
8041, Christchurch

Glentanner Park Centre
State Highway 80
7999, Aoraki / Mount Cook
Kiwi Picton Campervan Park
Kent Street 42
7220, Picton

Mawley Holiday Park
Oxford Street 5
5810, Masterton
FAQs
As long as it is in English, a full and valid driving license issued in your home country is enough for stays of up to one year in New Zealand.

Yes. A security and damages deposit must be paid by the main driver using a credit card.

Generally, you should be at least 21 years old for campervan rent in New Zealand.

Most camper hire companies have vehicles that can accommodate children and pets. Always check when booking and read the terms and conditions. Remember to add appropriate child seats to your booking.

Some roads in New Zealand are unsuitable for campervans. Your rental company will make sure you are aware of these.

There are designated wild camping areas in New Zealand suitable for self-contained vehicles. There is also a good selection of campsites throughout the country.
More than 700 locations worldwide
Worldwide campervan rental
Compare the prices for different campervans, locations, and dates in our price comparison tool and find the most affordable option for your trip.
We will help you find the perfect campervan for your trip

Our partners are available across the globe at more than 700 locations

We guarantee clear pricing and 100% transparency