17 offers
for your holiday in Dublin
Bunk Campers Nomad
Bunk Campers5(1 Reviews)8 km from Dublin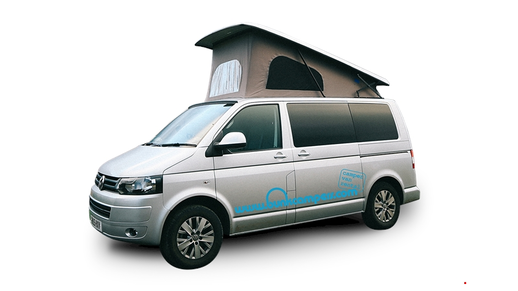 +7
2 adults/2 children
Manual
Diesel
Kitchen
Unlimited miles
2 beds
AC
€1,277.00
 / 
€91.21

 per night
Family Standard
McRent4.5(33 Reviews)8 km from Dublin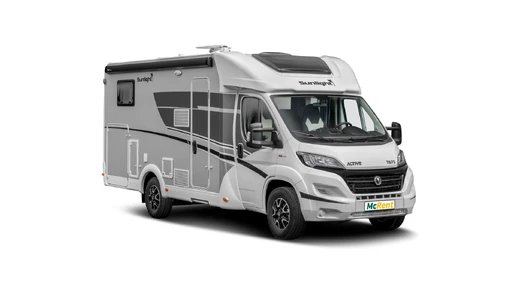 +10
4 adults
Manual
Diesel
Kitchen
Unlimited kilometres
3 beds
AC
Shower/WC
€1,343.00
 / 
€95.93

 per night
Bunk Campers Aero
Bunk Campers5(1 Reviews)8 km from Dublin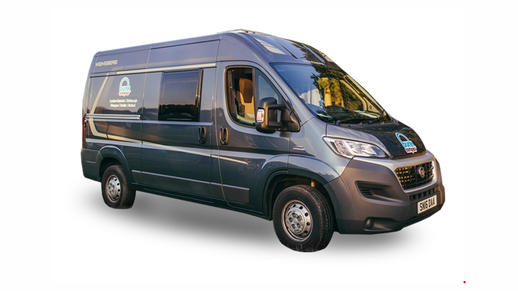 +8
2 adults
Manual
Diesel
Kitchen
Unlimited miles
1 beds
AC
Shower/WC
Pets allowed
€1,351.00
 / 
€96.50

 per night
Family Plus
McRent4.5(33 Reviews)8 km from Dublin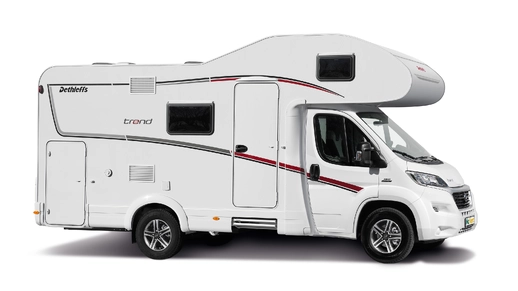 +11
3 adults/2 children
Manual
Diesel
Kitchen
Unlimited kilometres
4 beds
AC
Shower/WC
€1,404.00
 / 
€100.29

 per night
Duo
Apollo4.1(23 Reviews)8 km from Dublin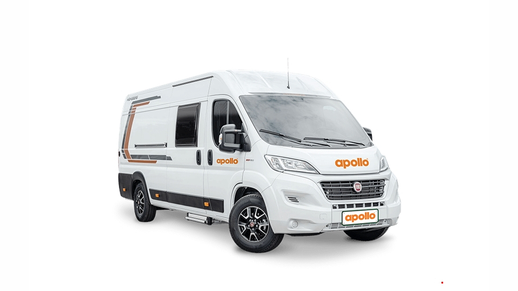 +7
2 adults
Manual
Diesel
Kitchen
Unlimited kilometres
1 beds
AC
Shower/WC
€1,483.00
 / 
€105.93

 per night
Bunk Campers Aero Plus
Bunk Campers5(1 Reviews)8 km from Dublin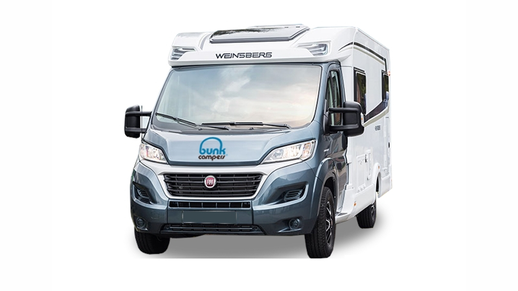 +7
2 adults
Manual
Diesel
Kitchen
Unlimited miles
2 beds
AC
Shower/WC
Pets allowed
€1,494.00
 / 
€106.71

 per night
Bunk Campers Vista
Bunk Campers5(1 Reviews)8 km from Dublin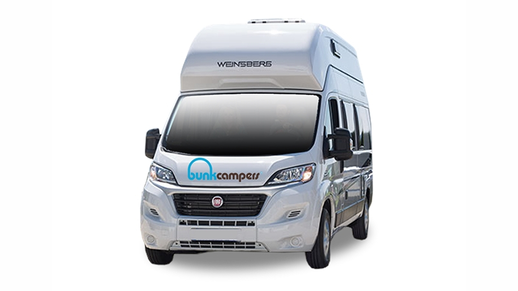 +10
4 adults
Manual
Diesel
Kitchen
Unlimited miles
2 beds
AC
Shower/WC
Pets allowed
€1,563.00
 / 
€111.64

 per night
Bunk Campers Vista Plus
Bunk Campers5(1 Reviews)8 km from Dublin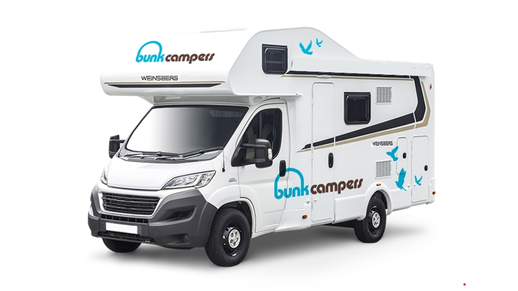 +7
4 adults
Manual
Diesel
Kitchen
Unlimited miles
2 beds
AC
Shower/WC
Pets allowed
€1,563.00
 / 
€111.64

 per night
Duo Plus
Apollo4.1(23 Reviews)8 km from Dublin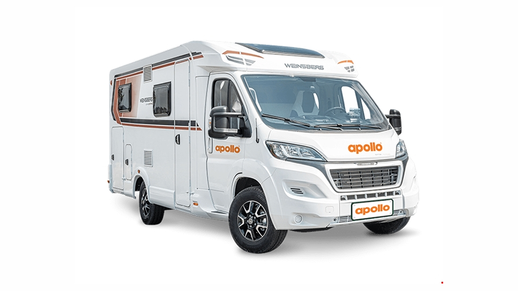 +8
2 adults
Manual
Diesel
Kitchen
Unlimited kilometres
1 beds
AC
Shower/WC
€1,620.00
 / 
€115.71

 per night
Bunk Campers Europa
Bunk Campers5(1 Reviews)8 km from Dublin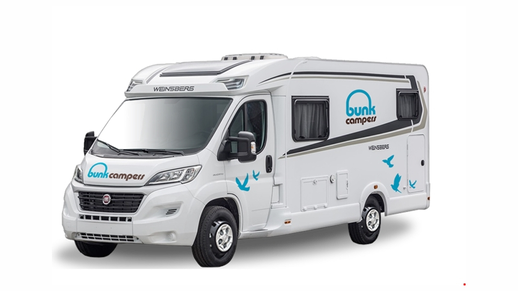 +11
4 adults
Diesel
Kitchen
Unlimited miles
2 beds
AC
Shower/WC
Pets allowed
€1,633.00
 / 
€116.64

 per night
Bunk Campers Grande
Bunk Campers5(1 Reviews)8 km from Dublin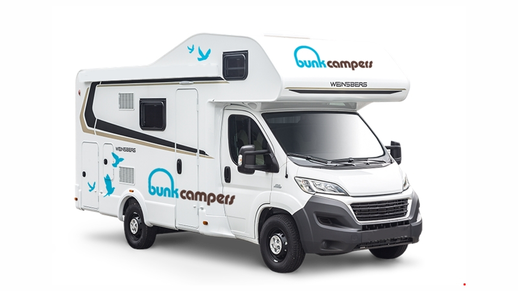 +7
6 adults
Diesel
Kitchen
Unlimited miles
4 beds
AC
Shower/WC
Pets allowed
€1,711.00
 / 
€122.21

 per night
Voyager
Apollo4.1(23 Reviews)8 km from Dublin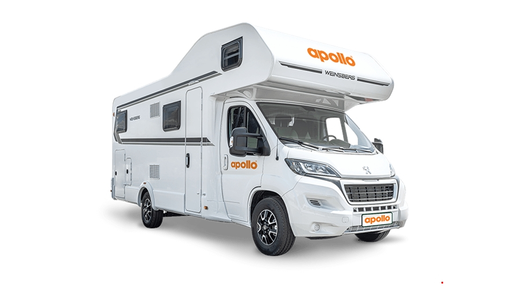 +11
6 adults
Manual
Diesel
Kitchen
Unlimited kilometres
4 beds
AC
Shower/WC
€1,766.00
 / 
€126.14

 per night
Traveller
Apollo4.1(23 Reviews)8 km from Dublin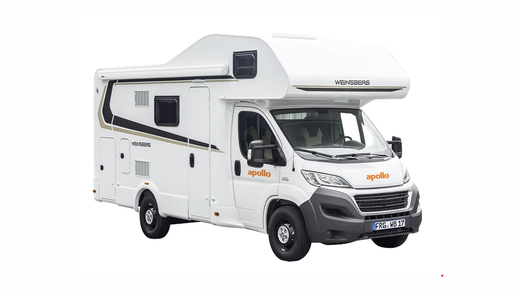 +8
4 adults
Manual
Diesel
Kitchen
Unlimited kilometres
2 beds
AC
Shower/WC
€1,767.00
 / 
€126.21

 per night
Traveller Plus
Apollo4.1(23 Reviews)8 km from Dublin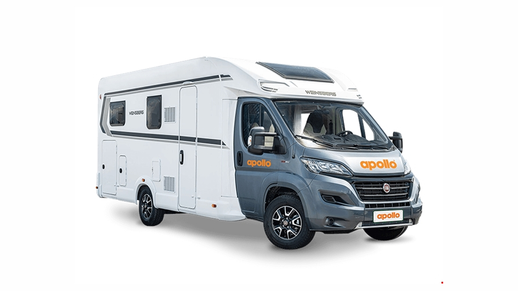 +11
4 adults
Manual
Diesel
Kitchen
Unlimited kilometres
2 beds
AC
Shower/WC
€1,767.00
 / 
€126.21

 per night
Explorer
Apollo4.1(23 Reviews)8 km from Dublin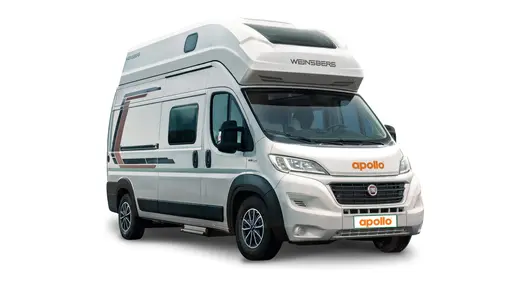 +9
2 adults/2 children
Manual
Diesel
Kitchen
Unlimited kilometres
2 beds
AC
Shower/WC
€1,767.00
 / 
€126.21

 per night
Baroudeur California
Blacksheep3(1 Reviews)8 km from Dublin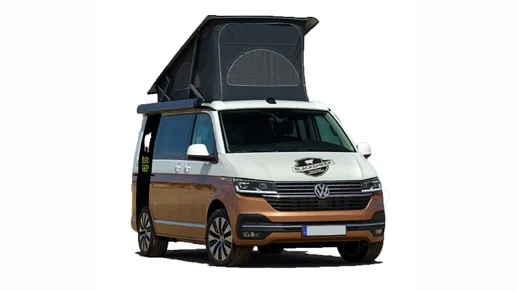 +6
2 adults/2 children
Diesel
Kitchen
200 kilometres per day incl.
2 beds
AC
€1,860.00
 / 
€132.86

 per night
Explorer Pop-up
Blacksheep3(1 Reviews)8 km from Dublin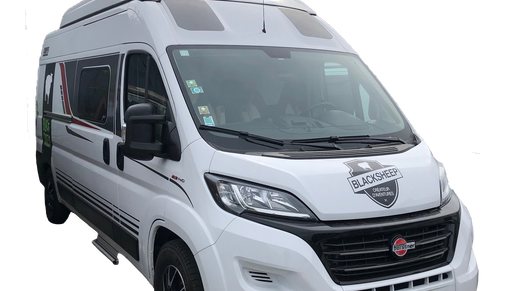 +6
4 adults
Diesel
Kitchen
200 kilometres per day incl.
2 beds
AC
Shower/WC
€2,130.00
 / 
€152.14

 per night
Reviews Overview
CamperDays stands for transparency! That's why we give every customer the opportunity to share their experiences with other customers after their campervan trip.
Renting a campervan in Ireland
Exploring Ireland with a campervan is a fantastic way to see this beautiful country. Ireland is easy to get to and renting a campervan gives you more freedom and flexibility. Drive along the 1,500-mile-long Wild Atlantic Way and see why Ireland has a reputation for its wild beauty.
In Ireland, there is a lot to discover such as the country's rich culture, unique traditions and long history. Why not have a drink of whiskey made in the world's oldest distillery in the world's oldest bar? You can see the famous Riverdance and watch the SIX Nations Championships at Cork Park. You can also visit the breathtaking Cliffs of Moher and enjoy the slow pace of life in Dingle.
Travelling through Ireland with a campervan gives you the freedom to explore and the comfort of having everything you need with you. Ireland is a fantastic country to visit and there are lots of things to do and see for tourists.
Why is it worth booking a campervan in Ireland early?
Ireland is not called the "Emerald Isle" for nothing. Mild weather and plentiful rainfall turn fields and meadows into carpets of grass and wildflowers, especially in spring and summer. The fields are interspersed with rolling hills and craggy peaks while quaint villages and bustling towns provide a welcome contrast. Add in the buzz of Dublin and an RV rental in Ireland is the perfect way to enjoy this country. Ireland's weather is at its best between May and September but this is also the busiest season, especially in July and August when the schools are on holiday. To be sure of getting a campervan rental in Ireland that meets your needs and budget, it's best to book it approximately three months before your vacation dates. If this is your first campervan vacation or you're not sure about visiting Ireland, the CamperDays knowledgeable customer service team will help create a personalized itinerary for you. At first glance, campervan rent in Ireland may seem expensive but you don't have to worry about hotel and car rental costs, while your camper's kitchen is fully equipped for home from home dining. You also have the freedom to set your own routes and timetables, ideal if traveling with young children or pets. Other advantages of booking with CamperDays include transparent cancellation conditions and no extra cost if you need to change your travel dates.
Most booked companies for an RV rental in Ireland
Campers are available in a range of specifications in Ireland so there will definitely be one that meets your travel needs and vacation dates. All of our partner RV rental companies are highly professional and trustworthy so you can be sure of a safe and fully-equipped campervan for your road trip in Ireland.
Bunk Campers
Based in Dublin, Bunk Campers has a full range of campers from compact budget models to large family-size vans. Bunk Campers does not offer an airport transfer service but its depot is a short bus or taxi ride from passenger terminals.
iNDiE campers
The iNDiE campers pick-up center in Dublin is open 24/7 and located at Ballyboughal, Co. Dublin. This is a 20-minute taxi ride from Dublin Airport or a paid iNDiE campers transfer can be selected at online check-in. With iNDiE campervan hire in Ireland, you have a choice of compact models ideal for romantic breaks or larger family vehicles.
McRent
McRent has two pick-up and drop-off points in Ireland. One in Dublin and the other in Limerick. Both have good access to airports and motorways. Camper rent in Ireland with McRent ranges from small two-berth vans to large integrated vehicles ideal for families and friends. All McRent campervans are less than three years old.
Apollo
The pick-up point for your Apollo camper in Dublin is located at Cloghran, Co. Dublin. This is just a short taxi ride from the airport. The Apollo fleet in Ireland comprises everything from compact caravans to motorhomes sleeping up to six people. All vehicles have full onboard heating, meaning you can enjoy the stunning Irish countryside whatever the season.
Do You Have Any Questions About Renting a Motorhome?
Would you like to enquire about a motorhome or do you need further information before making a booking? You can contact us without obligation either from Monday to Friday 8am - 4pm by phone or at any time via our online contact form.
Tips on visiting Ireland
Visiting Ireland in a campervan is the best way to be flexible and see as many sights as possible. The demand during the summer months is considerably higher, therefore it is recommended to book at least 4 months in advance. Booking early gives you the flexibility to choose a campervan which is best suited to your needs. In addition, it also gives you the best chance of getting a cheaper daily rate with savings of up to £75.
Campervan offers for couples in Ireland
For a romantic trip for two exploring Ireland and other cities nearby, a smaller motorhome is just right. Discover our selection of vehicles for two people and explore together.


Campervan offers for families in Ireland
If you want to go on a family camping holiday in Ireland, we recommend a large motorhome. Alcove models are very popular with families with children, as the motorhomes are spacious and have several sleeping and seating areas.


Campervan offers for dog owners in Ireland
Whether it's a campervan or a classic motorhome, there are now several rental companies in Ireland that allow pets in their vehicles. In the CamperDays search, you can easily search for suitable offers using the "Pets allowed" filter.


The unmissable parts of Ireland
Ireland is full of things to do, so we have made a list of some of the highlights.
Visit The Guinness Storehouse Factory
Take a self-guided or guided tour of the factory starting from €26/pp.

Enjoy a pint of Guinness or a non-alcoholic drink in the Gravity Bar.

Explore all 7 floors full of activities including a museum about the founder Arthur Guinness.

Learn how to pour a pint of Guinness from the experts!
Killarney National Park, Co. Kerry
Climb the 3406 ft Carrauntoohil Mountain, which is the highest mountain in Ireland and enjoy the stunning views! However, good weather and experience are needed.

Choose one of the many tracks for a bike ride or walk and enjoy the scenery.

Enjoy the beach at Laugh Leaner Lake or take a boat ride.

If you like the outdoors, then plan to stay a few days to explore the many things to do here.
Visit Dingle peninsula, Co. Kerry
Drive the 30-mile Slea Head Drive and enjoy one of the most scenic seaside drives in Ireland as it winds through historical sights and quaint towns and villages.

Catch a 20-minute ferry at the tip of the peninsular across to Great Basket Island and explore this fantastic area by going off the beaten track.

Dingle Distillery is worth visiting especially on a rainy day. Experience the smells and noises of a working whisky distillery.
Spike Island, Cork
Take a trip to Ireland's Alcatraz! An ex-prison on an island in Cork harbour.

Explore the rich history of the 7th-century monastery-turned-fortress, then prison and finally a museum.

Plan a full day for this as the schedule is dependent on the ferry timetable.

Popular events in Ireland
St Patrick's Day (March): St Patrick's Day is celebrated all over the world on the 17th of March, but there is no better place to celebrate it than in Ireland. While it is celebrated all over the country, the biggest parades are held in Dublin, Cork, Galway and Limerick. However, Dublin is the largest and it is packed full of events, which take place over several days and a lot of them are free. Watch the parade pass through the city and soak up the atmosphere where up to 500,000 people celebrate this public holiday.

Puck Fair (August): this 400-year-old festival takes place in the town of Killorglin in Kerry. Each year a wild goat is crowned king of the town for the 3-day festival. This is an opportunity for everyone to let their hair down and enjoy themselves. The festival is packed full of traditional music, storytelling, fireworks and much more.

Galway Oyster Festival (September): if you are a seafood lover, the Galway Oyster Festival is not to be missed. People visit from around the world to sample these tasty oysters. There is even a competition to become the World Oyster Opening Champion.

Campsites in Ireland
Strandcamping Doonbeg
Killard Road, Doonberg
Ierland

Wave Crest Caravan Park
Derrynane Hotel Holiday Homes 2
Glanberg
Lough Arrow Touring Park
Hollybrook
Ierland

Hungry Hill Lodge and Campsite
R572, P75 CY62
Adrigole
FAQs
No. Residents of the UK or USA just need a full driving license valid in their home country. You should have held your license for at least a year.

Yes, you can take your camper in Ireland across the border from the Republic of Ireland to Northern Ireland as long as you notify your rental company and follow any terms and conditions.

Legally you can drive a camper rental in Ireland from the age of 21 but many campervan rental companies prefer you to be over 25. There may be surcharges for younger drivers.

Yes, you must have a valid credit card to cover your security and damage deposit. You will not be able to collect your camper without one.

Wild camping in Ireland is strictly forbidden. Don't worry, however, as there are plenty of campervan sites in beautiful surroundings across the country.

Most rental companies are happy to welcome babies, young children, and well-behaved dogs in their campervans. Just let them know when booking and make sure you select the appropriate child seats.
More than 700 locations worldwide
Worldwide campervan rental
Compare the prices for different campervans, locations, and dates in our price comparison tool and find the most affordable option for your trip.
We will help you find the perfect campervan for your trip

Our partners are available across the globe at more than 700 locations

We guarantee clear pricing and 100% transparency