Filter
37 Offers
for your holiday in Brisbane
Jucy Crib
Jucy3/58 km from Brisbane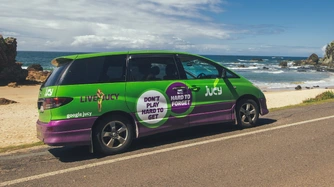 +10
2 adults
Automatic
Petrol
Kitchen
Unlimited kilometres
1 beds
AC
€969.00
 / 
€69.21

 per night
Jucy Crib
Jucy3/590 km from Brisbane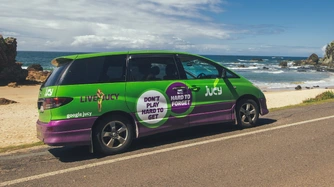 +10
2 adults
Automatic
Petrol
Kitchen
Unlimited kilometres
1 beds
AC
€969.00
 / 
€69.21

 per night
Jucy Champ
Jucy3/58 km from Brisbane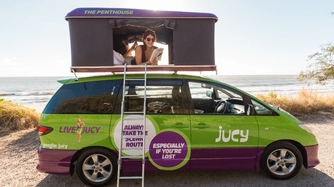 +9
4 adults
Automatic
Petrol
Kitchen
Unlimited kilometres
2 beds
AC
€1,061.00
 / 
€75.79

 per night
Jucy Champ
Jucy3/590 km from Brisbane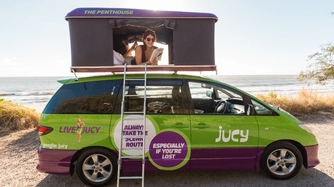 +9
4 adults
Automatic
Petrol
Kitchen
Unlimited kilometres
2 beds
AC
€1,061.00
 / 
€75.79

 per night
Alpha Budget
Spaceships3/58 km from Brisbane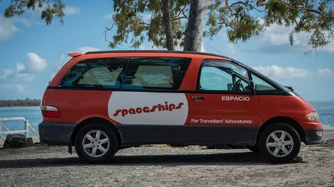 +9
2 adults
Automatic
Petrol
Kitchen
Unlimited kilometres
1 beds
AC
Pets allowed
€1,163.00
 / 
€83.07

 per night
Beta
Spaceships3/58 km from Brisbane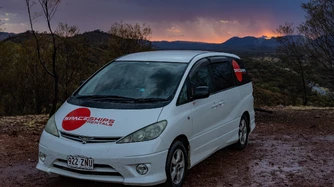 +13
2 adults
Automatic
Petrol
Kitchen
Unlimited kilometres
1 beds
AC
€1,189.00
 / 
€84.93

 per night
Chubby Camper
Travellers Autobarn3/58 km from Brisbane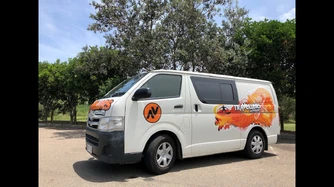 +18
2 adults
Manual
Petrol
Kitchen
Unlimited kilometres
1 beds
AC
€1,193.00
 / 
€85.21

 per night
HI-Top Camper
Travellers Autobarn3/58 km from Brisbane
+14
2 adults/1 children
Manual
Petrol
Kitchen
Unlimited kilometres
2 beds
AC
€1,252.00
 / 
€89.43

 per night
Kuga Camper
Travellers Autobarn3/58 km from Brisbane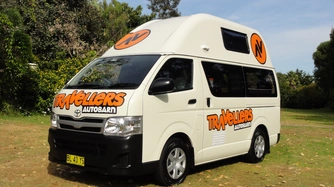 +22
2 adults/1 children
Manual
Petrol
Kitchen
Unlimited kilometres
2 beds
AC
€1,349.00
 / 
€96.36

 per night
Jucy Condo
Jucy3/58 km from Brisbane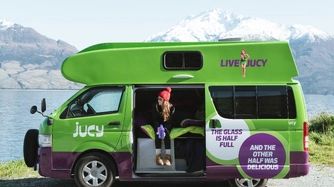 +12
4 adults
Automatic
Kitchen
Unlimited kilometres
2 beds
AC
€1,356.00
 / 
€96.86

 per night
Beta 2S
Spaceships3/58 km from Brisbane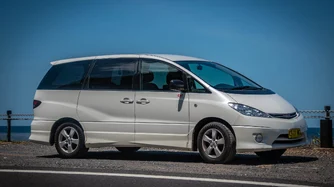 +9
2 adults
Automatic
Petrol
Kitchen
Unlimited kilometres
1 beds
AC
€1,391.00
 / 
€99.36

 per night
Jucy Compass AU
Jucy3/58 km from Brisbane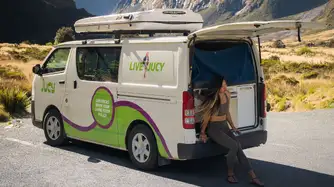 +11
4 adults
Automatic
Diesel
Kitchen
Unlimited kilometres
2 beds
AC
€1,448.00
 / 
€103.43

 per night
Jucy Coaster AU
Jucy3/58 km from Brisbane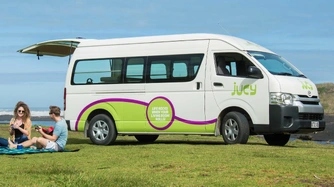 +12
2 adults
Automatic
Diesel
Kitchen
Unlimited kilometres
1 beds
AC
€1,448.00
 / 
€103.43

 per night
Mighty Double Down
Mighty3/514 km from Brisbane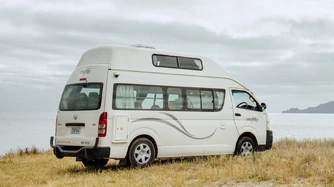 +9
4 adults
Automatic
Kitchen
Unlimited kilometres
AC
€1,570.00
 / 
€112.14

 per night
Mighty Highball
Mighty3/514 km from Brisbane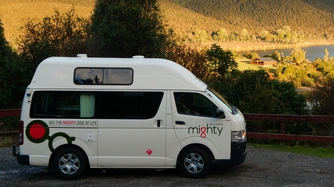 +9
2 adults
Automatic
Kitchen
Unlimited kilometres
AC
€1,570.00
 / 
€112.14

 per night
Beta 4-berth
Spaceships3/58 km from Brisbane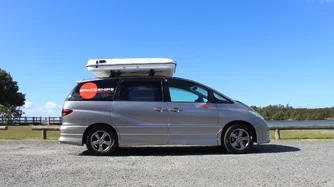 +8
4 adults
Automatic
Petrol
Kitchen
Unlimited kilometres
2 beds
AC
€1,664.00
 / 
€118.86

 per night
Britz Voyager
Britz4/514 km from Brisbane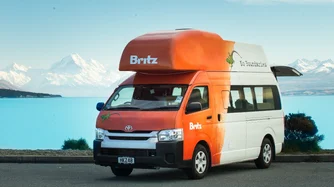 +10
4 adults
Automatic
Kitchen
Unlimited kilometres
2 beds
AC
€1,677.00
 / 
€119.79

 per night
Britz HiTop
Britz4/514 km from Brisbane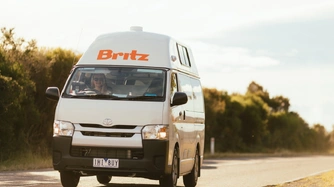 +12
2 adults
Automatic
Kitchen
Unlimited kilometres
1 beds
AC
€1,677.00
 / 
€119.79

 per night
Mighty Deuce
Mighty3/514 km from Brisbane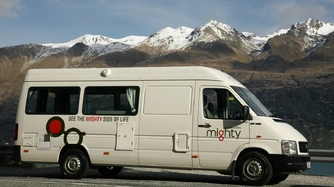 +10
2 adults
Automatic
Diesel
Kitchen
Unlimited kilometres
AC
Shower/WC
€2,372.00
 / 
€169.43

 per night
Mighty Deuce Plus
Mighty3/514 km from Brisbane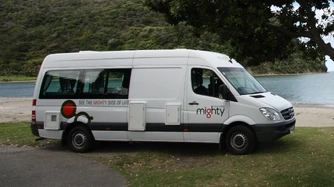 +9
2 adults/1 children
Automatic
Diesel
Kitchen
Unlimited kilometres
AC
Shower/WC
€2,452.00
 / 
€175.14

 per night
Britz Venturer
Britz4/514 km from Brisbane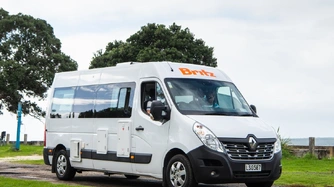 +9
2 adults
Automatic
Diesel
Kitchen
Unlimited kilometres
1 beds
AC
Shower/WC
€2,532.00
 / 
€180.86

 per night
Britz Venturer Plus
Britz4/514 km from Brisbane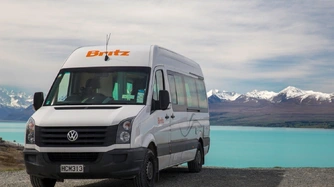 +10
2 adults/1 children
Automatic
Diesel
Kitchen
Unlimited kilometres
2 beds
AC
Shower/WC
€2,617.00
 / 
€186.93

 per night
Maui Ultima
Maui4.5/514 km from Brisbane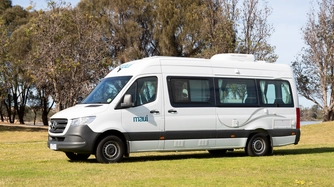 +8
2 adults
Automatic
Diesel
Kitchen
Unlimited kilometres
1 beds
AC
Shower/WC
€2,618.00
 / 
€187.00

 per night
Maui Ultima Plus
Maui4.5/514 km from Brisbane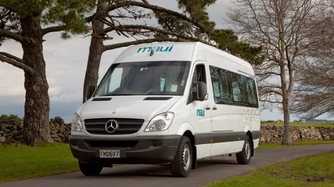 +12
2 adults/1 children
Automatic
Diesel
Kitchen
Unlimited kilometres
2 beds
AC
Shower/WC
€2,701.00
 / 
€192.93

 per night
Maui Ultima Elite
Maui5/514 km from Brisbane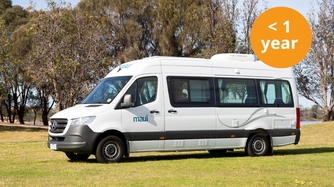 +8
2 adults
Automatic
Diesel
Kitchen
Unlimited kilometres
1 beds
AC
Shower/WC
€2,998.00
 / 
€214.14

 per night
Maui Ultima Plus Elite
Maui5/514 km from Brisbane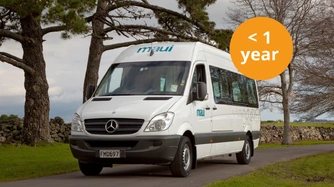 +12
2 adults/1 children
Automatic
Diesel
Kitchen
Unlimited kilometres
2 beds
AC
Shower/WC
€3,082.00
 / 
€220.14

 per night
Mighty Double Up
Mighty3/514 km from Brisbane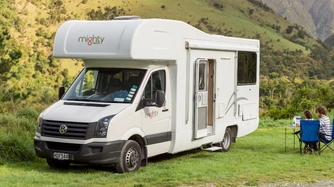 +10
4 adults
Automatic
Diesel
Kitchen
Unlimited kilometres
AC
Shower/WC
€3,571.00
 / 
€255.07

 per night
Britz Discovery
Britz4/514 km from Brisbane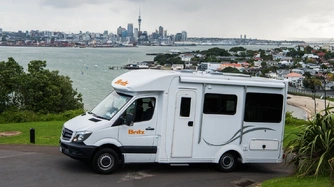 +10
4 adults
Automatic
Diesel
Kitchen
Unlimited kilometres
2 beds
AC
Shower/WC
€3,694.00
 / 
€263.86

 per night
Mighty Big Six
Mighty3/514 km from Brisbane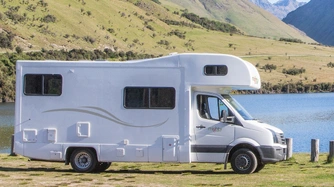 +11
4 adults/2 children
Automatic
Diesel
Kitchen
Unlimited kilometres
AC
Shower/WC
€3,694.00
 / 
€263.86

 per night
Britz Explorer
Britz4/514 km from Brisbane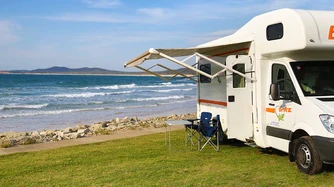 +10
4 adults
Automatic
Diesel
Kitchen
Unlimited kilometres
2 beds
AC
Shower/WC
€3,818.00
 / 
€272.71

 per night
Maui Cascade
Maui4.5/514 km from Brisbane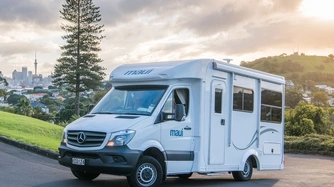 +11
4 adults
Automatic
Diesel
Kitchen
Unlimited kilometres
2 beds
AC
Shower/WC
€3,880.00
 / 
€277.14

 per night
Britz Frontier
Britz4/514 km from Brisbane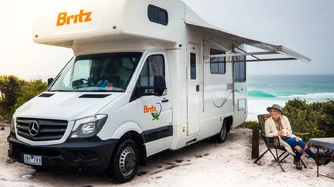 +10
6 adults
Automatic
Diesel
Kitchen
Unlimited kilometres
3 beds
AC
Shower/WC
€3,958.00
 / 
€282.71

 per night
Maui Beach
Maui4.5/514 km from Brisbane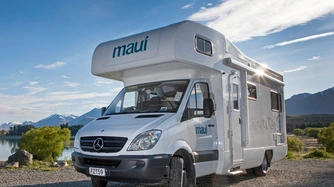 +10
4 adults
Automatic
Diesel
Kitchen
Unlimited kilometres
2 beds
AC
Shower/WC
€3,996.00
 / 
€285.43

 per night
Maui River
Maui4.5/514 km from Brisbane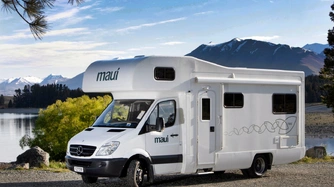 +9
6 adults
Automatic
Diesel
Kitchen
Unlimited kilometres
3 beds
AC
Shower/WC
€4,112.00
 / 
€293.71

 per night
Maui Cascade Elite
Maui5/514 km from Brisbane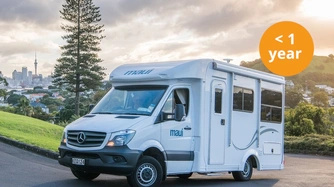 +11
4 adults
Automatic
Diesel
Kitchen
Unlimited kilometres
2 beds
AC
Shower/WC
€4,261.00
 / 
€304.36

 per night
Maui Beach Elite
Maui5/514 km from Brisbane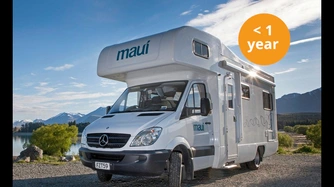 +10
4 adults
Automatic
Diesel
Kitchen
Unlimited kilometres
2 beds
AC
Shower/WC
€4,377.00
 / 
€312.64

 per night
Maui River Elite
Maui5/514 km from Brisbane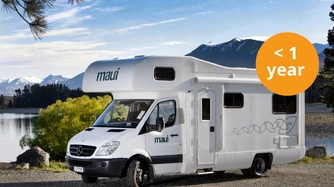 +9
6 adults
Automatic
Diesel
Kitchen
Unlimited kilometres
3 beds
AC
Shower/WC
€4,493.00
 / 
€320.93

 per night
Destinations and rental stations in Australia
A unique holiday experience
Motorhome rental in Brisbane
How does CamperDays work?
The CamperDays booking system allows you to find a perfect combination of availability, vehicle make, and extra features of the top campervans in a given country. If planning on your own is too overwhelming, our system is an easy, quick, and hassle-free option. To start the search, it is enough to fill in the form with the appropriate dates of your holidays.
The booking system can be easily filtered by car hire companies available in a given city. Apart from the list of companies, you will find other filter options located on the left-hand side of the website – these also provide you with an opportunity to filter the search results by price range. To improve your experience even further, CamperDays has a very transparent and easy to follow price display for each campervan.
1. Find an RV

Simply enter your dates and location to begin your search.

2. Receive offers

Request or book the campervan you want to rent for a great price.

3. Book and go

Complete your booking and your unforgettable adventure can begin!
Why is it worth booking a campervan in Brisbane as early as possible?
The favourable climate of Australia makes it a perfect country for campervan hire. One of the cities where you can easily rent a suitable vehicle is the capital of Queensland, Brisbane. Even though campervan hire enjoys popularity virtually all year round, the period that is characterised by the highest demand in this city is between September and February. Would you like a head start in selecting your dream vehicle? There is nothing easier to do than book your campervan early – as early as 4 months in advance. Early birds enjoy a number of benefits. These include the widest selection of perfectly equipped campervans at the most affordable prices. The average price of a campervan in Brisbane is 82.62 euros per day. Early action is also a guarantee of availability!
If you are still at the stage of planning your holidays, do not worry. We will come to your aid with the CamperDays customer service department. Our specialists will answer all your questions and find the best solutions. There are no hidden charges for reservation changes. What is more, you can also expect a fair cancelation policy.
Campervans are usually associated with the freedom of choice. Freedom also means that you are not limited by any schedules or timetables. With an RV, there is no need to worry about accommodation or finding the most affordable restaurants. Spending most of your holidays outdoors will also bring you plenty of benefits. The average booking period in Brisbane is 26 days.
FAQ - the most frequently asked questions about campervan hire in Brisbane
It is best to check the rental conditions as you may be required to own an International Driving Licence along with a national one.

Yes, you are required to have a credit card to pay for the deposit. It has to belong to the main driver.

Many campervan hire companies allow for pets in their vehicles. Please, check the rental conditions for more information.

Many roads in Australia are not suitable for campervans. They are listed in the rental conditions.

It is strictly forbidden to camp wild in Australia.

If you want to rent a campervan in Brisbane, you have to be 21. Some rental companies offer rental from the age of 18.

There usually are no restrictions, but remember that there are some companies whose motorhomes are not adjusted to installing child or booster seats. Please, check the rental conditions.
Which rental companies are available in Brisbane?
Campervan fans will be glad to find a wide selection of campervan hire companies in Brisbane. Among the most popular ones, there are Apollo, Hippie Wohnmobile, and Britz.
Apollo
Apollo is characterised by the greatest number of bookings in Brisbane. Their campers usually come with kitchen utensils and additional drivers.
Full address of the Apollo rental station in Brisbane:
733A Nudgee Road
QLD 4013 Brisbane (Northgate)
Hippie Wohnmobile
If you are searching for unlimited mileage and road maps included in the basic package, Hippie Wohnmobile is the go-to rental company for you.
Full address of the Hippie Wohnmobile rental station in Brisbane:
733A Nudgee Road
QLD 4013 Brisbane (Northgate)
Britz
Britz offers a wide selection of diverse vehicles that will live up to the expectations of the most demanding travellers. In its basic package, it offers a 10% discount at BIG4 Holiday Parks.
Full address of the Britz rental station in Brisbane:
21 Industry Court, Eagle Farm
QLD 4009 Brisbane
In order to reach the most popular campervan hire companies in Brisbane from Brisbane Airport (BNE), it is best to take a taxi, offering a comfortable and safe travel opportunity. Bear in mind to pick it up at official taxi ranks near the airport and to avoid taking unlicensed vehicles.
Categories of campervans in Brisbane
Small RV
2 - 4 people
Fuel consumption: 10 - 20 l / 100 km
For people who don't need much space
Pros: mobile, compact, low rental price
Luxury RV
3 - 7 people
Fuel consumption: ca. 25 l / 100 km
For people who like high comfort
Pros: spacious, high comfort, exclusive equipment
Large motorhomes
3 - 7 people
Fuel consumption: ca. 25 - 35 l / 100 km
For experienced drivers
Pros: comfortable, spacious
4WD campers
2 - 4 people
Fuel consumption: ca. 16 l / 100 km
For people who love exploring the landscape
Pros: powerful engine, all-terrain
Truck campervan
2 - 5 people
Fuel consumption: ca. 30 l / 100 km
For intermediate drivers
Pros: all-terrain, comfortable, mobile, powerful engine
More than 300 locations worldwide
Worldwide campervan rental
Experience an Alaskan winter, explore the Australian Outback or embark on a road trip through Europe – renting a campervan is the best way to travel any part of the world! Discover the ideal starting point for your holiday at our international locations. At CamperDays you can rent a campervan from the USA, Canada, Australia, New Zealand, Namibia, Botswana and many other destinations.
Internationally, we work with many well-established providers who rent out campervans/motorhomes: from Cruise America and Road Bear RV, who are well-known U.S. rental companies, to Jucy, whose core business is Australia and New Zealand, and Apollo, which is a global company with lots of locations in Europe, Australia and New Zealand.
Discover gorgeous cities, sunny Mediterranean beaches, deep green forests, and endless mountain ranges across Europe. With an RV, you are the master of your own destiny. Whether you want to visit multiple countries or linger around in one area for a longer period, having an RV at your disposal gives you plenty of choices.
Compare the prices for different motorhomes, locations, and dates in our price comparison tool and find the most affordable option for your trip.
United Kingdom | France | Germany | Italy | Norway | Portugal
One of the best ways to explore the beautiful countryside and cities of the USA and Canada is a good old-fashioned road trip. There is an abundance of different routes to take and tourist attractions to see. From Route 66, the most iconic road trip in the USA, to the breath-taking national parks, every adventurer will find something to their liking. Experience the scenic landscapes of North America with an RV and discover its diverse regions on a camper trip of a lifetime.
USA
Las Vegas | Los Angeles | Denver | Houston | Phoenix | Salt Lake City | Anchorage | Miami | Orlando
Canada
Expert advice

We will help you find the perfect campervan for your trip

Wide selection

Our partners are available across the globe at more than 300 locations

No hidden costs

We guarantee clear pricing and 100% transparency