Filter
5 Offers
for your holiday in Rome
Beach Hostel
roadsurfer4/57 km from Rome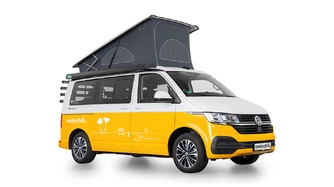 +10
4 adults/1 children
Automatic
Diesel
Kitchen
Unlimited kilometres
2 beds
AC
Pets allowed
€1,069.00
 / 
€76.36

 per night
Surfer Suite
roadsurfer4/57 km from Rome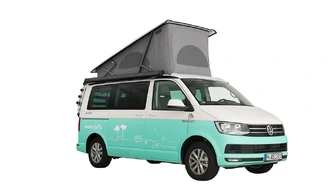 +10
4 adults
Automatic
Diesel
Kitchen
Unlimited kilometres
2 beds
AC
Pets allowed
€1,265.00
 / 
€90.36

 per night
Family Classic
rent easy4/513 km from Rome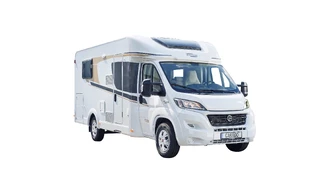 +9
4 adults
Manual
Diesel
Kitchen
250 kilometres per night incl.
3 beds
AC
Shower/WC
€2,145.00
 / 
€153.21

 per night
Family Standard
McRent4.5/514 km from Rome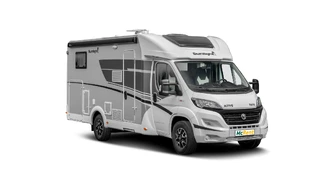 +11
4 adults
Manual
Diesel
Kitchen
Unlimited kilometres
3 beds
AC
Shower/WC
€2,201.00
 / 
€157.21

 per night
Family Luxury
McRent4.5/514 km from Rome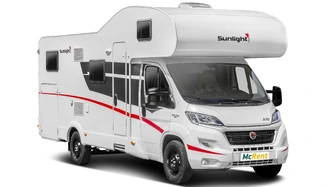 +9
4 adults/2 children
Manual
Diesel
Kitchen
Unlimited kilometres
3 beds
AC
Shower/WC
€2,334.00
 / 
€166.71

 per night
More than 300 locations worldwide
Worldwide campervan rental
Experience an Alaskan winter, explore the Australian Outback or embark on a road trip through Europe – renting a campervan is the best way to travel any part of the world! Discover the ideal starting point for your holiday at our international locations. At CamperDays you can rent a campervan from the USA, Canada, Australia, New Zealand, Namibia, Botswana and many other destinations.
Internationally, we work with many well-established providers who rent out campervans/motorhomes: from Cruise America and Road Bear RV, who are well-known U.S. rental companies, to Jucy, whose core business is Australia and New Zealand, and Apollo, which is a global company with lots of locations in Europe, Australia and New Zealand.
Discover gorgeous cities, sunny Mediterranean beaches, deep green forests, and endless mountain ranges across Europe. With an RV, you are the master of your own destiny. Whether you want to visit multiple countries or linger around in one area for a longer period, having an RV at your disposal gives you plenty of choices.
Compare the prices for different motorhomes, locations, and dates in our price comparison tool and find the most affordable option for your trip.
United Kingdom | France | Germany | Italy | Norway | Portugal
One of the best ways to explore the beautiful countryside and cities of the USA and Canada is a good old-fashioned road trip. There is an abundance of different routes to take and tourist attractions to see. From Route 66, the most iconic road trip in the USA, to the breath-taking national parks, every adventurer will find something to their liking. Experience the scenic landscapes of North America with an RV and discover its diverse regions on a camper trip of a lifetime.
USA
Las Vegas | Los Angeles | Denver | Houston | Phoenix | Salt Lake City | Anchorage | Miami | Orlando
Canada
How does CamperDays work?
Whether city trips, beach vacations or trips through nature - with a campervan you rent the freedom to arrange your leisure time completely according to individual ideas! You can flexibly discover new places and countries and experience the country and its people up close. Plan your own route and linger to your heart's content in cities that you like, or in the midst of picturesque natural landscapes. If you rent a campervan, make your holiday your personal adventure and spend an unforgettable time with your loved ones!
1. Find an RV

Simply enter your dates and location to begin your search.

2. Receive offers

Request or book the campervan you want to rent for a great price.

3. Book and go

Complete your booking and your unforgettable adventure can begin!
Should you book a campervan early in Rome?
A campervan will be the go-to vehicle for a sightseeing tour around Italy. Close encounters with nature, freedom of choice, and plenty of time spent outdoors are everything that this means of transport can promise. Rome will be the perfect place to rent a campervan and start your adventure behind the wheel around the country. The most popular period for campervan rental in Rome is between April and June. This period is also characterised by the highest demand. What steps can you take to ensure you get the best vehicle at the most affordable price? Well, you can try renting a campervan almost 7 months in advance. The competition at that time is really low so you can easily secure your dream vehicle. The average campervan hire in Rome is 127.60 euros per day, and the average travel time is 15 days.
If you are still unsure about the exact dates of your campervan trip, do not worry. We offer a very transparent cancellation policy as well as no additional charges for reservation changes. If you have any doubts about the rental or have additional questions, do not hesitate to contact the CamperDays customer service department. Our experts will be eager to solve all your problems.
Campervans are the promise of independence on the road. Even though campervan rental seems expensive at first, your own mobile home allows you to avoid any additional costs. Such additional costs may be connected with affordable accommodation options, restaurants on the way, or car rental. You also stay independent of any schedules. An additional benefit of campervan hire is spending more time close to nature – something that is harder to achieve while on regular holidays.
FAQ - the most frequently asked questions about campervan hire in Rome
If you have a driver's licence that has been issued in the EU, you do not have to own an International Driving Licence.

The deposit has to be paid with a credit card that belongs to the main driver.

You can freely cross borders, but you should notify the rental company first.

Many companies have nothing against pets in their vehicles. However, it is always advisable to check the rental conditions.

Camping wild in Italy is strictly forbidden.

The drivers are usually required to be 21. However, depending on the campervan hire company, there are some that allow drivers to be as young as 18.

Most of the rental companies allow for babies in their vehicles.
Which rental companies are available in Rome?
The most popular campervan hire company in Rome is McRent.
McRent
McRent is a guarantee of top-notch service. McRent's fleet consists of a wide range of different campervans, including panel trucks, partially integrated vehicles, fully integrated RVs, and alcove campervans. All of them come fully equipped with plenty of interesting features in the basic package. Along with a favourable standard insurance, you also can enjoy unlimited mileage. In addition, McRent's basic package includes outside cleaning and the option of additional driver. All McRent campervans come with complimentary A/C and a manual gearbox.
Full address of the McRent rental station in Rome:
Via di Castel Fusano 46
00124 Roma
McRent's depot is located approximately 23 km away from Rome. The easiest way to reach it from Rome-Fiumicino International Airport "Leonardo da Vinci" (FCO) or Rome-Ciampino International Airport "G. B. Pastine" (CIA) will be taking a taxi. Our advice is to pick them up at official taxi ranks at the airport and avoid unlicensed vehicles.
Categories of campervans in Rome
Small RV
2 - 4 people
Fuel consumption: 10 - 20 l / 100 km
For people who don't need much space
Pros: mobile, compact, low rental price
Luxury RV
3 - 7 people
Fuel consumption: ca. 25 l / 100 km
For people who like high comfort
Pros: spacious, high comfort, exclusive equipment
Large motorhomes
3 - 7 people
Fuel consumption: ca. 25 - 35 l / 100 km
For experienced drivers
Pros: comfortable, spacious
4WD campers
2 - 4 people
Fuel consumption: ca. 16 l / 100 km
For people who love exploring the landscape
Pros: powerful engine, all-terrain
Truck campervan
2 - 5 people
Fuel consumption: ca. 30 l / 100 km
For intermediate drivers
Pros: all-terrain, comfortable, mobile, powerful engine