Filter
4 Offers
for your holiday in Oslo
Urban Plus
McRent 4.5/536 km from Oslo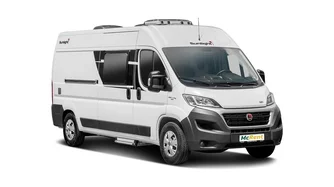 +9
2 adults
Manual
Diesel
Kitchen
Unlimited kilometres
1 beds
AC
Shower/WC
€2,411.00
 / 
per night 

€172.21
Family Standard
McRent 4.5/536 km from Oslo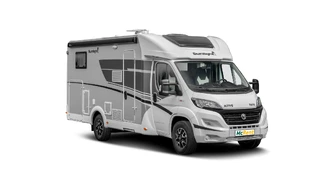 +11
4 adults
Manual
Diesel
Kitchen
Unlimited kilometres
3 beds
AC
Shower/WC
€2,620.00
 / 
per night 

€187.14
Family Plus
McRent 4.5/536 km from Oslo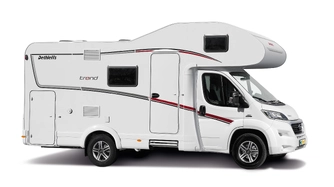 +12
3 adults/2 children
Manual
Diesel
Kitchen
Unlimited kilometres
4 beds
AC
Shower/WC
€2,724.00
 / 
per night 

€194.57
Family Classic
rent easy 4/530 km from Oslo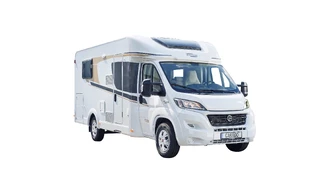 +9
4 adults
Manual
Diesel
Kitchen
250 kilometres per night incl.
3 beds
AC
Shower/WC
€2,802.00
 / 
per night 

€200.14
A unique holiday experience
Motorhome rental in Norway
How does the site work?
With Camperdays, booking a camper to hire in Norway is easy as you are guided step-by-step through the process. On the homepage, start by entering your preferred collection point and vacation dates. A page of available campervans to rent in Norway opens with photographs and details. Click on one of these or refine your choice further using the filters in the left-hand column. You can filter by price, distance from airports, vehicle size, and vehicle type as well as by rental companies. When you have found the right campervan in Norway for you, configure it to your exact needs by adding insurance and mileage packages plus anything else required such as GPS, tolling devices, child seats, and camping equipment. All you have to do now is enter your personal and billing details, and make your payment. Once that is done you can have fun planning your Norwegian road trip.
Simply enter your dates and location to begin your search.

Request or book the campervan you want to rent for a great price.

Complete your booking and your unforgettable adventure can begin!
Why is it worth booking an RV rental in Norway early?
Norway is made for outdoor life, particularly in the summer months when temperatures are mild and the days are long. This is why it is the perfect destination for a campervan vacation. Rent a campervan in Norway and you can explore scenery that ranges from mountains and fjords to rolling meadows and glaciers. Along the way, dip into the culture of cities such as Oslo, Bergen, and Tromso or spend time discovering the Sami way of life within the Arctic Circle. You'll know when you book exactly how much your campervan hire in Norway is going to cost, helping you balance your vacation budget. While a camper rental in Norway may seem expensive, it compares favorably with the price of booking car hire and hotel rooms or having to dine in restaurants every day. Your campervan rental in Norway has everything you need to travel in style. Exploring Norway by road is best done during the summer months of June until September. This is when demand for vehicles is high so CamperDays recommends booking your camper rental in Norway up to four months in advance. This guarantees you the best price, vehicle, and dates combination along with transparent cancellation terms along with no extra charges if your vacation dates change. If you have any queries or concerns speak to a member of the CamperDays customer service team. They are always happy to answer any questions you have about your campervan vacation in Norway.
Most booked companies for a camper rental in Norway
With plenty of pick-up and drop-off points in Norway, it's easy to plan a wonderful vacation in a campervan. CamperDays only partners with 100% professional rental companies so your camper in Norway is guaranteed to be comfortable to sleep in and fun to drive. And, of course, totally safe.
McRent
McRent is one of the most popular campervan rental companies in the world and offers a wide choice of rental vehicles and pick-up points in Norway. You can start your road trip in Oslo, Stavanger, Bjerkvik, Nordkjosbotn, Trondheim, Sem, and Fell. This means that whichever part of Norway you want to explore, you won't have to travel far to reach it. McRent has well-equipped campervans that comfortably sleep from two to six. Mileage is included in the rental price and paid airport transfers can be pre-booked.
Touring Cars
Oslo, Trondheim, and Tromso are your pick-up points for a Touring Cars RV rental in Norway. Its modern vehicles sleep from two to six people and your rental package includes airport transfers and unlimited mileage. Touring Cars requests that all drivers have held a full driving license for at least two years.
Categories of campervans in Norway
Small RV
2 - 4 people
Fuel consumption: 10 - 20 l / 100 km
For people who don't need much space
Pros: mobile, compact, low rental price
Luxury RV
3 - 7 people
Fuel consumption: ca. 25 l / 100 km
For people who like high comfort
Pros: spacious, high comfort, exclusive equipment
Large motorhomes
3 - 7 people
Fuel consumption: ca. 25 - 35 l / 100 km
For experienced drivers
Pros: comfortable, spacious
4WD campers
2 - 4 people
Fuel consumption: ca. 16 l / 100 km
For people who love exploring the landscape
Pros: powerful engine, all-terrain
Truck campervan
2 - 5 people
Fuel consumption: ca. 30 l / 100 km
For intermediate drivers
Pros: all-terrain, comfortable, mobile, powerful engine
Semi-integrated
One of the most popular campervan types for travelling around Norway is a semi-integrated campervan. Despite its large size, it is still rather economical. It will be an ideal means of transport for 4 travellers. Its characteristic feature is a living space partially integrated with the driver's cab.
Panel truck
Panel trucks will be the most comfortable travel option for 2 travellers. They are perfect both for longer and shorter adventures. Owing to their smaller size, they can fit into a number of places that stay out of reach for other larger vehicles. What is more, their compactness also makes them more economical in comparison to other vehicles.
Alcove
Alcove campervans are ideal for families with children as they come in varieties of up to 7 travellers. The characteristic alcove, located above the driver's cab, usually consists of a double bed. This space can be also converted into an additional storage place during the day. Alcove campervans are very practical.
More than 300 locations worldwide
Worldwide campervan rental
Experience an Alaskan winter, explore the Australian Outback or embark on a road trip through Europe – renting a campervan is the best way to travel any part of the world! Discover the ideal starting point for your holiday at our international locations. At CamperDays you can rent a campervan from the USA, Canada, Australia, New Zealand, Namibia, Botswana and many other destinations.
Internationally, we work with many well-established providers who rent out campervans/motorhomes: from Cruise America and Road Bear RV, who are well-known U.S. rental companies, to Jucy, whose core business is Australia and New Zealand, and Apollo, which is a global company with lots of locations in Europe, Australia and New Zealand.
Discover gorgeous cities, sunny Mediterranean beaches, deep green forests, and endless mountain ranges across Europe. With an RV, you are the master of your own destiny. Whether you want to visit multiple countries or linger around in one area for a longer period, having an RV at your disposal gives you plenty of choices.
Compare the prices for different motorhomes, locations, and dates in our price comparison tool and find the most affordable option for your trip.
United Kingdom | France | Germany | Italy | Norway | Portugal
One of the best ways to explore the beautiful countryside and cities of the USA and Canada is a good old-fashioned road trip. There is an abundance of different routes to take and tourist attractions to see. From Route 66, the most iconic road trip in the USA, to the breath-taking national parks, every adventurer will find something to their liking. Experience the scenic landscapes of North America with an RV and discover its diverse regions on a camper trip of a lifetime.
USA
Las Vegas | Los Angeles | Denver | Houston | Phoenix | Salt Lake City | Anchorage | Miami | Orlando
Canada
We will help you find the perfect campervan for your trip

Our partners are available across the globe at more than 700 locations

We guarantee clear pricing and 100% transparency