Filter
6 Offers
for your holiday in Rome
Beach Hostel
roadsurfer4/58 km from Rome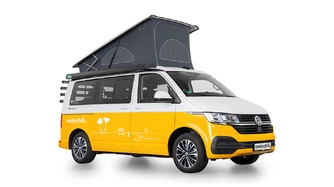 +10
4 adults/1 children
Automatic
Diesel
Kitchen
Unlimited kilometres
2 beds
AC
Pets allowed
€1,039.00
 / 
€74.21

 per night
Surfer Suite
roadsurfer4/58 km from Rome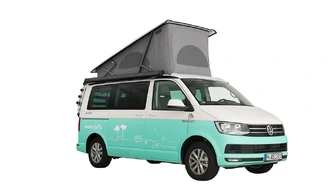 +10
4 adults
Automatic
Diesel
Kitchen
Unlimited kilometres
2 beds
AC
Pets allowed
€1,235.00
 / 
€88.21

 per night
Urban Plus
McRent4.5/515 km from Rome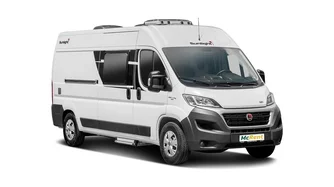 +9
2 adults
Manual
Diesel
Kitchen
Unlimited kilometres
1 beds
AC
Shower/WC
€1,321.00
 / 
€94.36

 per night
Road House
roadsurfer4/58 km from Rome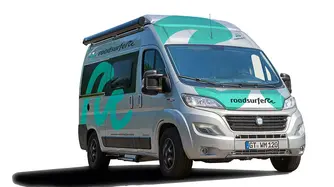 +6
4 adults
Automatic
Diesel
Kitchen
Unlimited kilometres
2 beds
AC
Shower/WC
Pets allowed
€1,503.00
 / 
€107.36

 per night
Family Standard
McRent4.5/515 km from Rome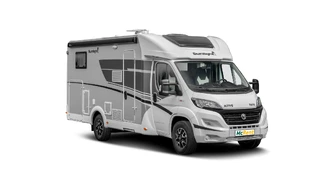 +11
4 adults
Manual
Diesel
Kitchen
Unlimited kilometres
3 beds
AC
Shower/WC
€1,837.00
 / 
€131.21

 per night
Family Classic
rent easy4/514 km from Rome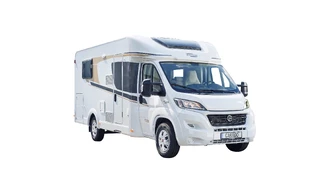 +9
4 adults
Manual
Diesel
Kitchen
250 kilometres per night incl.
3 beds
AC
Shower/WC
€2,172.00
 / 
€155.14

 per night
Destinations and rental stations in Italy
A unique holiday experience
Motorhome rental in Italy
How does the site work
With CamperDays, booking a vacation in an RV rental in Italy is quick and easy and your booking can be tweaked to meet your needs exactly. Start on the homepage and enter your vacation dates and the place you'd like to pick up your campervan in Italy. A list of campers to rent in Italy opens with pictures and details. Either click on one of these or refine your search further using the filters in the left-hand column. You can filter by price band, vehicle type and size, equipment required, and rental company (if you have a preference). Once you have selected a campervan to rent in Italy, you can configure your booking by selecting insurance and mileage packages plus other extras such as tolling devices, GPS, and camping equipment. The next step is to enter your personal and billing details and make your payment. Your camper in Italy is now reserved for you. All that's left to do is to start planning your route around the country.
1. Find an RV

Simply enter your dates and location to begin your search.

2. Receive offers

Request or book the campervan you want to rent for a great price.

3. Book and go

Complete your booking and your unforgettable adventure can begin!
Why is it worth booking an RV rental in Italy early?
Do you want to drive through mountains, around magnificent lakes, and along stunning coastlines, or take a journey through the world-class art collections of Rome, Florence, Venice, and Milan? Whichever it is, hiring an RV rental in Italy is the perfect way to make a road trip around this European country. Enjoy cruising on fast and well-maintained toll roads or meander on country roads where life is taken at a more leisurely pace. However you travel, there is always something new to see when you spend your vacation in a campervan in Italy. Your camper rental in Italy lets you see the country at your own pace and while, at first glance, it may seem an expensive way to travel it needn't break your budget. Check this by comparing it with the cost of hotel accommodation, car rental, and dining out every day. Italy's climate is a delight from April through until October but this is when campervan hire in Italy is in high demand. To get the best price and date combination, CamperDays recommends being an early bird and booking your vacation up to four months in advance. Don't worry if something comes up and you need to change your dates, there is no additional charge for this. Your booking also comes with a fair and transparent cancellation policy and the helpful services of the CamperDays customer service team.
FAQ - die wichtigsten Fragen und Antworten
If your driving license is issued in an EU country you don't need an IDP but one is required if you hold an American driving license. These are easily obtained before you travel.

Yes. The main driver must present a credit card. Details are held as a security and damages deposit.

In Italy, you can legally drive a campervan from the age of 18 but many rental companies require drivers to be at least 25 and will add a surcharge for younger drivers.

Most vans are suitable for babies and young children. Just check you have the appropriate child seats. Many rental companies offer a range of vans where well-behaved dogs are welcome. Always check your terms and conditions.

There should be no problem driving your campervan across the border into neighboring countries such as France and Switzerland as long as the rental company has agreed.

Nowadays, wild camping is rarely permitted in Italy. To avoid fines, always park in designated areas and campsites.
Most booked companies for a camper rental in Italy
With pick-up and drop-off points in many of Italy's major cities, planning an Italian itinerary is no problem. CamperDays guarantees that all of its partner rental companies are 100% professional. You will have a modern, comfortable, well-equipped, and safe vehicle for your road trip in Italy.
iNDiE campers
With pick-up points operating flexibly in Rome, Venice, and Milan, iNDiE campers gives you a stress-free start to your Italian road trip. To make your journey even smoother, you can pre-book airport transfers. The iNDiE fleet is comprised of modern, mainly compact campervans that sleep from two to four people.
McRent
McRent has pick-up and drop-off depots in Rome, Pisa, Bologna, and Vicenza meaning whichever part of Italy you wish to explore, there is a convenient starting point for you. McRent is one of the most popular campervan rental companies in the world with a large fleet of two to six-berth vans. Mileage is included in your package and paid pre-booked airport transfers are available.
roadsurfer
Start your Italian vacation with a roadsurfer pick-up in Rome, Milan, or Turin. Campervans from roadsurfer sleep from two to five people and include a modern take on the classic VW camper as well as other designs. Unlimited mileage is included with your booking. roadsurfer is happy to provide insurance policies for drivers over 18 provided they have held a clean driving license for at least six months.
Categories of campervans in Italy
Small RV
2 - 4 people
Fuel consumption: 10 - 20 l / 100 km
For people who don't need much space
Pros: mobile, compact, low rental price
Luxury RV
3 - 7 people
Fuel consumption: ca. 25 l / 100 km
For people who like high comfort
Pros: spacious, high comfort, exclusive equipment
Large motorhomes
3 - 7 people
Fuel consumption: ca. 25 - 35 l / 100 km
For experienced drivers
Pros: comfortable, spacious
4WD campers
2 - 4 people
Fuel consumption: ca. 16 l / 100 km
For people who love exploring the landscape
Pros: powerful engine, all-terrain
Truck campervan
2 - 5 people
Fuel consumption: ca. 30 l / 100 km
For intermediate drivers
Pros: all-terrain, comfortable, mobile, powerful engine
Semi-integrated
Semi-integrated campervans are very popular for longer trips around Italy. They will be perfect for families with children or for groups of 4. They always come with a range of practical features that allows you to stay fully independent throughout the whole trip.
Panel truck
Panel trucks are characterised by their compact size. In comparison to other much larger vehicles, they offer low fuel consumption and great manoeuvrability. Owing to that, parking in the cities will be a piece of cake. Panel trucks are a comfortable means of transport for couples.
More than 300 locations worldwide
Worldwide campervan rental
Experience an Alaskan winter, explore the Australian Outback or embark on a road trip through Europe – renting a campervan is the best way to travel any part of the world! Discover the ideal starting point for your holiday at our international locations. At CamperDays you can rent a campervan from the USA, Canada, Australia, New Zealand, Namibia, Botswana and many other destinations.
Internationally, we work with many well-established providers who rent out campervans/motorhomes: from Cruise America and Road Bear RV, who are well-known U.S. rental companies, to Jucy, whose core business is Australia and New Zealand, and Apollo, which is a global company with lots of locations in Europe, Australia and New Zealand.
Discover gorgeous cities, sunny Mediterranean beaches, deep green forests, and endless mountain ranges across Europe. With an RV, you are the master of your own destiny. Whether you want to visit multiple countries or linger around in one area for a longer period, having an RV at your disposal gives you plenty of choices.
Compare the prices for different motorhomes, locations, and dates in our price comparison tool and find the most affordable option for your trip.
United Kingdom | France | Germany | Italy | Norway | Portugal
One of the best ways to explore the beautiful countryside and cities of the USA and Canada is a good old-fashioned road trip. There is an abundance of different routes to take and tourist attractions to see. From Route 66, the most iconic road trip in the USA, to the breath-taking national parks, every adventurer will find something to their liking. Experience the scenic landscapes of North America with an RV and discover its diverse regions on a camper trip of a lifetime.
USA
Las Vegas | Los Angeles | Denver | Houston | Phoenix | Salt Lake City | Anchorage | Miami | Orlando
Canada
Expert advice

We will help you find the perfect campervan for your trip

Wide selection

Our partners are available across the globe at more than 300 locations

No hidden costs

We guarantee clear pricing and 100% transparency