Filter
13 offers
for your holiday in Cape Town
Bobo Discoverer FunX
Bobo 3/539 km from Cape Town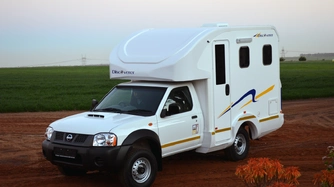 +8
2 adults
Manual
Diesel
Kitchen
Unlimited kilometres
1 beds
AC
4WD
€1,650.00
 / 
€117.86

 per night
Bobo Discoverer 4
Bobo 3/539 km from Cape Town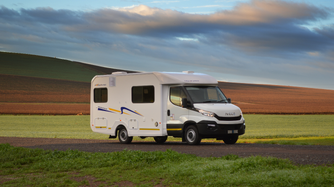 +9
4 adults
Automatic
Diesel
Kitchen
Unlimited kilometres
2 beds
AC
Shower/WC
€1,851.00
 / 
€132.21

 per night
Toyota Single Cab SE
Britz 2/518 km from Cape Town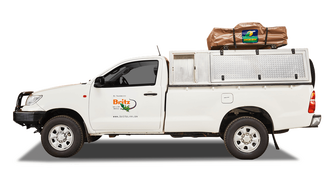 +5
2 adults
Manual
Diesel
Kitchen
Unlimited kilometres
1 beds
AC
4WD
€1,953.00
 / 
€139.50

 per night
Bobo Discoverer 6
Bobo 3/539 km from Cape Town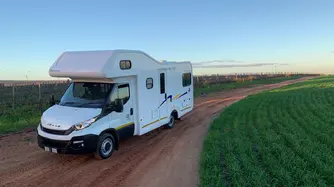 +8
6 adults
Automatic
Diesel
Kitchen
Unlimited kilometres
3 beds
AC
Shower/WC
€1,986.00
 / 
€141.86

 per night
Toyota Double Cab DCE
Britz 2/518 km from Cape Town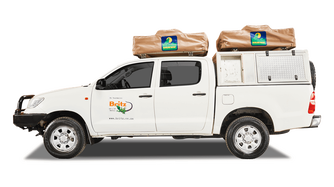 +5
4 adults
Manual
Diesel
Kitchen
Unlimited kilometres
2 beds
AC
4WD
€2,288.00
 / 
€163.43

 per night
Maui M2B
Maui 3/517 km from Cape Town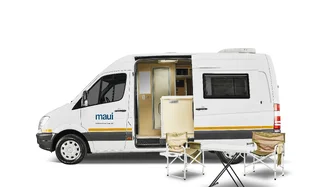 +9
2 adults
Manual
Diesel
Kitchen
Unlimited kilometres
1 beds
AC
Shower/WC
€2,318.00
 / 
€165.57

 per night
Maui M4Bi
Maui 3/517 km from Cape Town
+7
4 adults
Automatic
Diesel
Kitchen
Unlimited kilometres
2 beds
AC
Shower/WC
€2,468.00
 / 
€176.29

 per night
Britz Navi
Britz 2/518 km from Cape Town
+6
2 adults
Manual
Diesel
Kitchen
Unlimited kilometres
1 beds
AC
Shower/WC
4WD
€2,523.00
 / 
€180.21

 per night
Maui M6Bi
Maui 3/517 km from Cape Town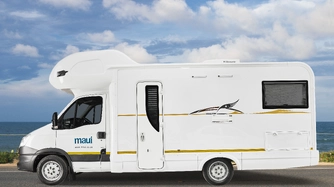 +12
6 adults
Automatic
Diesel
Kitchen
Unlimited kilometres
3 beds
AC
Shower/WC
€2,725.00
 / 
€194.64

 per night
Maui M6BM
Maui 4/517 km from Cape Town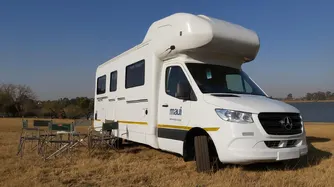 +3
6 adults
Automatic
Diesel
Kitchen
Unlimited kilometres
3 beds
AC
Shower/WC
€2,725.00
 / 
€194.64

 per night
Land Cruiser Single SLE
Britz 2/518 km from Cape Town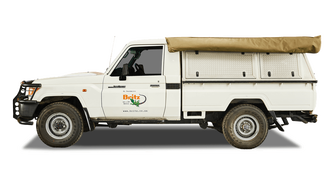 +5
2 adults
Manual
Diesel
Kitchen
Unlimited kilometres
1 beds
AC
4WD
€2,806.00
 / 
€200.43

 per night
Land Cruiser Camper Orion
Britz 2/518 km from Cape Town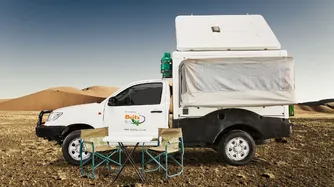 +3
2 adults
Manual
Diesel
Kitchen
Unlimited kilometres
1 beds
AC
4WD
€2,854.00
 / 
€203.86

 per night
Land Cruiser Double Cab DLE
Britz 2/518 km from Cape Town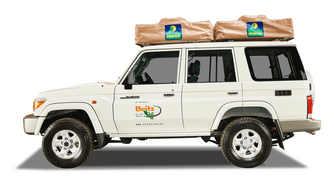 +5
4 adults
Manual
Diesel
Kitchen
Unlimited kilometres
2 beds
AC
4WD
€3,297.00
 / 
€235.50

 per night
Destinations and rental stations in Africa
A unique holiday experience
Motorhome rental in South Africa
How does CamperDays work?
CamperDays has prepared a simple booking system that will cater to the needs of the most demanding holidaymakers. It turns a very complicated process into a piece of cake. In just a few steps, you will be able to secure your dream campervan with all the equipment you require. The online form should be filled with the selected travel dates.
Once the dates are selected, you will be presented with a range of available motorhomes. There is a list of dedicated filters that can be used in order to narrow down the search. These include, among others, equipment, vehicle type, and rental company. You can also use a price range slider to adjust the prices of the campervans to your needs. Each search result shows a photo of the campervan along with its specification. The greatest advantage of the system is a very transparent price display. You will also benefit from no hidden charges on the pick-up.
Simply enter your dates and location to begin your search.

Request or book the campervan you want to rent for a great price.

Complete your booking and your unforgettable adventure can begin!
Why is it worth booking a campervan in South Africa early?
South Africa is not only a treasure trove of brilliant attractions, but also a perfect place for campervan enthusiasts. Campervan rental is available in a number of cities across the country. If you are wondering about what to do to get the best possible deal at the most affordable price, it is worth considering renting a vehicle early. Early steps will allow you to get ahead of other potential competitors and enjoy the best price-performance ratio.
If you still have doubts about campervan hire, you can always contact the CamperDays customer service department. Our experts will be pleased to come to your aid. When placing a reservation with CamperDays, you will benefit from a number of interesting advantages. These include, among others, a transparent cancellation policy and reservation changes that are free of charge. Our professionals will also eagerly answer all your questions.
A campervan is literally a synonym of autonomy on the road. You can change your plans whenever you please and enjoy sightseeing at your own pace. Travelling with an RV is also a way of spending some quality time with your family or friends. Even though it seems pricy at first, you do not have to pay for car rental, airline tickets, restaurants, or hotels. All of that can be found inside your vehicle.
FAQ - the most frequently asked questions about campervan hire in South Africa
Yes, you may be required to have an International Driving Licence in addition to your national driver's licence.

Yes, as it will be needed to pay for the deposit. It has to belong to the main driver.

There are numerous restrictions when it comes to crossing borders. It is best to check the rental conditions or contact the CamperDays customer service.

Yes, there are a number of places that should not be entered with a campervan. Check the rental conditions for more information.

No, most campervan hire companies in South Africa do not allow for pets in their campervans.

In South Africa, wild camping is forbidden.

Drivers who would like to rent a campervan in South Africa have to be at least 23. However, some companies allow you to be 21 in case of some particular campervans.

Yes, most companies allow you to travel freely with a baby. However, be sure to check the rental conditions as there are some vehicles which are not adjusted for installing child or booster seats.
Which rental companies are available in South Africa?
Travellers who opt for campervan rental in South Africa can enjoy the services of the following campervan hire companies: Britz, Maui, and Bobo Campers.
Britz
Britz is value for money. If you are searching for unlimited kilometres and kitchen equipment in the basic package, Britz will be the perfect choice for you. The company is available in Johannesburg and Cape Town.
Maui
Maui offers the option of additional driver. What is more, you will enjoy a spare wheel, camping table and chairs, and emergency tools. Maui can be found both in Cape Town and Johannesburg.
Bobo Campers
Bobo Campers is one of the campervan hire companies that are available in South Africa. Apart from a standard insurance, you can also enjoy bed linens and towels. The company is available in Johannesburg and in Cape Town.
Some campervan hire companies in South Africa offer free airport transfer. If you wish to benefit from such a service, you need to contact a given company in advance. There is also a possibility to take a taxi. However, always pick the taxis up at official taxi ranks near the airports.
Categories of campervans in South Africa
Small RV
2 - 4 people
Fuel consumption: 10 - 20 l / 100 km
For people who don't need much space
Pros: mobile, compact, low rental price
Luxury RV
3 - 7 people
Fuel consumption: ca. 25 l / 100 km
For people who like high comfort
Pros: spacious, high comfort, exclusive equipment
Large motorhomes
3 - 7 people
Fuel consumption: ca. 25 - 35 l / 100 km
For experienced drivers
Pros: comfortable, spacious
4WD campers
2 - 4 people
Fuel consumption: ca. 16 l / 100 km
For people who love exploring the landscape
Pros: powerful engine, all-terrain
Truck campervan
2 - 5 people
Fuel consumption: ca. 30 l / 100 km
For intermediate drivers
Pros: all-terrain, comfortable, mobile, powerful engine
More than 700 locations worldwide
Worldwide campervan rental
Compare the prices for different campervans, locations, and dates in our price comparison tool and find the most affordable option for your trip.
We will help you find the perfect campervan for your trip

Our partners are available across the globe at more than 700 locations

We guarantee clear pricing and 100% transparency