45 offers
for your holiday in Sydney
Alpha Budget
Spaceships3/51 km from Sydney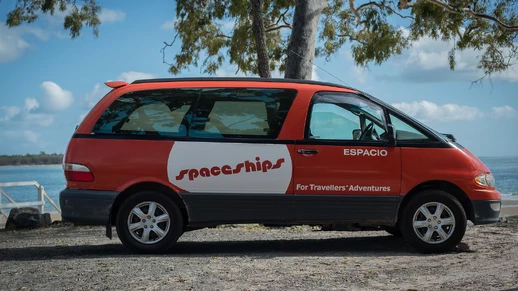 +8
2 adults
Automatic
Petrol
Kitchen
Unlimited kilometres
1 beds
AC
Pets allowed
€981.00
 / 
€70.07

 per night
Jucy Crib
Jucy3/54 km from Sydney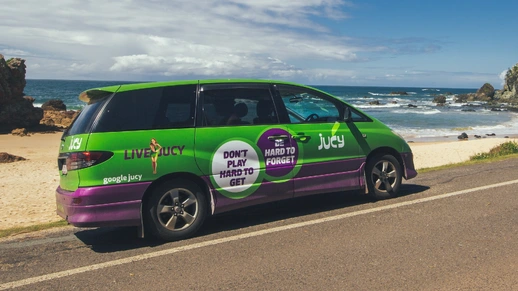 +9
2 adults
Automatic
Petrol
Kitchen
Unlimited kilometres
1 beds
AC
€1,060.00
 / 
€75.71

 per night
Beta
Spaceships3/51 km from Sydney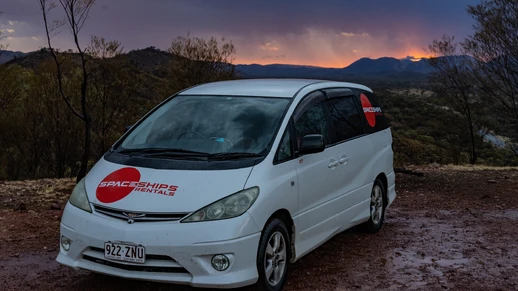 +12
2 adults
Automatic
Petrol
Kitchen
Unlimited kilometres
1 beds
AC
€1,075.00
 / 
€76.79

 per night
Chubby Camper
Travellers Autobarn3/52 km from Sydney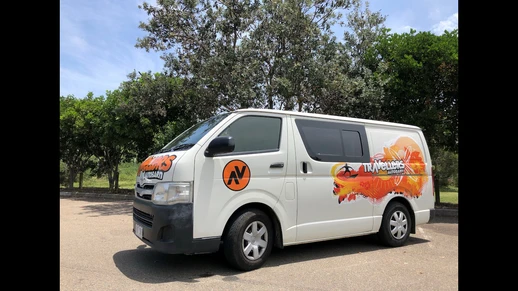 +17
2 adults
Manual
Petrol
Kitchen
Unlimited kilometres
1 beds
AC
€1,104.00
 / 
€78.86

 per night
Jucy Crib+
Jucy3/54 km from Sydney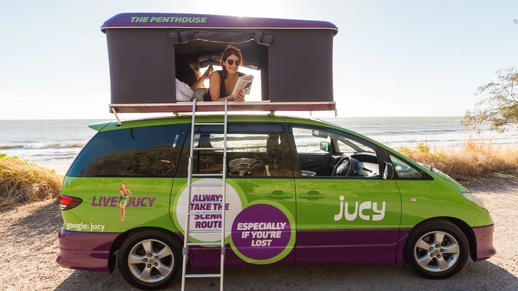 +8
4 adults
Automatic
Petrol
Kitchen
Unlimited kilometres
2 beds
AC
€1,150.00
 / 
€82.14

 per night
Beta 2S
Spaceships3/51 km from Sydney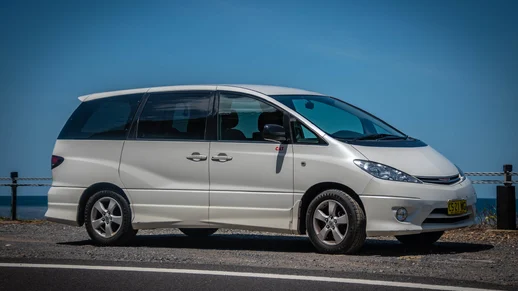 +8
2 adults
Automatic
Petrol
Kitchen
Unlimited kilometres
1 beds
AC
€1,168.00
 / 
€83.43

 per night
Jucy Condo
Jucy3/54 km from Sydney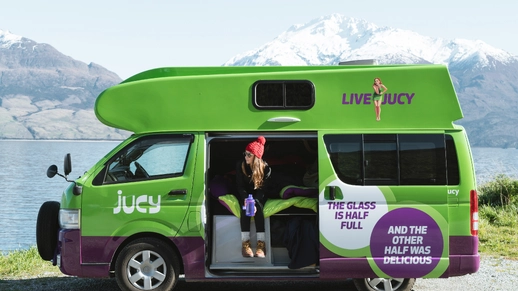 +11
4 adults
Automatic
Kitchen
Unlimited kilometres
2 beds
AC
€1,321.00
 / 
€94.36

 per night
Kuga Camper
Travellers Autobarn3/52 km from Sydney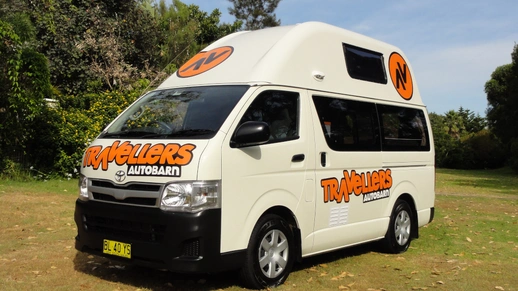 +21
2 adults/1 children
Manual
Petrol
Kitchen
Unlimited kilometres
2 beds
AC
€1,328.00
 / 
€94.86

 per night
Hippie Hitop Camper
Hippie2/511 km from Sydney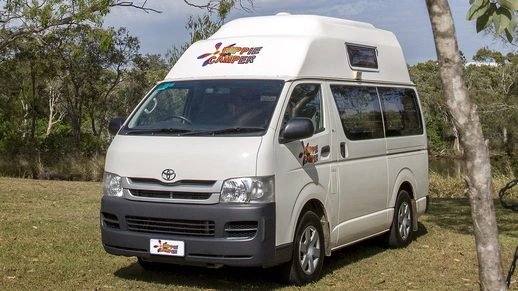 +9
2 adults
Petrol
Kitchen
Unlimited kilometres
1 beds
AC
€1,471.00
 / 
€105.07

 per night
Hippie Endeavour
Hippie2/511 km from Sydney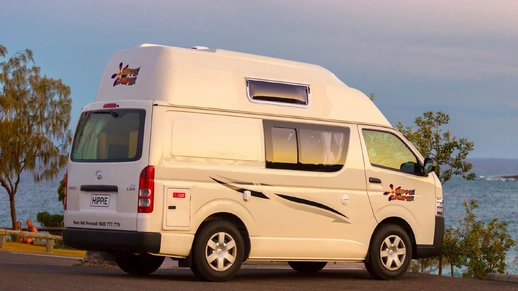 +11
2 adults/2 children
Petrol
Kitchen
Unlimited kilometres
2 beds
AC
€1,619.00
 / 
€115.64

 per night
Cheapa Hitop
Cheapa Campa2.5/511 km from Sydney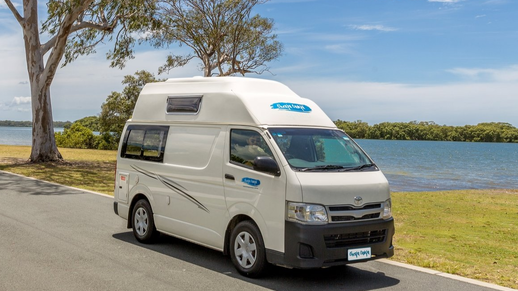 +9
2 adults
Automatic
Kitchen
Unlimited kilometres
1 beds
AC
€1,638.00
 / 
€117.00

 per night
Mighty Highball
Mighty3/511 km from Sydney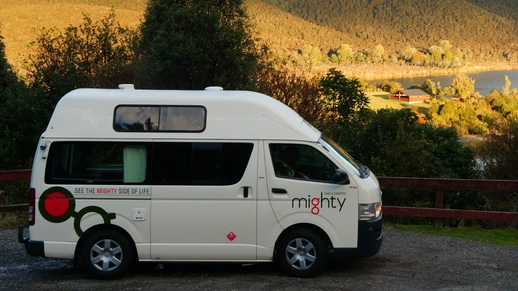 +8
2 adults
Automatic
Kitchen
Unlimited kilometres
AC
€1,639.00
 / 
€117.07

 per night
Apollo Hitop Ultra
Apollo3.5/511 km from Sydney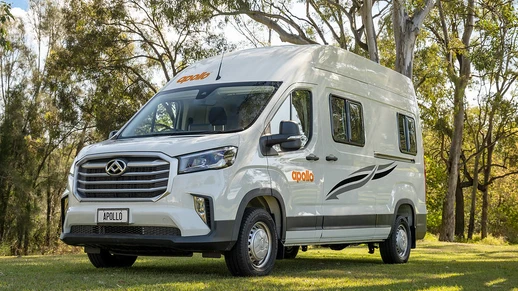 +8
2 adults
Automatic
Diesel
Kitchen
Unlimited kilometres
1 beds
AC
€1,883.00
 / 
€134.50

 per night
Britz HiTop
Britz4/511 km from Sydney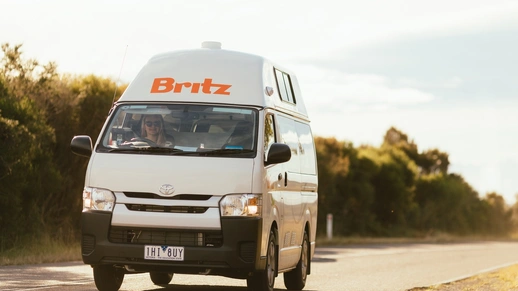 +11
2 adults
Automatic
Kitchen
Unlimited kilometres
1 beds
AC
€1,914.00
 / 
€136.71

 per night
Mighty Double Down
Mighty3/511 km from Sydney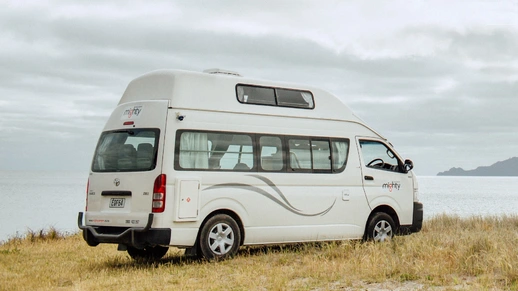 +8
4 adults
Automatic
Kitchen
Unlimited kilometres
AC
€1,947.00
 / 
€139.07

 per night
Cheapa Endeavour
Cheapa Campa2.5/511 km from Sydney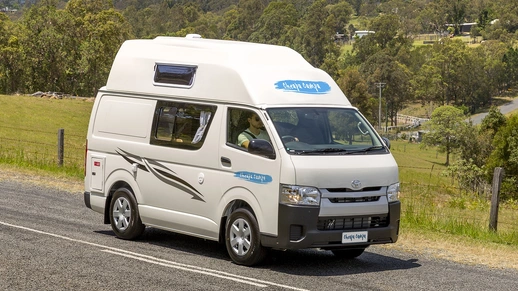 +11
2 adults/2 children
Automatic
Kitchen
Unlimited kilometres
2 beds
AC
€1,953.00
 / 
€139.50

 per night
Mighty Deuce
Mighty3/511 km from Sydney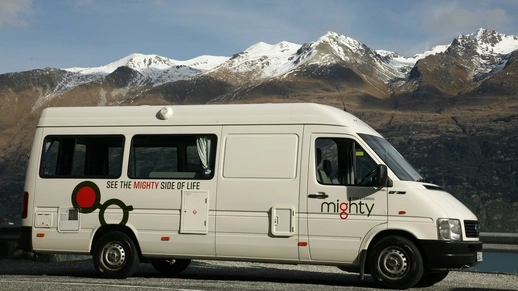 +9
2 adults
Automatic
Diesel
Kitchen
Unlimited kilometres
AC
Shower/WC
€2,176.00
 / 
€155.43

 per night
Apollo Endeavour
Apollo3.5/511 km from Sydney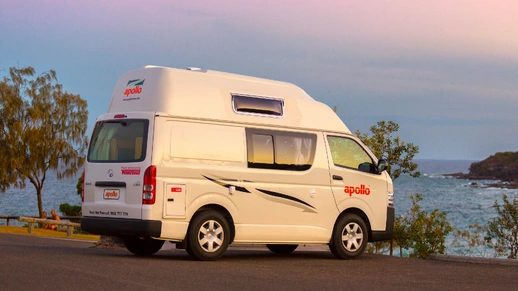 +12
2 adults/2 children
Automatic
Kitchen
Unlimited kilometres
2 beds
AC
€2,201.00
 / 
€157.21

 per night
Britz Voyager
Britz4/511 km from Sydney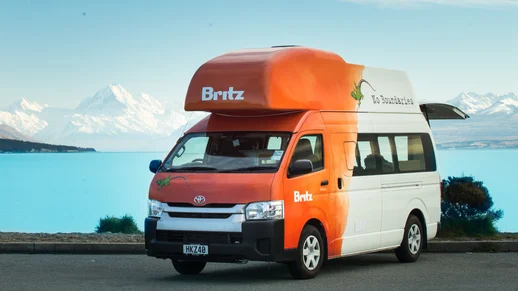 +9
4 adults
Automatic
Kitchen
Unlimited kilometres
2 beds
AC
€2,209.00
 / 
€157.79

 per night
Mighty Deuce Plus
Mighty3/511 km from Sydney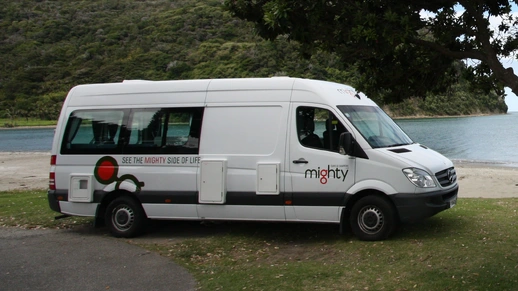 +8
2 adults/1 children
Automatic
Diesel
Kitchen
Unlimited kilometres
AC
Shower/WC
€2,252.00
 / 
€160.86

 per night
Cheapa 2 Berth
Cheapa Campa2.5/511 km from Sydney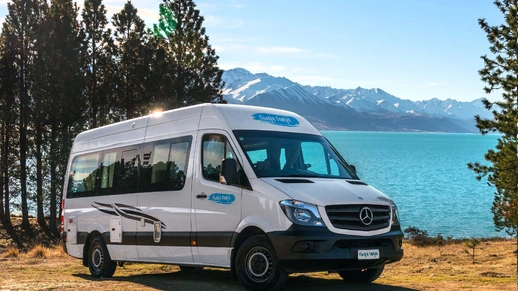 +9
2 adults
Automatic
Diesel
Kitchen
Unlimited kilometres
1 beds
AC
Shower/WC
€2,288.00
 / 
€163.43

 per night
Apollo Euro Mini
Apollo3.5/511 km from Sydney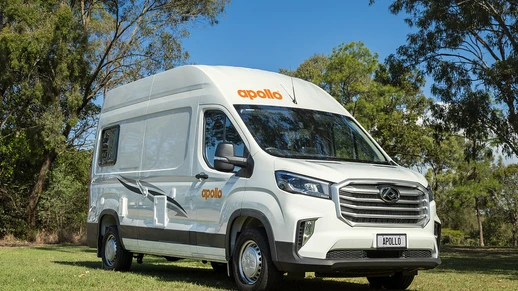 +11
2 adults
Automatic
Diesel
Kitchen
Unlimited kilometres
1 beds
AC
Shower/WC
€2,339.00
 / 
€167.07

 per night
Apollo Euro Tourer
Apollo3.5/511 km from Sydney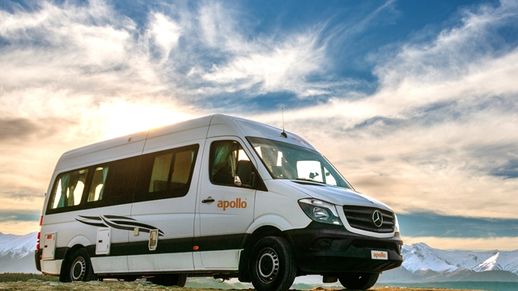 +12
2 adults
Automatic
Diesel
Kitchen
Unlimited kilometres
1 beds
AC
Shower/WC
€2,390.00
 / 
€170.71

 per night
Britz Venturer
Britz4/511 km from Sydney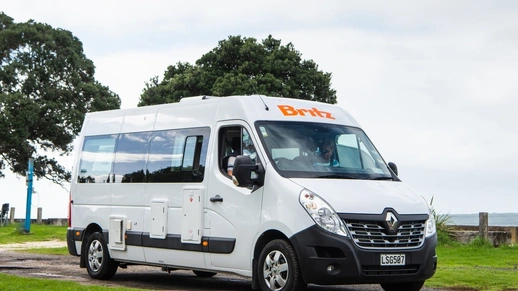 +8
2 adults
Automatic
Diesel
Kitchen
Unlimited kilometres
1 beds
AC
Shower/WC
€2,429.00
 / 
€173.50

 per night
Polaris 6
STAR4/54 km from Sydney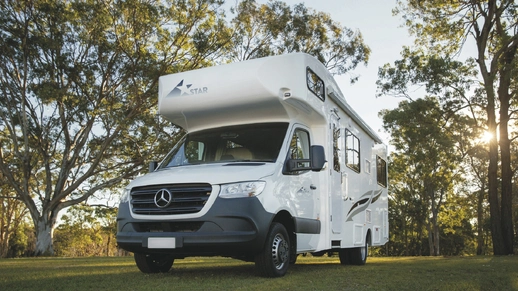 +6
4 adults/2 children
Automatic
Diesel
Kitchen
Unlimited kilometres
3 beds
AC
Shower/WC
Pets allowed
€2,456.00
 / 
€175.43

 per night
Britz Venturer Plus
Britz4/511 km from Sydney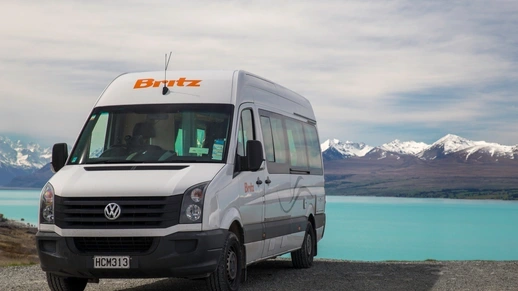 +9
2 adults/1 children
Automatic
Diesel
Kitchen
Unlimited kilometres
2 beds
AC
Shower/WC
€2,512.00
 / 
€179.43

 per night
Maui Ultima
Maui4.5/511 km from Sydney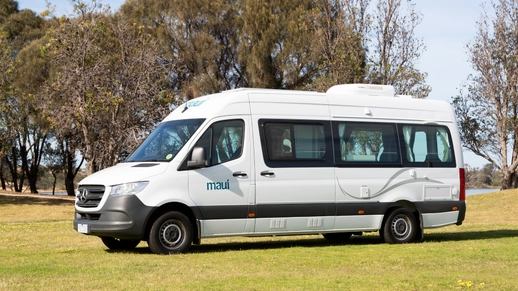 +7
2 adults
Automatic
Diesel
Kitchen
Unlimited kilometres
1 beds
AC
Shower/WC
€2,674.00
 / 
€191.00

 per night
Maui Ultima Plus
Maui4.5/511 km from Sydney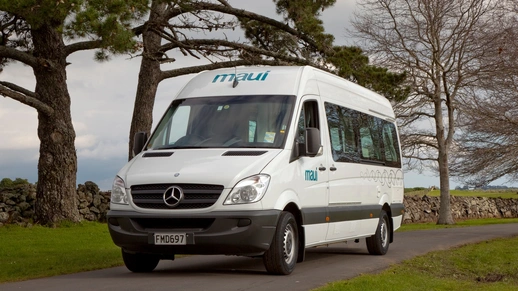 +10
2 adults/1 children
Automatic
Diesel
Kitchen
Unlimited kilometres
2 beds
AC
Shower/WC
€2,757.00
 / 
€196.93

 per night
Mighty Double Up
Mighty3/511 km from Sydney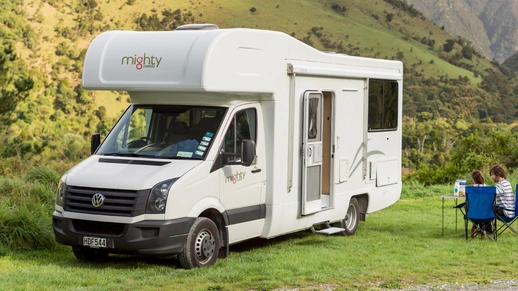 +9
4 adults
Automatic
Diesel
Kitchen
Unlimited kilometres
AC
Shower/WC
€2,803.00
 / 
€200.21

 per night
Mighty Big Six
Mighty3/511 km from Sydney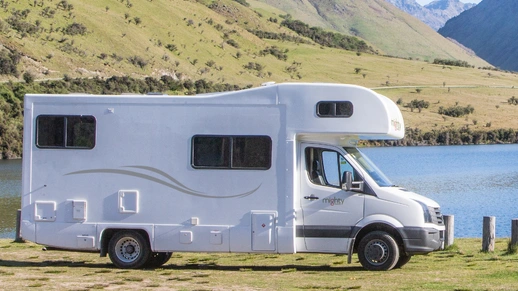 +10
4 adults/2 children
Automatic
Diesel
Kitchen
Unlimited kilometres
AC
Shower/WC
€2,897.00
 / 
€206.93

 per night
Cheapa 4 Berth
Cheapa Campa2.5/511 km from Sydney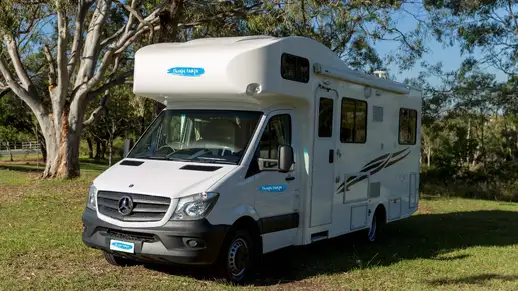 +6
4 adults
Automatic
Diesel
Kitchen
Unlimited kilometres
2 beds
AC
Shower/WC
€2,937.00
 / 
€209.79

 per night
Cheapa 6 Berth
Cheapa Campa2.5/511 km from Sydney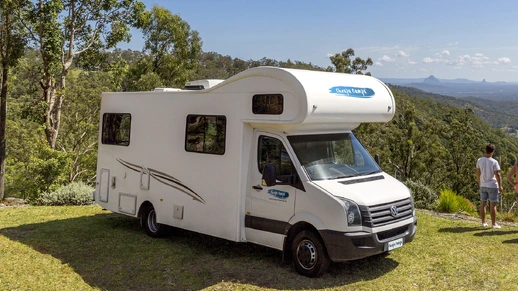 +7
6 adults
Automatic
Diesel
Kitchen
Unlimited kilometres
3 beds
AC
Shower/WC
€3,033.00
 / 
€216.64

 per night
Maui Ultima Elite
Maui5/511 km from Sydney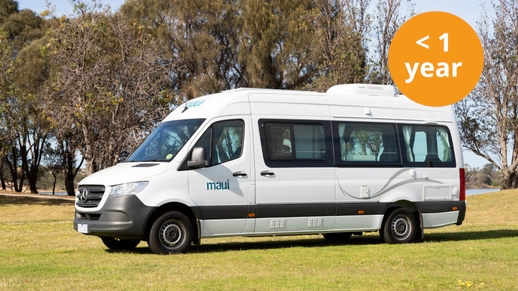 +7
2 adults
Automatic
Diesel
Kitchen
Unlimited kilometres
1 beds
AC
Shower/WC
€3,035.00
 / 
€216.79

 per night
Britz Discovery
Britz4/511 km from Sydney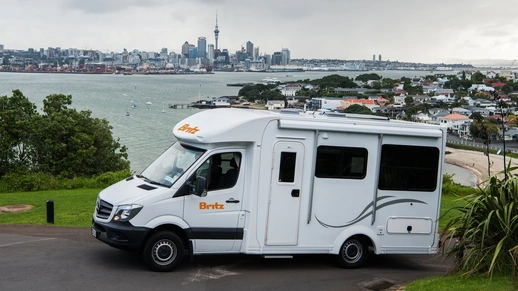 +9
4 adults
Automatic
Diesel
Kitchen
Unlimited kilometres
2 beds
AC
Shower/WC
€3,101.00
 / 
€221.50

 per night
Maui Ultima Plus Elite
Maui5/511 km from Sydney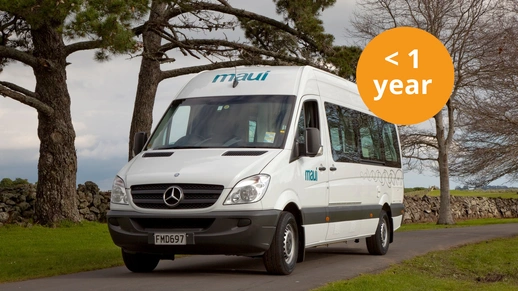 +10
2 adults/1 children
Automatic
Diesel
Kitchen
Unlimited kilometres
2 beds
AC
Shower/WC
€3,118.00
 / 
€222.71

 per night
Apollo Euro Camper
Apollo3.5/511 km from Sydney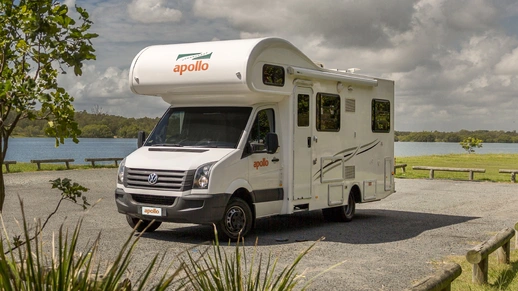 +9
4 adults
Automatic
Diesel
Kitchen
Unlimited kilometres
2 beds
AC
Shower/WC
€3,154.00
 / 
€225.29

 per night
Britz Explorer
Britz4/511 km from Sydney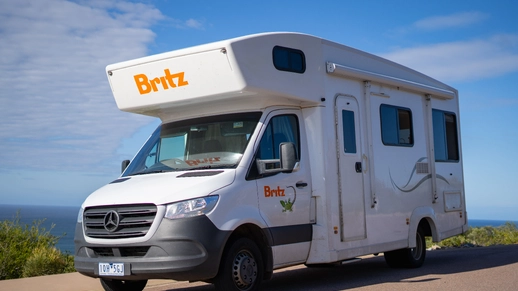 +9
4 adults
Automatic
Diesel
Kitchen
Unlimited kilometres
2 beds
AC
Shower/WC
€3,207.00
 / 
€229.07

 per night
Apollo Euro Deluxe
Apollo3.5/511 km from Sydney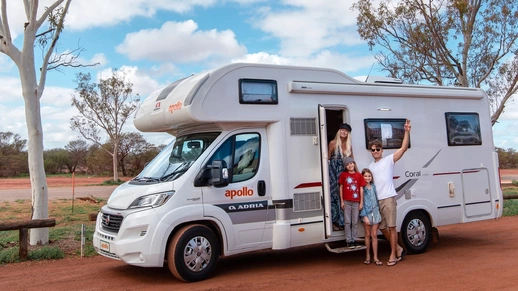 +13
6 adults
Automatic
Diesel
Kitchen
Unlimited kilometres
3 beds
AC
Shower/WC
€3,214.00
 / 
€229.57

 per night
Britz Frontier
Britz4/511 km from Sydney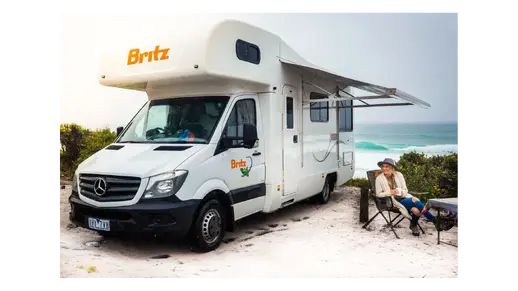 +9
6 adults
Automatic
Diesel
Kitchen
Unlimited kilometres
3 beds
AC
Shower/WC
€3,314.00
 / 
€236.71

 per night
Maui Cascade
Maui4.5/511 km from Sydney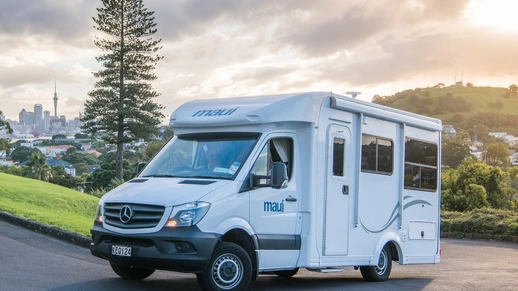 +10
4 adults
Automatic
Diesel
Kitchen
Unlimited kilometres
2 beds
AC
Shower/WC
€3,347.00
 / 
€239.07

 per night
Maui Beach
Maui4.5/511 km from Sydney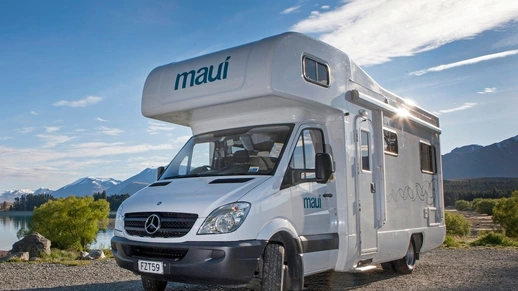 +9
4 adults
Automatic
Diesel
Kitchen
Unlimited kilometres
2 beds
AC
Shower/WC
€3,454.00
 / 
€246.71

 per night
Maui River
Maui4.5/511 km from Sydney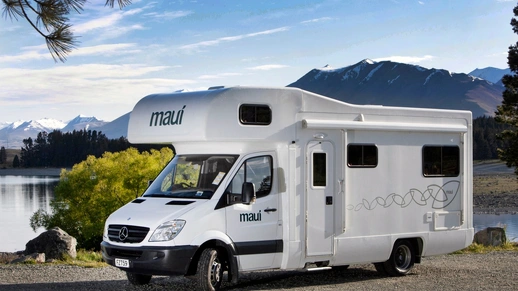 +8
6 adults
Automatic
Diesel
Kitchen
Unlimited kilometres
3 beds
AC
Shower/WC
€3,561.00
 / 
€254.36

 per night
Maui Cascade Elite
Maui5/511 km from Sydney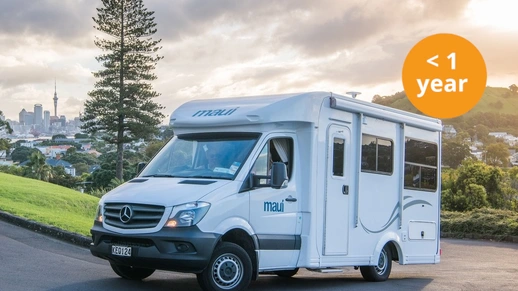 +10
4 adults
Automatic
Diesel
Kitchen
Unlimited kilometres
2 beds
AC
Shower/WC
€3,708.00
 / 
€264.86

 per night
Maui Beach Elite
Maui5/511 km from Sydney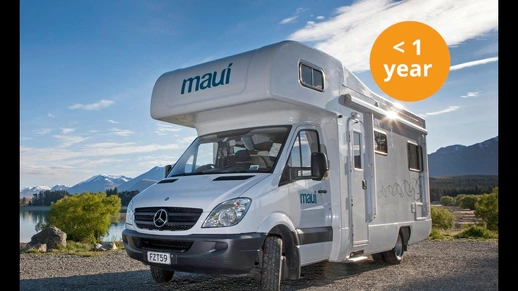 +9
4 adults
Automatic
Diesel
Kitchen
Unlimited kilometres
2 beds
AC
Shower/WC
€3,815.00
 / 
€272.50

 per night
Maui River Elite
Maui5/511 km from Sydney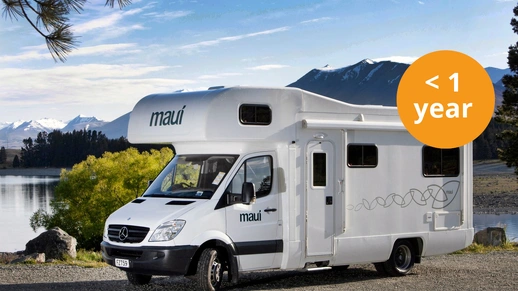 +8
6 adults
Automatic
Diesel
Kitchen
Unlimited kilometres
3 beds
AC
Shower/WC
€3,922.00
 / 
€280.14

 per night
Destinations and rental stations in Australia
A unique holiday experience
Motorhome rental in Australia
Renting a campervan in Australia
Renting a campervan is one of the best ways to experience Australia. Campervans have become a popular way to explore Australia as the country has good roads and there are lots of facilities. You will most probably cross paths with many like-minded travellers. Australia also drives on the right and in general follows the same rules as the UK, but make sure to always check local laws. Be aware that Australia is huge! Always plan your trip in advance to avoid driving very long distances.
Australia is one of the best places in the world for wildlife. It has over 1 million unique species of plants and animals that cannot be seen anywhere else. Australia is worth visiting as there is a lot of wildlife and plants to see such as: deadly crocodiles to cuddly Koalas, giant emus to endangered Tasmanian Devils or ancient rain forests to colourful corrals. UNESCO lists 20 World Heritage Sites in Australia. Travelling in a campervan means you can visit many natural habitats and UNESCO World Heritage Sites along the way.
Why is it worth booking an RV rental in Australia early?
Open roads, landscapes of bush, desert, and forest, awesome rock formations, and buzzing city life are just part of what makes a camper hire for an Australia road trip so wonderful. Add in endless night skies and stunning coastlines and it adds up to a truly magical vacation. With a campervan in Australia, you can really enjoy this huge and varied country at your own pace. You can pick up a campervan hire in Australia at any time of the year, but the most popular season is between October and March, which is Australia's spring and summer. With demand for camper rentals in Australia high during this period, CamperDays recommends reserving your vehicle well in advance. That way, you guarantee getting the vehicle and dates of your choice. Don't worry if you have to alter your dates, your booking comes with fair cancellation conditions and no extra charge for reservation changes. Add up the cost of hotel rooms, car hire, and dining out and you'll see just how budget-friendly your vacation is when you choose a camper in Australia. Your campervan really is a comfortable mini hotel and restaurant on wheels! Still not convinced? Have a chat with the friendly and knowledgeable CamperDays customer service team.
FAQ
Driving license laws vary from state to state in Australia and some request an International Driving Permit (IDP) as well as your full driving license. Check your terms and conditions when booking for further details.

Yes. Credit card details are held as a damage and security deposit.

In Australia, you can legally drive a campervan from 18 years old. In practice, most camper rental companies prefer older drivers and may add a surcharge for drivers under 21.

Most companies are happy to accommodate families although not all vehicles are suitable for child seats. Dogs are often welcome. Check when booking and read the terms and conditions.

Some Australian roads are unsuitable for larger campervans. Always check with your rental company when planning your route.

Wild camping is strictly forbidden in Australia. There are, however, plenty of designated campsites across the country.
How does the site work?
Booking your RV rental in Australia with CamperDays couldn't be more straightforward. Select your pick-up points and vacation dates and scroll through the choice of available campervans. Click on one or use the filters in the left-hand column to refine your search further by price, location, and equipment. Complete your van selection by choosing insurance and mileage packages before entering your personal and billing details. Once your payment is confirmed, your camper Australia vacation is ready to go.
Simply enter your dates and location to begin your search.

Request or book the campervan you want to rent for a great price.

Complete your booking and your unforgettable adventure can begin!
The must-see parts of Australia
Australia has a mix of fascinating nature and culture. Whatever you enjoy doing, you are sure to find something in this amazing country.
The Great Barrier Reef
See a huge array of tropical fish, sharks, dolphins, turtles, rays and much more that live amongst the hard and soft corrals.

You can experience the reef from a glass bottomed boat, scuba diving amongst the fish or take a flight and experience the reefs vastness.
Sydney Opera House
Access behind the scenes and learn about the fascinating history with a guided tour of the building.

Enjoy a performance of either ballet, comedy, theatre, or a children's show and experience the acoustics of the building.

Catch one of the best views of this architectural masterpiece by taking a boat ride that passes by the Opera House.
Blue Mountains National Park
Put on your hiking boots and explore one of the many walking trails. There are a total of 87miles worth of trails to explore.

Walk up to Echo Point and enjoy a stunning view of the 2950 ft (900- metre-high) sandstone pillars called The Three Sisters. They are lit up at night and make a stunning view.

Visit Scenic World and choose Scenic Railway, Scenic Skyway or a Scenic Cableway and enjoy breathtaking views.
Melbourne's Culture
Take a stroll around Melbourne's Royal Botanic Gardens. They are just 1¼miles away from the CBD and are home to more than 10,000 plant species, many of which are rare.

Admire more that 70,000 pieces of work from Europe, Asia, Oceania, and America in the National Gallery of Victoria.

Wander around Federation Square and enjoy festivals, performances, cafés, restaurants and bars.

Hop on one of the free City Circle Trams that passes by parliament, treasury buildings, Princess theatre and many more places. This is a great way to see the city.
Bondi Beach
Fancy a surf? Bondi Beach is the home to one of the oldest surf and lifesaving clubs in the world.

Take a swim in the crystal-clear water, but be sure to stay in the safe area between the flags to avoid being on the famous Australian reality show Bondi Rescue

Stroll from Bondi to Bronte along a scenic 3¾ miles trail next to sandstone cliffs.
Questions and Answers
The most frequently asked questions about campervan hire in Australia
Please check the rental conditions as you may be required to own an International Driving Licence in addition to your national licence.

In order to rent a campervan, you need to have a credit card that belongs to the main driver. It is required to pay the deposit.

In Australia, many campervan hire companies allow a pet in the vehicle. However, to be sure, it is best to check the rental conditions.

Yes, some of the roads are not suitable for campervans. These are listed in the rental conditions.

Camping wild is forbidden in Australia.

Drivers in Australia are required to be 21 years old to rent a campervan, but it is best to check the rental conditions. Some companies allow drivers to be 18.

Most companies have no restriction when it comes to travelling with a baby, but there are companies offering vehicles that are not suited for installing child or booster seats. Please, check the rental conditions.
Popular events in Australia
Melbourne Cup horse race (November): The Melbourne Cup is one of the oldest and most famous horse races. Watch jockeys from all over the world race for over 8 million AUD in prize money.
Sculpture by the Sea, Bondi (October - November): The coastline is transformed into a festival of sculptures, featuring over 100 from Australian and international sculptors. Bring your camera and get some fantastic photos of this free event.
Melbourne International Comedy Festival (March to April): Melbourne is the second largest comedy festival behind Edinburgh. Choose from over 500 shows and experience the next up-and-coming comic.
Vivid Sydney (May-June): Another free event in Sydney. It is described as a festival of light, music, and ideas. Expect the whole city to be lit up and there is also fantastic music from all over the world. Additionally, there are lots of small events scattered around the city.
Most booked companies for a campervan rent in Australia
With several rental depots across Australia, it's easy to find a campervan to suit your vacation needs. CamperDays rental partners are 100% professional and offer a range of safe, modern, and comfortable vehicles.
Spaceships
With stations across Australia including Sydney, Melbourne, and Brisbane renting a Spaceships campervan gets your road trip off to a great start. Bonuses include unlimited mileage and 24/7 pick-up and drop-off.
Jucy Rentals
Pick up your green Jucy Rentals vehicle from Sydney, Melbourne, Brisbane, Adelaide, Cairns, or the Gold Coast. Jucy campervans come in two and four-berth models.
Cheapa Campa
Cheapa Campa has depots at main airports such as Sydney, Adelaide, Brisbane, Cairns, Perth, and Darwin, Melbourne. Dogs are allowed in all vehicles which sleep from two to six people.
Hippie
Pick up a hippie van from an international airport such as Sydney, Adelaide, Cairns, Brisbane, Darwin, and Perth, and hit the summer festival circuit. Hippie happily rents to younger drivers and has compact vehicles perfect for solo travelers, couples, and small families.
Apollo
Pick up your Apollo campervan in Australia from several main cities including Sydney, Melbourne, Cairns, Darwin, Perth, and Alice Springs. All vehicles are pet-friendly and sleep from two to six people.
Mighty Campers
Mighty Campers has vehicles from compact two berths to large six-berth models. Collect from depots across Australia including Sydney, Perth, Adelaide, and Melbourne.
Britz
With pick-up and drop-off points in Broome, Alice Springs, and Darwin as well as major cities such as Sydney and Melbourne, Britz gets your Australian road trip off to a flying start. Pick compact vehicles for singles and couples while six-berth campers are perfect for families.
Maui
With more than eight pick-up points including Sydney, Perth, Darwin, Cairns, Alice Springs, and Melbourne, creating the perfect road trip in a Maui campervan is easy. Maui vans can sleep from two to six people.
Star RV
You can start and finish your Australian road trip with Star RV at depots in Sydney, Brisbane, Cairns, and Melbourne. Star RV has smaller models perfect for two or large homes on wheels that can sleep a family of seven.
Travellers Autobarn
Travellers Autobarn is one of the few RV rentals in Australia with a pick-up point in Byron Bay adding extra flexibility to your road trip vacation. All of its vehicles are custom-built and designed to sleep two to four people.
Categories of campervans in Australia
Small RV
2 - 4 people
Fuel consumption: 10 - 20 l / 100 km
For people who don't need much space
Pros: mobile, compact, low rental price
Luxury RV
3 - 7 people
Fuel consumption: ca. 25 l / 100 km
For people who like high comfort
Pros: spacious, high comfort, exclusive equipment
Large motorhomes
3 - 7 people
Fuel consumption: ca. 25 - 35 l / 100 km
For experienced drivers
Pros: comfortable, spacious
4WD campers
2 - 4 people
Fuel consumption: ca. 16 l / 100 km
For people who love exploring the landscape
Pros: powerful engine, all-terrain
Truck campervan
2 - 5 people
Fuel consumption: ca. 30 l / 100 km
For intermediate drivers
Pros: all-terrain, comfortable, mobile, powerful engine
Tips for renting a campervan in Australia
Touring Australia in a campervan has become more popular over the past few years. Travelling in a campervan means you can visit all the fabulous and wild destinations. As the demand to travel over the summer season is very high, it is recommended to book as early as possible. Booking in advance gives you the best chance of getting a cheaper daily rate with savings of up to £75 and this also gives you time to find a campervan suited to your needs.
Camperdays as rebookings or amendments are usually no problem.
We do not charge for a rebooking, and we pride ourselves on having a fair cancellation policy. If you would like to speak to us or need any further information, then give us a call on our hotline.
More than 700 locations worldwide
Worldwide campervan rental
Compare the prices for different campervans, locations, and dates in our price comparison tool and find the most affordable option for your trip.
We will help you find the perfect campervan for your trip

Our partners are available across the globe at more than 700 locations

We guarantee clear pricing and 100% transparency