Filter
4 offers
for your holiday in Vancouver
Cruise America C-30
Cruise America 3.5/518 km from Vancouver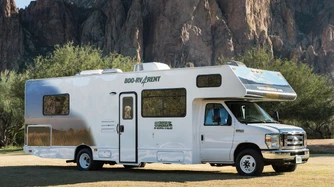 +14
6 adults/1 children
Automatic
Petrol
Kitchen
No kilometres incl.
4 beds
AC
Shower/WC
€1,609.00
 / 
€114.93

 per night
Cruise America C-25
Cruise America 3.5/518 km from Vancouver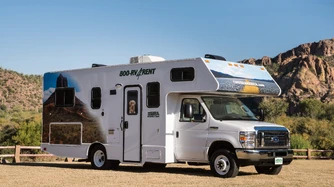 +14
4 adults/1 children
Automatic
Petrol
Kitchen
No kilometres incl.
3 beds
AC
Shower/WC
€2,117.00
 / 
€151.21

 per night
Cruise America C-19
Cruise America 3.5/518 km from Vancouver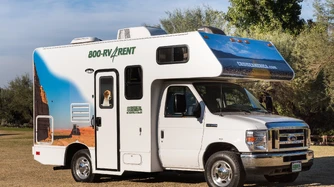 +11
3 adults
Automatic
Petrol
Kitchen
No kilometres incl.
2 beds
AC
Shower/WC
€2,651.00
 / 
€189.36

 per night
Cruise America C-21
Cruise America 3.5/518 km from Vancouver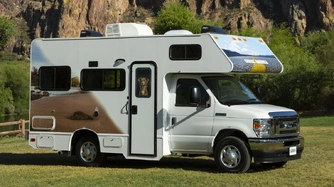 +11
2 adults/2 children
Automatic
Petrol
Kitchen
No kilometres incl.
2 beds
AC
Shower/WC
€2,677.00
 / 
€191.21

 per night
Destinations and rental stations in Canada
A unique holiday experience
Motorhome rental in Canada
Renting a campervan in Canada is a great way to have an unforgettable holiday experience
Canada is a great choice for a campervan holiday. It is a very diverse country with 3 territories and 10 provinces. It is home to stunning forests, mountains and waterfalls, but it is also home to world-class beaches and picturesque coastlines. The Canadian Rockies and Niagara Falls are both breathtaking sights to see so make sure to have your camera handy, whilst the Yukon is considered one of the best places to visit to see the Northern Lights. If you enjoy outdoor activities you will be spoilt for choice between the many National Parks, lakes and glaciers or why not try relaxing on one or more of the beautiful, warm beaches. Canada also has many cosmopolitan cities such as Quebec, Vancouver and Toronto each offering a warm friendly welcome and a range of eye-catching attractions. Cultural variations also form part of Canada's rich history from the French speaking regions of Quebec to the more indigenous culture of Ontario and the western provinces which houses the largest group of Aboriginal people.
Why is it worth booking an RV rental in Canada early?
With its beautiful scenery, vast landscapes, and an excellent network of roads, Canada is the perfect place for a road trip adventure. There are several cities in Canada such as Vancouver, Toronto, Calgary, and Montreal where you can start your road trip with a little urban exploring before hitting the open road in your camper rented in Canada. A campervan vacation gives you total freedom to travel as you wish without having to worry about checking into hotels. You also get the delight of waking up to a new view every morning. Camper trips are very popular in Canada, particularly between May and September when the climate is at its best. To be sure of getting the vehicle of your choice at a competitive price during this period, we recommend booking several months in advance. Don't worry if your vacation dates change, there is no additional cost for altering them. Your reservation also comes with a fair and transparent cancellation policy. And, if you're worried about your holiday budget, there's no need to be. Camper rental in Canada is much better value than paying for hotel accommodation, car rental, and dining out. If you've still got any concerns about the value of a camper vacation, then speak to a member of the CamperDays customer service team. They'll use their knowledge and experience to answer all of your questions.
FAQ - die wichtigsten Fragen und Antworten
Yes. The main driver should always present their credit card. Details are held as a deposit.

All you need is a valid driving license issued in your country of residence. You should have held it for at least a year.

The minimum age for driving a Camper in Canada is 21. In reality, most rental companies prefer drivers to be 25 or older. There may be a surcharge for drivers between 21 and 25.

Most roads in Canada are excellent but some may be too narrow or poorly surfaced for campervans. Ask your rental company for advice and always read your terms and conditions carefully.

With your rental company's permission, you can drive freely across the border between Canada and the USA.

You can park overnight in many places in Canada but definitely not in national and provincial parks. If caught doing so, you'll receive a hefty fine.

Children always enjoy the freedom of road trip vacations and nearly all campervans are suitable for them as long as you have the correct child seats. Most rental companies have a selection of dog-friendly vehicles in their fleet. Always check your terms and conditions.
How does the site work?
There are just a few steps to follow before your RV rental in Canada is reserved. On the homepage, enter your chosen pick-up point and preferred vacation dates and a list of available campervan rentals in Canada will appear. Click on one of these or refine your search further with the filters in the left-hand column of the page. There are filters for price, size, campervan type, standard equipment, and rental company. You can configure your campervan in Canada to suit your exact needs by adding extras such as mileage and insurance packages, bicycle racks, child seats, and GPS. Enter your personal and billing details and make a payment. Your campervan to rent in Canada is now requested for you.
Simply enter your dates and location to begin your search.

Request or book the campervan you want to rent for a great price.

Complete your booking and your unforgettable adventure can begin!
Some of Canada's most famous attractions
Canada is a very scenic, diverse country to visit and we have put together some of the best sights to visit:
Niagara Falls
Niagara Falls, located just over an hour's drive from Toronto, is a world famous attraction.

It offers lifts which can take visitors to a lower, wetter vantage point for a behind the Falls experience or you may prefer the 520 ft. high Skylon Tower with its observation deck and stunning views.
CN Tower
One of Canada's most famous landmarks, located on the shores of Lake Ontario.

The tower dominates the city's skyline and is an impressive 1,814 ft. high (553 m). The marble floors, gold reliquaries and the Treasury are just some of the highlights to see.

For an added thrill, why not try the CN Tower Edgewalk or visit the 360°revolving restaurant where you can enjoy a meal with a fantastic view of the city.
Banff National Park & the Rocky Mountains
Banff National Park is located in the heart of the Rocky Mountains in the province of Alberta and it showcases some of Canada's most stunning scenery.

Turquoise coloured lakes, snow-capped mountains and glaciers are just waiting to be discovered. Perfect for a scenic drive or heading off on a walk and taking in the fresh mountain air.
Museum of Civilisation
Located in Quebec the museum is home to an amazing collection of artefacts and exhibits.

Permanent collections include exhibits focused on regional history, including the first encounters between Europeans and the native people.

They also have temporary exhibits on aboriginal societies and on how the digital age has affected human civilisation.
Events and festivals in Canada
Montreal Jazz Festival (June-July): one of the liveliest festivals in Canada. The 2004 festival also holds the Guinness World Record as the world's largest jazz festival. It is a ten-day musical event in the city of Montreal with more than 20 stages featuring musicians from all around the world.
Winterlude (February): an annual winter festival held in Ottawa, Ontario and Gatineau, Quebec. It is run by the Department of Canadian Heritage and takes place over three weeks. It is an ice themed event with ice sports which includes ice skating at the Rideau Canal Skateway, the world's largest ice-skating rink. The festival also includes an amazing array of ice art and lots of upbeat music.
Celebration of Light (July-August): a musical firework extravaganza which never fails to light up the sky over English Bay in Vancouver. Every year 3 countries compete over 3 nights to wow the crowds as they launch their spectacular displays choreographed to music off floating barges in the bay.
Most booked companies for camper rentals in Canada
CamperDays has partnerships with several rental companies in Canada, every one of which operates in a 100% professional manner. All rental companies are within easy reach of major cities and international airports, ensuring a stress-free start to your campervan vacation. You're guaranteed lots of fun in your modern, fully equipped, and comfortable camper.
Fraserway RV
You can pick up your Fraserway RV campervan in Toronto, Vancouver, Halifax, Edmonton, and Calgary. Fraserway RV has the largest fleet of campers in the country with models ranging from two to six berths. A prebooked complimentary shuttle service is available from many airports and standard booking features include basic insurance and an awning.
Four Seasons
Four Seasons has collection points in Toronto, Vancouver, Halifax, Edmonton, and Calgary. It has two to six-berth campervans in its modern fleet and all come with standard insurance and an awning. There is no extra charge for adding an additional driver while airport transfers can be prebooked.
Cruise America
Cruise American depots are located in Toronto, Vancouver, Halifax, Calgary, and Montreal. You can choose from two to six-berth campervans all of which come with basic insurance as standard.
El Monte RV
El Monte RV has a collection station in Vancouver. It specializes in larger campervans that can sleep up to eight people, ideal if you're traveling with a large family or a group of friends. Standard insurance is included with your reservation.
Canadream
You can start your road trip adventure with Canadream in Montreal or Toronto. Its two to six-berth campervans can all be made winter-ready and standard insurance is included with every booking.
Categories of campervans in Canada
Small RV
2 - 4 people
Fuel consumption: 10 - 20 l / 100 km
For people who don't need much space
Pros: mobile, compact, low rental price
Luxury RV
3 - 7 people
Fuel consumption: ca. 25 l / 100 km
For people who like high comfort
Pros: spacious, high comfort, exclusive equipment
Large motorhomes
3 - 7 people
Fuel consumption: ca. 25 - 35 l / 100 km
For experienced drivers
Pros: comfortable, spacious
4WD campers
2 - 4 people
Fuel consumption: ca. 16 l / 100 km
For people who love exploring the landscape
Pros: powerful engine, all-terrain
Truck campervan
2 - 5 people
Fuel consumption: ca. 30 l / 100 km
For intermediate drivers
Pros: all-terrain, comfortable, mobile, powerful engine
Our top tips on renting a campervan in Canada
Campervan holidays in Canada are ideal for nature lovers and those who enjoy exploring and outdoor activities. The busiest period for renting a campervan is from May until September so booking in advance is highly recommended.
At CamperDays we offer flexible bookings.
If your travel plans change we will immediately contact the rental company and take care of the rebooking free of charge. Many of our partners are also accommodating and do not charge any rebooking fees. In case you have any questions before or after booking you can contact our friendly customer service team by telephone.
More than 700 locations worldwide
Worldwide campervan rental
Compare the prices for different campervans, locations, and dates in our price comparison tool and find the most affordable option for your trip.
We will help you find the perfect campervan for your trip

Our partners are available across the globe at more than 700 locations

We guarantee clear pricing and 100% transparency