Filter
7 Offers
for your holiday in Lisbon
Urban Plus
McRent 4.5/524 km from Lisbon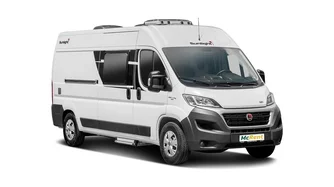 +9
2 adults
Manual
Diesel
Kitchen
Unlimited kilometres
1 beds
AC
Shower/WC
€1,478.00
 / 
per night 

€105.57
Surfer Suite
roadsurfer 4/57 km from Lisbon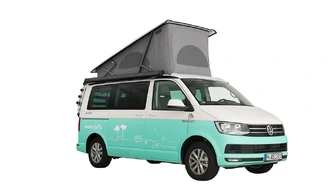 +10
4 adults
Automatic
Diesel
Kitchen
Unlimited kilometres
2 beds
AC
Pets allowed
€1,485.00
 / 
per night 

€106.07
EcoLine 6 Berth
McRent 3.5/524 km from Lisbon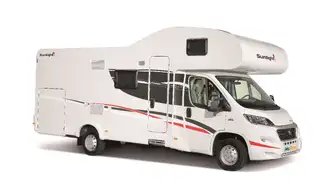 +5
4 adults/2 children
Manual
Diesel
Kitchen
Unlimited kilometres
4 beds
AC
Shower/WC
€1,654.00
 / 
per night 

€118.14
Family Standard
McRent 4.5/524 km from Lisbon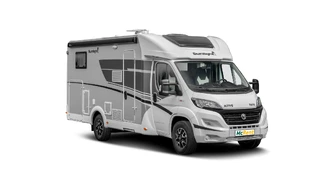 +11
4 adults
Manual
Diesel
Kitchen
Unlimited kilometres
3 beds
AC
Shower/WC
€1,735.00
 / 
per night 

€123.93
Family Plus
McRent 4.5/524 km from Lisbon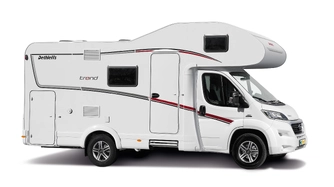 +12
3 adults/2 children
Manual
Diesel
Kitchen
Unlimited kilometres
4 beds
AC
Shower/WC
€1,817.00
 / 
per night 

€129.79
Family Luxury
McRent 4.5/524 km from Lisbon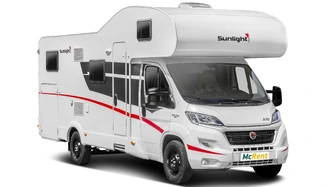 +9
3 adults/2 children
Manual
Diesel
Kitchen
Unlimited kilometres
3 beds
AC
Shower/WC
€1,898.00
 / 
per night 

€135.57
Family Classic
rent easy 4/526 km from Lisbon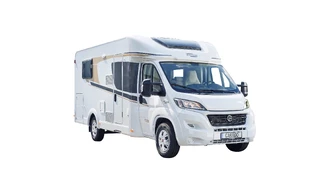 +9
4 adults
Manual
Diesel
Kitchen
250 kilometres per night incl.
3 beds
AC
Shower/WC
€2,477.00
 / 
per night 

€176.93
Destinations and rental stations in Portugal
A unique holiday experience
Motorhome rental in Portugal
Why is it worth booking a campervan in Portugal early?
Much of Portugal's population lives in the large cities of Lisbon and Porto. Pick up your RV rental in Portugal and once you're away from these cities you can cruise on empty but well-maintained roads. These take you along stunning coastlines, through impressive mountain ranges, and national parks packed with flora and fauna. At the start or end of your camper rental in Portugal holiday, spend a few days enjoying the history, culture, and nightlife of Lisbon or Porto. With a campervan hire in Portugal, you can set your own vacation itinerary whether it's lazing on empty beaches, hiking through forests, or spending the night listening to traditional fado in small but buzzing bars. The country's culinary culture is very strong and with your own campervan rental in Portugal, you can either dip into this or purchase fresh local produce and cook in your camper's well-equipped kitchen. The peak season for camper rent in Portugal is spring and summer (from April through to September). During this period, we recommend that you book well in advance to be sure of getting the best combination of price and vacation dates. You might think that booking a camper in Portugal is expensive. However, if you compare it with the cost of hotel accommodation, car hire, and dining out, you'll see that it is well within your budget. Your booking comes with transparent cancellation policies and there are no further charges should you need to change your vacation dates. The knowledgeable and friendly CamperDays customer service team is always on hand should you have any concerns or questions about booking an RV rental in Portugal.
FAQs - de meest gestelde vragen over camperhuur in Portugal
Yes, the driver's credit card should be presented when collecting a campervan. It is used for a security and damages deposit.

The minimum legal age is 21 but some rental companies make a surcharge for drivers between 21 and 25.

No. A valid license issued in your country of residence is sufficient for stays of up to six months.

You can drive freely across the border of Portugal into Spain as long as this is agreed with your rental company. Check the terms and conditions of your rental as well.

Most vans are suitable for babies and young children while some can also accommodate well-behaved pets. Always carefully read the terms and conditions, and check you have appropriate child seats.

There may be some rural roads that are not suitable for larger campervans. Your rental company will mention these.

Unless explicitly banned, you can park anywhere in an RV rental in Portugal for up to 48 hours. There are also numerous campsites across the country.
How does the site work?
Camperdays makes booking your camper rental in Portugal quick and straightforward. Start on the homepage by entering your preferred vacation dates and chosen pick-up and drop-off points. Available campervans will be displayed with prices and details. Select from these or refine your search further using the filters in the left-hand column. These filters include price range, vehicle type and size, and distance from transport links. You can also specify a particular rental company if you wish. Next, you'll be given an opportunity to add insurance and mileage packages, GPS, tolling devices, camping equipment, etc. Finally, enter your personal and billing details, make your payment, and start planning an itinerary for your Portuguese vacation on the road.
Simply enter your dates and location to begin your search.

Request or book the campervan you want to rent for a great price.

Complete your booking and your unforgettable adventure can begin!
Most booked companies for a camper rental in Portugal
There are three CamperDays pick-up and drop-off points in Portugal. One is the capital, Lisbon, and the others are Porto in the northwest, and Faro, a popular vacation spot on the Algarve. CamperDays prides itself on partnering with 100% professional rental companies so you can be sure that your camper in Portugal will be modern and comfortable as well as a pleasure to drive.
iNDiE campers
Your iNDiE camper in Portugal can be collected from depots in Lisbon, Porto, or Faro. All are within easy reach of international air and national rail links. Paid transfers to these can be pre-booked. INDiE campervans range in size from two to six berths and are ideal for romantic breaks or vacations with family and friends.
McRent
McRent has a large selection of campervans to choose from at its Portuguese depots in Lisbon and near Faro. These range in size from compact but well-equipped two-berth campers to large family-sized models that comfortably sleep up to six.
roadsurfer
With a depot in Lisbon as well as ones near Porto and Faro, roadsurfer offers you a flexible start to your campervan vacation in Portugal. All are within easy reach of major transport hubs. Roadsurfer offers a selection of compact vehicles that comfortably sleep up to five people.
rent easy
You can pick up your rent easy campervan in Portugal from either of the country's two major cities, Lisbon and Porto. Campers from rent easy range from two to six-berth and they are all fully equipped for an enjoyable road trip in Portugal.
Categories of campervans in Portugal
Small RV
2 - 4 people
Fuel consumption: 10 - 20 l / 100 km
For people who don't need much space
Pros: mobile, compact, low rental price
Luxury RV
3 - 7 people
Fuel consumption: ca. 25 l / 100 km
For people who like high comfort
Pros: spacious, high comfort, exclusive equipment
Large motorhomes
3 - 7 people
Fuel consumption: ca. 25 - 35 l / 100 km
For experienced drivers
Pros: comfortable, spacious
4WD campers
2 - 4 people
Fuel consumption: ca. 16 l / 100 km
For people who love exploring the landscape
Pros: powerful engine, all-terrain
Truck campervan
2 - 5 people
Fuel consumption: ca. 30 l / 100 km
For intermediate drivers
Pros: all-terrain, comfortable, mobile, powerful engine
Whether a short cultural trip or a longer holiday - with us you can rent the right campervan for every occasion. Portugal boasts a mild climate all year round and a good infrastructure, so that nothing stands in the way of a pleasant journey. In order to find the right campervan for Portugal, both the number of people and your personal wishes for equipment and comfort play a role. The following vehicle types are particularly popular:
Large campervans: If you are travelling with more than three people, these vehicle models are ideal - families in particular are very fond of choosing large campervans. Thanks to the alcove bed there are enough sleeping places for all travellers.

Luxury campervans: Would you like to enjoy a little luxury in a campervan in Portugal? Then this class is ideal. The campervan offers large sleeping places for four or more adults. The spacious interior also makes a longer stay comfortable.

Small campervans: If you are travelling in groups of up to 3 people in Portugal, the small campervan is the best choice. This compact model is particularly suitable for narrow roads.
If you want to rent several campervans and explore Portugal in a larger group, it is advisable to book early. During the holiday season in particular, popular models are quickly booked out. The cheapest time to travel is during the low season between mid-September and the end of May. When making a reservation, also consider useful accessories. You can also book extras such as camping furniture, navigation system or bicycle rack at a reasonable price.
More than 300 locations worldwide
Worldwide campervan rental
Experience an Alaskan winter, explore the Australian Outback or embark on a road trip through Europe – renting a campervan is the best way to travel any part of the world! Discover the ideal starting point for your holiday at our international locations. At CamperDays you can rent a campervan from the USA, Canada, Australia, New Zealand, Namibia, Botswana and many other destinations.
Internationally, we work with many well-established providers who rent out campervans/motorhomes: from Cruise America and Road Bear RV, who are well-known U.S. rental companies, to Jucy, whose core business is Australia and New Zealand, and Apollo, which is a global company with lots of locations in Europe, Australia and New Zealand.
Discover gorgeous cities, sunny Mediterranean beaches, deep green forests, and endless mountain ranges across Europe. With an RV, you are the master of your own destiny. Whether you want to visit multiple countries or linger around in one area for a longer period, having an RV at your disposal gives you plenty of choices.
Compare the prices for different motorhomes, locations, and dates in our price comparison tool and find the most affordable option for your trip.
United Kingdom | France | Germany | Italy | Norway | Portugal
One of the best ways to explore the beautiful countryside and cities of the USA and Canada is a good old-fashioned road trip. There is an abundance of different routes to take and tourist attractions to see. From Route 66, the most iconic road trip in the USA, to the breath-taking national parks, every adventurer will find something to their liking. Experience the scenic landscapes of North America with an RV and discover its diverse regions on a camper trip of a lifetime.
USA
Las Vegas | Los Angeles | Denver | Houston | Phoenix | Salt Lake City | Anchorage | Miami | Orlando
Canada
We will help you find the perfect campervan for your trip

Our partners are available across the globe at more than 700 locations

We guarantee clear pricing and 100% transparency