Filter
45 Offers
for your holiday in Melbourne
Alpha Budget
Spaceships 3/510 km from Melbourne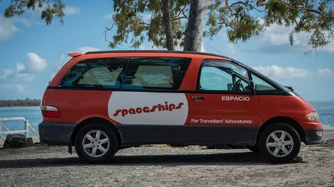 +9
2 adults
Automatic
Petrol
Kitchen
Unlimited kilometres
1 beds
AC
Pets allowed
€483.00
 / 
per night 

€34.50
Jucy Crib
Jucy 3/514 km from Melbourne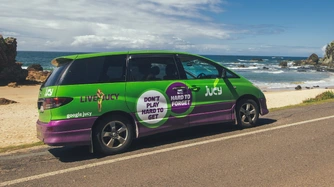 +10
2 adults
Automatic
Petrol
Kitchen
Unlimited kilometres
1 beds
AC
€501.00
 / 
per night 

€35.79
Beta
Spaceships 3/510 km from Melbourne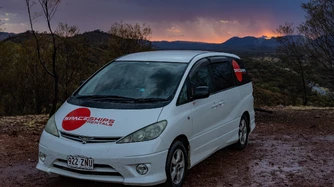 +13
2 adults
Automatic
Petrol
Kitchen
Unlimited kilometres
1 beds
AC
€591.00
 / 
per night 

€42.21
Jucy Champ
Jucy 3/514 km from Melbourne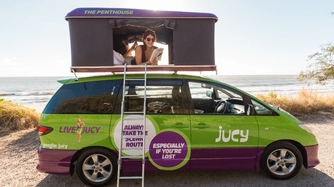 +9
4 adults
Automatic
Petrol
Kitchen
Unlimited kilometres
2 beds
AC
€595.00
 / 
per night 

€42.50
Jucy Coaster AU
Jucy 3/514 km from Melbourne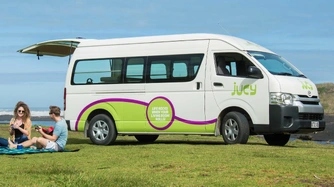 +12
2 adults
Automatic
Diesel
Kitchen
Unlimited kilometres
1 beds
AC
€690.00
 / 
per night 

€49.29
Beta 2S
Spaceships 3/510 km from Melbourne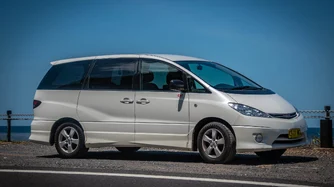 +9
2 adults
Automatic
Petrol
Kitchen
Unlimited kilometres
1 beds
AC
€698.00
 / 
per night 

€49.86
Beta 4-berth
Spaceships 3/510 km from Melbourne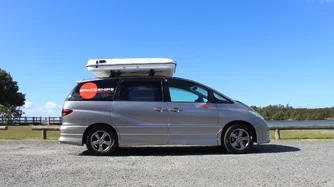 +8
4 adults
Automatic
Petrol
Kitchen
Unlimited kilometres
2 beds
AC
€741.00
 / 
per night 

€52.93
Chubby Camper
Travellers Autobarn 3/515 km from Melbourne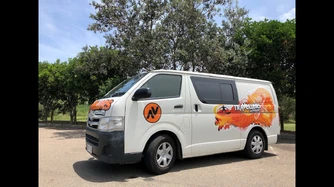 +18
2 adults
Manual
Petrol
Kitchen
Unlimited kilometres
1 beds
AC
€996.00
 / 
per night 

€71.14
Jucy Condo
Jucy 3/514 km from Melbourne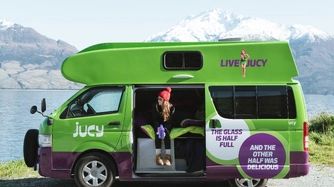 +12
4 adults
Automatic
Kitchen
Unlimited kilometres
2 beds
AC
€1,171.00
 / 
per night 

€83.64
Kuga Camper
Travellers Autobarn 3/515 km from Melbourne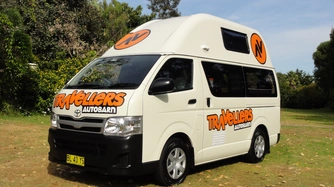 +22
2 adults/1 children
Manual
Petrol
Kitchen
Unlimited kilometres
2 beds
AC
€1,289.00
 / 
per night 

€92.07
Hippie Hitop Camper
Hippie 2/520 km from Melbourne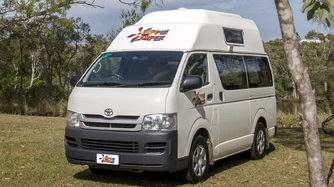 +10
2 adults
Petrol
Kitchen
Unlimited kilometres
1 beds
AC
Pets allowed
€1,355.00
 / 
per night 

€96.79
Mighty Highball
Mighty 3/510 km from Melbourne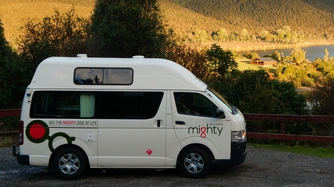 +9
2 adults
Automatic
Kitchen
Unlimited kilometres
AC
€1,381.00
 / 
per night 

€98.64
Mighty Double Down
Mighty 3/510 km from Melbourne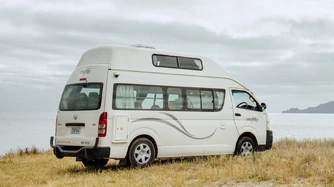 +9
4 adults
Automatic
Kitchen
Unlimited kilometres
AC
€1,395.00
 / 
per night 

€99.64
Hippie Endeavour
Hippie 2/520 km from Melbourne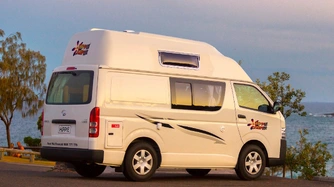 +12
2 adults/2 children
Petrol
Kitchen
Unlimited kilometres
2 beds
AC
Pets allowed
€1,401.00
 / 
per night 

€100.07
Britz HiTop
Britz 4/510 km from Melbourne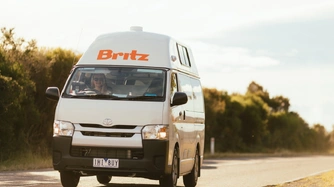 +12
2 adults
Automatic
Kitchen
Unlimited kilometres
1 beds
AC
€1,432.00
 / 
per night 

€102.29
Britz Voyager
Britz 4/510 km from Melbourne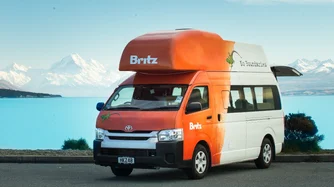 +10
4 adults
Automatic
Kitchen
Unlimited kilometres
2 beds
AC
€1,499.00
 / 
per night 

€107.07
Cheapa Hitop
Cheapa Campa 2.5/520 km from Melbourne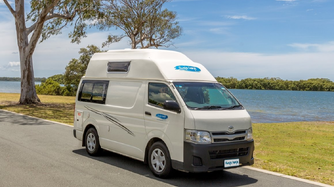 +10
2 adults
Automatic
Kitchen
Unlimited kilometres
1 beds
AC
Pets allowed
€1,531.00
 / 
per night 

€109.36
Cheapa Endeavour
Cheapa Campa 2.5/520 km from Melbourne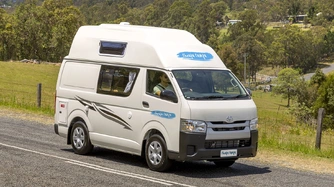 +12
2 adults/2 children
Automatic
Kitchen
Unlimited kilometres
2 beds
AC
Pets allowed
€1,618.00
 / 
per night 

€115.57
Apollo Hitop Ultra
Apollo 3.5/520 km from Melbourne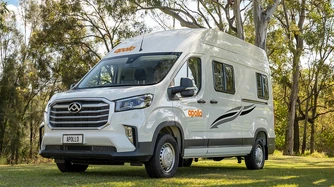 +9
2 adults
Automatic
Diesel
Kitchen
Unlimited kilometres
1 beds
AC
Pets allowed
€1,705.00
 / 
per night 

€121.79
Mighty Deuce
Mighty 3/510 km from Melbourne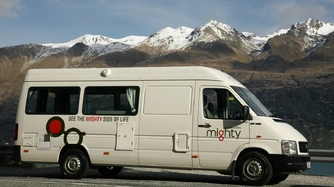 +10
2 adults
Automatic
Diesel
Kitchen
Unlimited kilometres
AC
Shower/WC
€2,250.00
 / 
per night 

€160.71
Cheapa 2 Berth
Cheapa Campa 2.5/520 km from Melbourne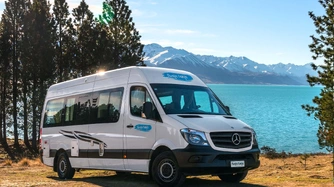 +10
2 adults
Automatic
Diesel
Kitchen
Unlimited kilometres
1 beds
AC
Shower/WC
Pets allowed
€2,292.00
 / 
per night 

€163.71
Mighty Deuce Plus
Mighty 3/510 km from Melbourne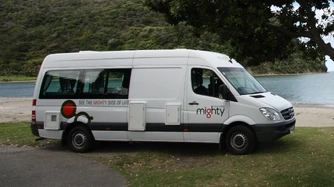 +9
2 adults/1 children
Automatic
Diesel
Kitchen
Unlimited kilometres
AC
Shower/WC
€2,327.00
 / 
per night 

€166.21
Britz Venturer
Britz 4/510 km from Melbourne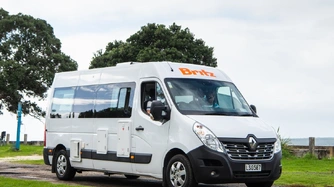 +9
2 adults
Automatic
Diesel
Kitchen
Unlimited kilometres
1 beds
AC
Shower/WC
€2,337.00
 / 
per night 

€166.93
Britz Venturer Plus
Britz 4/510 km from Melbourne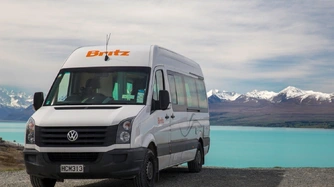 +10
2 adults/1 children
Automatic
Diesel
Kitchen
Unlimited kilometres
2 beds
AC
Shower/WC
€2,381.00
 / 
per night 

€170.07
Apollo Euro Mini
Apollo 3.5/520 km from Melbourne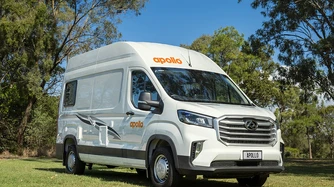 +12
2 adults
Automatic
Diesel
Kitchen
Unlimited kilometres
1 beds
AC
Shower/WC
Pets allowed
€2,404.00
 / 
per night 

€171.71
Apollo Euro Tourer
Apollo 3.5/520 km from Melbourne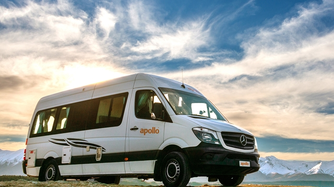 +13
2 adults
Automatic
Diesel
Kitchen
Unlimited kilometres
1 beds
AC
Shower/WC
Pets allowed
€2,512.00
 / 
per night 

€179.43
Maui Ultima
Maui 4.5/510 km from Melbourne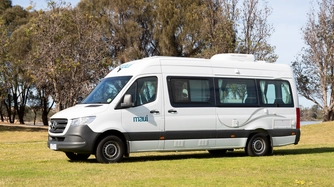 +8
2 adults
Automatic
Diesel
Kitchen
Unlimited kilometres
1 beds
AC
Shower/WC
€2,541.00
 / 
per night 

€181.50
Britz Discovery
Britz 4/510 km from Melbourne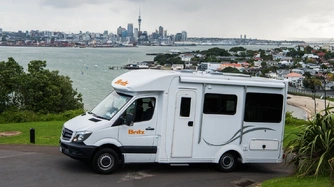 +10
4 adults
Automatic
Diesel
Kitchen
Unlimited kilometres
2 beds
AC
Shower/WC
€2,591.00
 / 
per night 

€185.07
Mighty Double Up
Mighty 3/510 km from Melbourne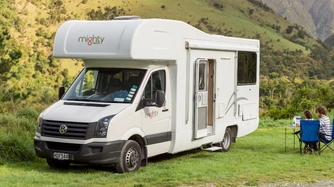 +10
4 adults
Automatic
Diesel
Kitchen
Unlimited kilometres
AC
Shower/WC
€2,612.00
 / 
per night 

€186.57
Maui Ultima Plus
Maui 4.5/510 km from Melbourne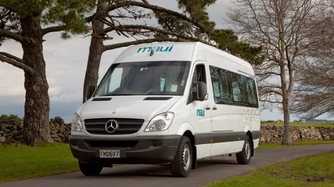 +11
2 adults/1 children
Automatic
Diesel
Kitchen
Unlimited kilometres
2 beds
AC
Shower/WC
€2,626.00
 / 
per night 

€187.57
Britz Explorer
Britz 4/510 km from Melbourne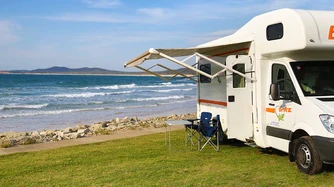 +10
4 adults
Automatic
Diesel
Kitchen
Unlimited kilometres
2 beds
AC
Shower/WC
€2,679.00
 / 
per night 

€191.36
Mighty Big Six
Mighty 3/510 km from Melbourne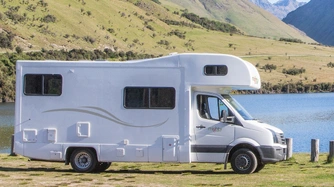 +11
4 adults/2 children
Automatic
Diesel
Kitchen
Unlimited kilometres
AC
Shower/WC
€2,705.00
 / 
per night 

€193.21
Britz Frontier
Britz 4/510 km from Melbourne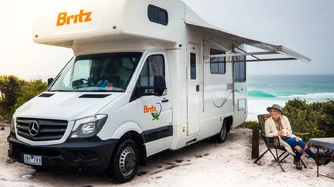 +10
6 adults
Automatic
Diesel
Kitchen
Unlimited kilometres
3 beds
AC
Shower/WC
€2,773.00
 / 
per night 

€198.07
Maui Cascade
Maui 4.5/510 km from Melbourne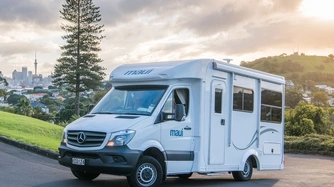 +11
4 adults
Automatic
Diesel
Kitchen
Unlimited kilometres
2 beds
AC
Shower/WC
€2,784.00
 / 
per night 

€198.86
Maui Beach
Maui 4.5/510 km from Melbourne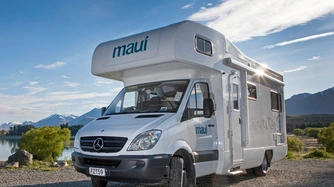 +10
4 adults
Automatic
Diesel
Kitchen
Unlimited kilometres
2 beds
AC
Shower/WC
€2,869.00
 / 
per night 

€204.93
Maui Ultima Elite
Maui 5/510 km from Melbourne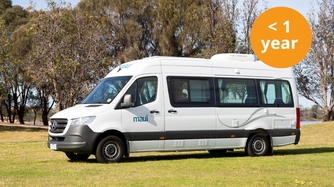 +8
2 adults
Automatic
Diesel
Kitchen
Unlimited kilometres
1 beds
AC
Shower/WC
€2,919.00
 / 
per night 

€208.50
Cheapa 4 Berth
Cheapa Campa 2.5/520 km from Melbourne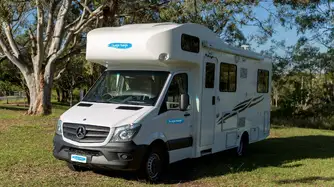 +7
4 adults
Automatic
Diesel
Kitchen
Unlimited kilometres
2 beds
AC
Shower/WC
Pets allowed
€2,941.00
 / 
per night 

€210.07
Maui River
Maui 4.5/510 km from Melbourne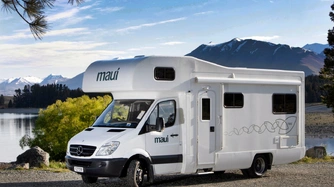 +9
6 adults
Automatic
Diesel
Kitchen
Unlimited kilometres
3 beds
AC
Shower/WC
€2,954.00
 / 
per night 

€211.00
Maui Ultima Plus Elite
Maui 5/510 km from Melbourne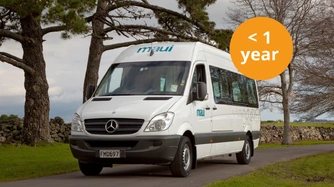 +11
2 adults/1 children
Automatic
Diesel
Kitchen
Unlimited kilometres
2 beds
AC
Shower/WC
€3,003.00
 / 
per night 

€214.50
Cheapa 6 Berth
Cheapa Campa 2.5/520 km from Melbourne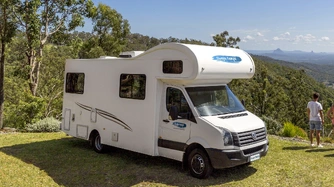 +8
6 adults
Automatic
Diesel
Kitchen
Unlimited kilometres
3 beds
AC
Shower/WC
Pets allowed
€3,071.00
 / 
per night 

€219.36
Maui Cascade Elite
Maui 5/510 km from Melbourne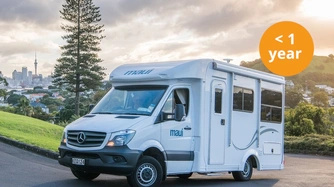 +11
4 adults
Automatic
Diesel
Kitchen
Unlimited kilometres
2 beds
AC
Shower/WC
€3,161.00
 / 
per night 

€225.79
Apollo Euro Camper
Apollo 3.5/520 km from Melbourne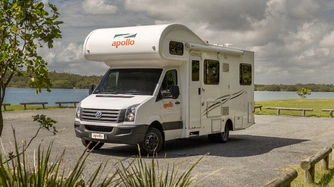 +10
4 adults
Automatic
Diesel
Kitchen
Unlimited kilometres
2 beds
AC
Shower/WC
Pets allowed
€3,205.00
 / 
per night 

€228.93
Maui Beach Elite
Maui 5/510 km from Melbourne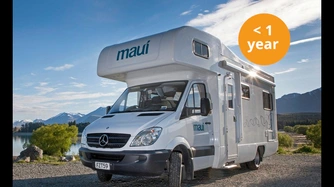 +10
4 adults
Automatic
Diesel
Kitchen
Unlimited kilometres
2 beds
AC
Shower/WC
€3,246.00
 / 
per night 

€231.86
Maui River Elite
Maui 5/510 km from Melbourne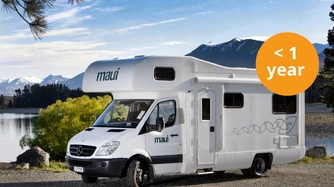 +9
6 adults
Automatic
Diesel
Kitchen
Unlimited kilometres
3 beds
AC
Shower/WC
€3,332.00
 / 
per night 

€238.00
Apollo Euro Deluxe
Apollo 3.5/520 km from Melbourne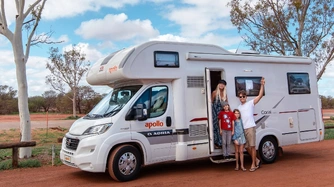 +14
6 adults
Automatic
Diesel
Kitchen
Unlimited kilometres
3 beds
AC
Shower/WC
Pets allowed
€3,335.00
 / 
per night 

€238.21
Destinations and rental stations in Australia
A unique holiday experience
Motorhome rental in Melbourne
How does the site work?
Booking your RV rental in Melbourne is a straightforward process with CamperDays. Start on the homepage and enter your preferred dates. Pictures and details of available campervans in Melbourne will appear. Click on one or refine further by filtering for price band, vehicle type, number of berths, standard equipment, and rental company. You will find the filters in the left-hand column. When you're happy with your choice of camper rental in Melbourne, click 'configure' to select insurance and mileage packages, and add extra features such as GPS, child seats, tolling devices, bicycle racks, and picnic equipment. To complete the booking request for your camper in Melbourne, enter your personal and billing details and pay via the secure portal.
Simply enter your dates and location to begin your search.

Request or book the campervan you want to rent for a great price.

Complete your booking and your unforgettable adventure can begin!
Why is it worth booking an RV rental in Melbourne early?
Pick up a campervan in Melbourne and you're in the ideal place to start an adventurous road trip in Victoria or further afield. Spend a few days enjoying the attractions of the city before heading off to cruise along the Great Ocean Road admiring the beautiful scenery as you go. Or, head south to explore the delights of Phillip Island. Campervans hired in Melbourne are in high demand during the peak season of November to March. As this is one of the best periods for enjoying a road trip, CamperDays suggests booking your campervan rental in Melbourne at least three months in advance. By doing so, you'll get the pick of vehicles and dates as well as the best price deals. Don't worry about committing yourself so early. Should your vacation dates change, there are no charges for altering your reservation. Your booking also comes with a fair and transparent cancellation policy and the helpful support of the CamperDays customer service team. With a vacation in a camper hired in Melbourne, your time is your own. You can set your own itinerary and enjoy the fun of waking up somewhere different every day. Camper vacations are also very budget-friendly. To check this, compare their cost with the total cost of booking car rental and hotel accommodation along with the price of regular dining out. If you save money when booking your vacation, you can afford to stay longer!
FAQ - the most frequently asked questions about RV rental in Melbourne
The main driver should bring their credit card with them. This is used for the security and damages deposit.

A full and valid driving license issued in your country of residence is sufficient in Victoria. However, other states have different rules so carrying an IDP as well is recommended. These are easy to obtain before you leave home.

You can legally drive campervans in Australia from the age of 18. In reality, most rental companies ask that drivers be at least 25. Surcharges are made for younger drivers.

Away from the cities, some roads are not suitable for certain campervans. Your rental company will give guidance on this.

Always stay overnight in designated campsites as wild camping is strictly forbidden in all parts of Australia.

The fun and freedom of camper vacations are ideal for young families. Just remember to have appropriate child seats.

Most rental companies have a selection of vehicles where well-behaved dogs are allowed. Always read your terms and conditions carefully.
Most booked companies for camper rentals in Melbourne
CamperDays has partnered with several rental companies in the Melbourne area. These are all 100% professional and guaranteed to have modern, well-equipped, and comfortable camper rentals in Melbourne. You'll have no trouble finding one to suit your party size and vacation plans. It will also be fun to drive.
Spaceships Rental
The Spaceships depot is just 30 minutes from Melbourne Tullamarine Airport. A free transfer from the airport is included with bookings of 21 days or longer. Spaceships campervans sleep between two and four people and bookings come with unlimited mileage and standard insurance. There are no extra fees for young drivers.
Jucy Rentals
Bright green Jucy Rentals campervans sleep between two and four people. They can be collected from its depot which is 25 minutes from Melbourne Airport. Standard insurance and unlimited mileage are rental features.
Travellers Autobarn
If you're traveling on a budget, Travellers Autobarn has older campervans in its fleet of two to six berth vehicles that cost less than newer models. All bookings come with basic insurance and unlimited mileage. Its depot is located adjacent to Melbourne Tullamarine Airport.
Hippie
Hippe is happy to rent to younger drivers and its campervans are perfectly suited for the summer festival scene. Its fleet suits solo travelers and couples, as well as families. All bookings include unlimited mileage and standard insurance. The Hippie depot is just under half an hour's drive from Melbourne Airport.
Mighty Campers
It takes just 20 minutes to transfer from Melbourne Airport to the Mighty Campers depot where you can pick up two to six-berth campervans. Standard insurance and unlimited mileage are included with every booking.
Categories of campervans in Melbourne
Small RV
2 - 4 people
Fuel consumption: 10 - 20 l / 100 km
For people who don't need much space
Pros: mobile, compact, low rental price
Luxury RV
3 - 7 people
Fuel consumption: ca. 25 l / 100 km
For people who like high comfort
Pros: spacious, high comfort, exclusive equipment
Large motorhomes
3 - 7 people
Fuel consumption: ca. 25 - 35 l / 100 km
For experienced drivers
Pros: comfortable, spacious
4WD campers
2 - 4 people
Fuel consumption: ca. 16 l / 100 km
For people who love exploring the landscape
Pros: powerful engine, all-terrain
Truck campervan
2 - 5 people
Fuel consumption: ca. 30 l / 100 km
For intermediate drivers
Pros: all-terrain, comfortable, mobile, powerful engine
More than 300 locations worldwide
Worldwide campervan rental
Experience an Alaskan winter, explore the Australian Outback or embark on a road trip through Europe – renting a campervan is the best way to travel any part of the world! Discover the ideal starting point for your holiday at our international locations. At CamperDays you can rent a campervan from the USA, Canada, Australia, New Zealand, Namibia, Botswana and many other destinations.
Internationally, we work with many well-established providers who rent out campervans/motorhomes: from Cruise America and Road Bear RV, who are well-known U.S. rental companies, to Jucy, whose core business is Australia and New Zealand, and Apollo, which is a global company with lots of locations in Europe, Australia and New Zealand.
Discover gorgeous cities, sunny Mediterranean beaches, deep green forests, and endless mountain ranges across Europe. With an RV, you are the master of your own destiny. Whether you want to visit multiple countries or linger around in one area for a longer period, having an RV at your disposal gives you plenty of choices.
Compare the prices for different motorhomes, locations, and dates in our price comparison tool and find the most affordable option for your trip.
United Kingdom | France | Germany | Italy | Norway | Portugal
One of the best ways to explore the beautiful countryside and cities of the USA and Canada is a good old-fashioned road trip. There is an abundance of different routes to take and tourist attractions to see. From Route 66, the most iconic road trip in the USA, to the breath-taking national parks, every adventurer will find something to their liking. Experience the scenic landscapes of North America with an RV and discover its diverse regions on a camper trip of a lifetime.
USA
Las Vegas | Los Angeles | Denver | Houston | Phoenix | Salt Lake City | Anchorage | Miami | Orlando
Canada
We will help you find the perfect campervan for your trip

Our partners are available across the globe at more than 700 locations

We guarantee clear pricing and 100% transparency