41 offers
for your holiday in Melbourne
Jucy Crib
Jucy3.9(10 Reviews)14 km from Melbourne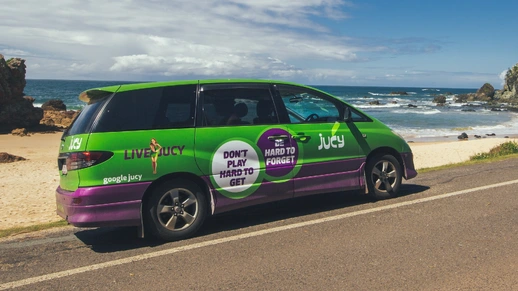 +9
2 adults
Automatic
Petrol
Kitchen
Unlimited kilometres
1 beds
AC
€1,506.00
 / 
€107.57

 per night
Jucy Crib Plus
Jucy3.9(10 Reviews)14 km from Melbourne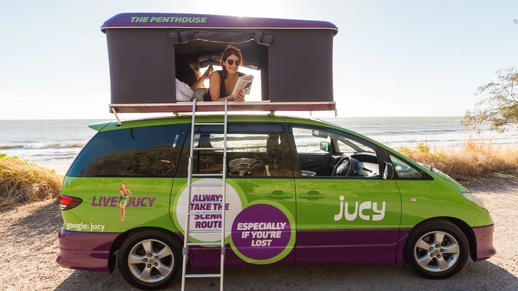 +8
4 adults
Automatic
Petrol
Kitchen
Unlimited kilometres
2 beds
AC
€1,595.00
 / 
€113.93

 per night
Chubby Camper
Travellers Autobarn4.4(5 Reviews)15 km from Melbourne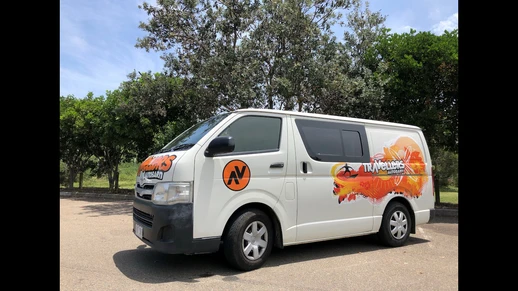 +17
2 adults
Manual
Petrol
Kitchen
Unlimited kilometres
1 beds
AC
€1,652.00
 / 
€118.00

 per night
Kuga Camper
Travellers Autobarn4.4(5 Reviews)15 km from Melbourne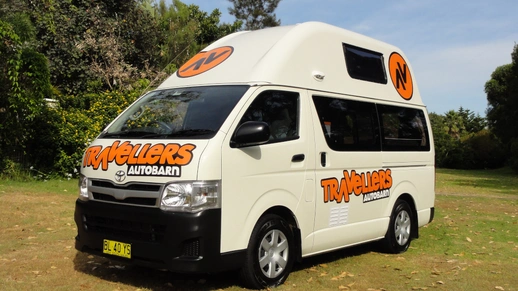 +21
2 adults/1 children
Manual
Petrol
Kitchen
Unlimited kilometres
2 beds
AC
€1,924.00
 / 
€137.43

 per night
Hippie Hitop Camper
Hippie4.5(2 Reviews)20 km from Melbourne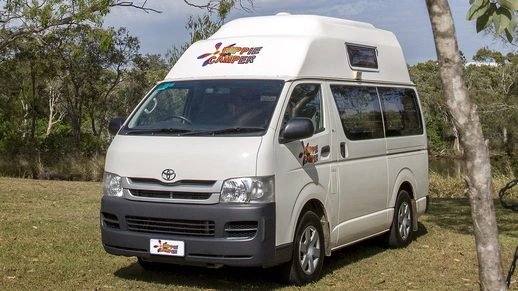 +9
2 adults
Petrol
Kitchen
Unlimited kilometres
1 beds
AC
€2,087.00
 / 
€149.07

 per night
Mighty Highball
Mighty4.3(9 Reviews)20 km from Melbourne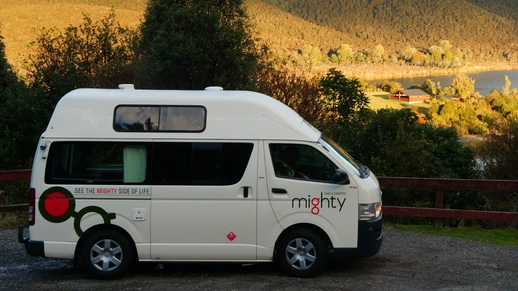 +8
2 adults
Automatic
Kitchen
Unlimited kilometres
AC
€2,310.00
 / 
€165.00

 per night
Cheapa Hitop
Cheapa Campa4.4(8 Reviews)20 km from Melbourne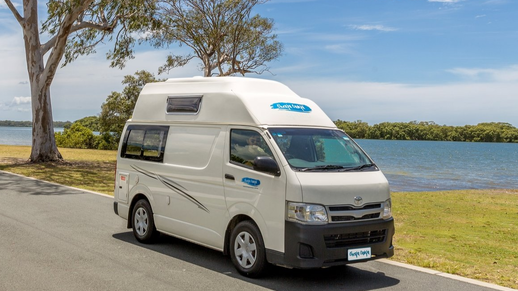 +9
2 adults
Automatic
Kitchen
Unlimited kilometres
1 beds
AC
€2,357.00
 / 
€168.36

 per night
Hippie Endeavour
Hippie4.5(2 Reviews)20 km from Melbourne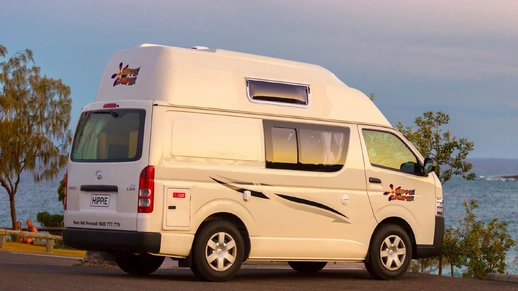 +11
2 adults/2 children
Petrol
Kitchen
Unlimited kilometres
2 beds
AC
€2,408.00
 / 
€172.00

 per night
Apollo Hitop Ultra
Apollo4.1(17 Reviews)20 km from Melbourne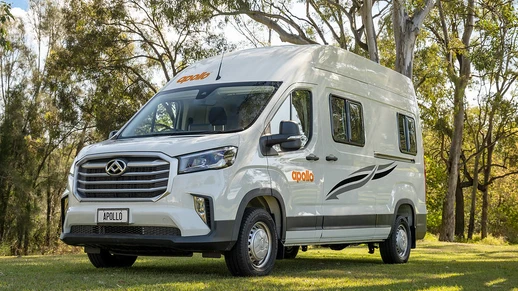 +8
2 adults
Automatic
Diesel
Kitchen
Unlimited kilometres
1 beds
AC
€2,408.00
 / 
€172.00

 per night
Britz HiTop
Britz4.4(7 Reviews)20 km from Melbourne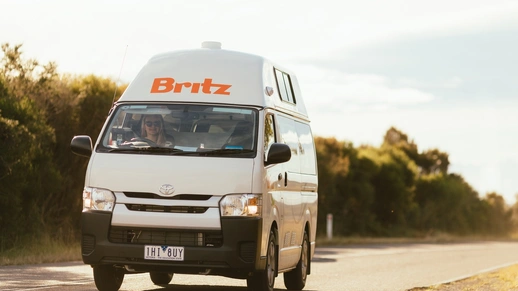 +11
2 adults
Automatic
Kitchen
Unlimited kilometres
1 beds
AC
€2,470.00
 / 
€176.43

 per night
Mighty Double Down
Mighty4.3(9 Reviews)20 km from Melbourne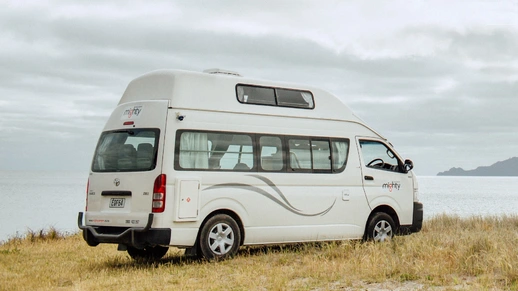 +8
4 adults
Automatic
Kitchen
Unlimited kilometres
AC
€2,634.00
 / 
€188.14

 per night
Cheapa Endeavour
Cheapa Campa4.4(8 Reviews)20 km from Melbourne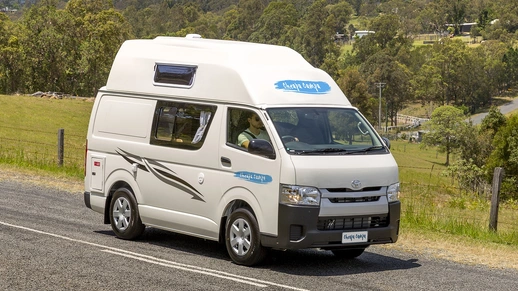 +11
2 adults/2 children
Automatic
Kitchen
Unlimited kilometres
2 beds
AC
€2,678.00
 / 
€191.29

 per night
Apollo Endeavour
Apollo4.1(17 Reviews)20 km from Melbourne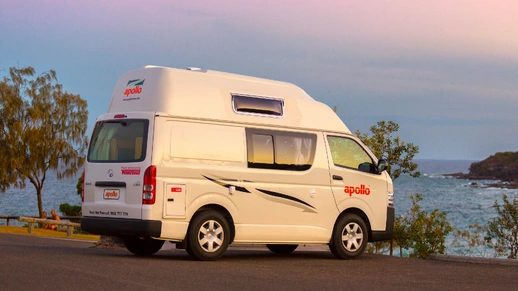 +12
2 adults/2 children
Automatic
Kitchen
Unlimited kilometres
2 beds
AC
€2,732.00
 / 
€195.14

 per night
Apollo Euro Mini
Apollo4.1(17 Reviews)20 km from Melbourne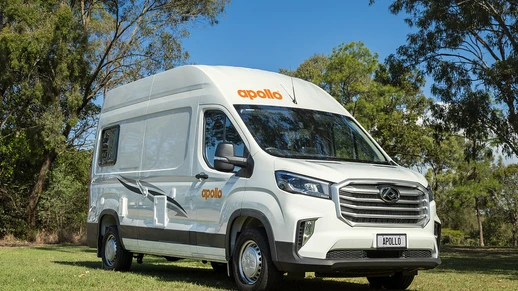 +11
2 adults
Automatic
Diesel
Kitchen
Unlimited kilometres
1 beds
AC
Shower/WC
€2,789.00
 / 
€199.21

 per night
Mighty Deuce
Mighty4.3(9 Reviews)20 km from Melbourne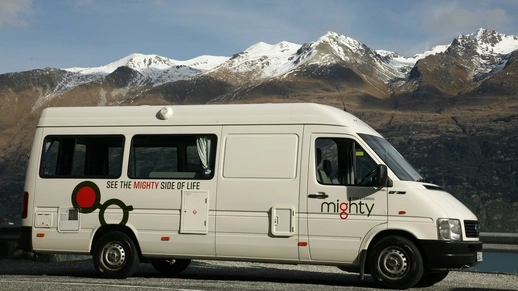 +9
2 adults
Automatic
Diesel
Kitchen
Unlimited kilometres
AC
Shower/WC
€2,816.00
 / 
€201.14

 per night
Britz Voyager
Britz4.4(7 Reviews)20 km from Melbourne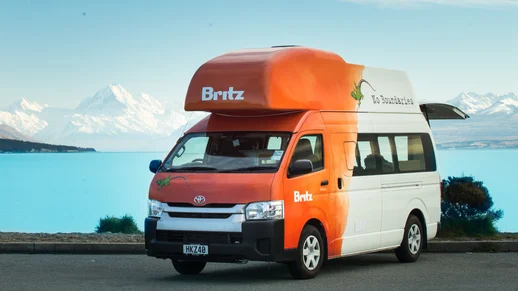 +9
2 adults/2 children
Automatic
Kitchen
Unlimited kilometres
2 beds
AC
€2,816.00
 / 
€201.14

 per night
Cheapa 2 Berth
Cheapa Campa4.4(8 Reviews)20 km from Melbourne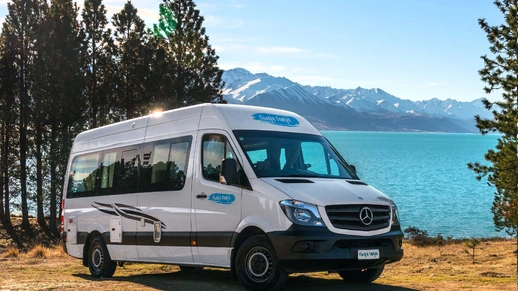 +9
2 adults
Automatic
Diesel
Kitchen
Unlimited kilometres
1 beds
AC
Shower/WC
€2,909.00
 / 
€207.79

 per night
Apollo Euro Tourer
Apollo4.1(17 Reviews)20 km from Melbourne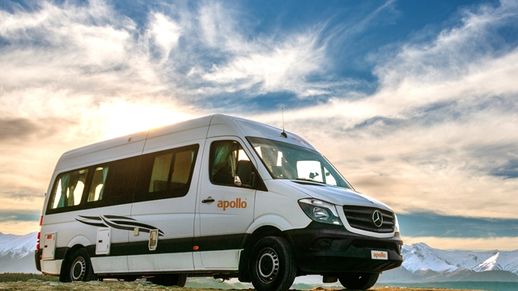 +12
2 adults
Automatic
Diesel
Kitchen
Unlimited kilometres
1 beds
AC
Shower/WC
€2,909.00
 / 
€207.79

 per night
Mighty Deuce Plus
Mighty4.3(9 Reviews)20 km from Melbourne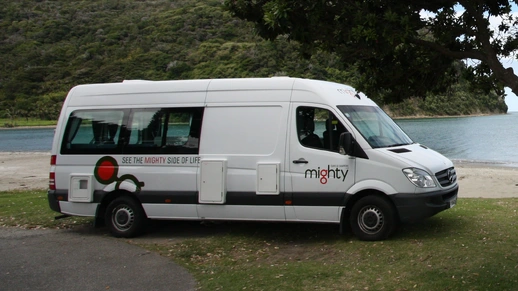 +8
2 adults/1 children
Automatic
Diesel
Kitchen
Unlimited kilometres
AC
Shower/WC
€2,912.00
 / 
€208.00

 per night
Britz Venturer
Britz4.4(7 Reviews)20 km from Melbourne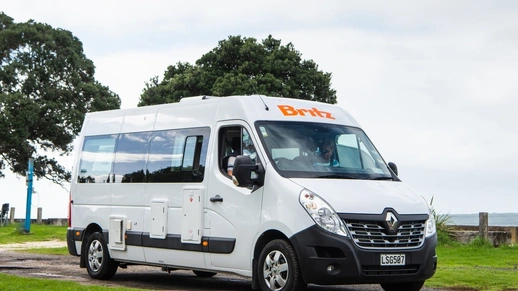 +8
2 adults
Automatic
Diesel
Kitchen
Unlimited kilometres
1 beds
AC
Shower/WC
€3,007.00
 / 
€214.79

 per night
Britz Venturer Plus
Britz4.4(7 Reviews)20 km from Melbourne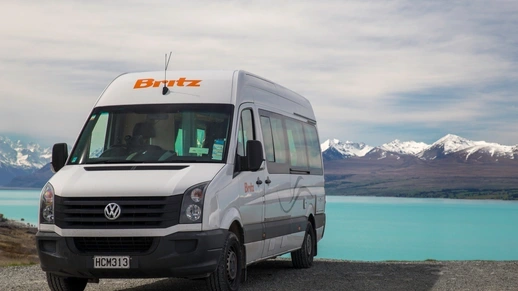 +9
2 adults/1 children
Automatic
Diesel
Kitchen
Unlimited kilometres
2 beds
AC
Shower/WC
€3,111.00
 / 
€222.21

 per night
Maui Ultima
Maui4.2(9 Reviews)20 km from Melbourne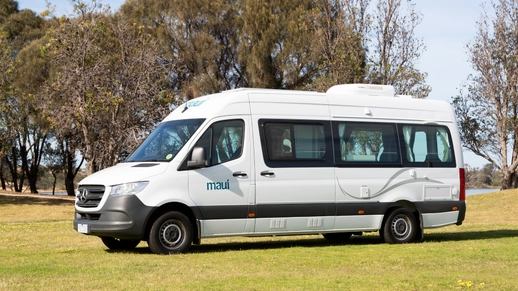 +7
2 adults
Automatic
Diesel
Kitchen
Unlimited kilometres
1 beds
AC
Shower/WC
€3,135.00
 / 
€223.93

 per night
Maui Ultima Plus
Maui4.2(9 Reviews)20 km from Melbourne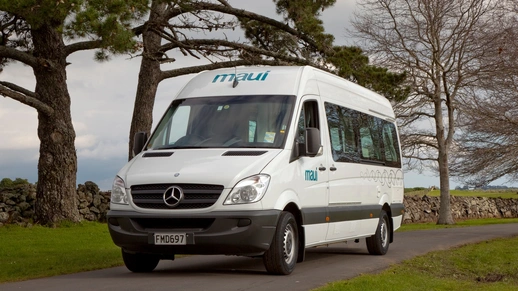 +10
2 adults/1 children
Automatic
Diesel
Kitchen
Unlimited kilometres
2 beds
AC
Shower/WC
€3,232.00
 / 
€230.86

 per night
Maui Ultima Elite
Maui4.2(9 Reviews)20 km from Melbourne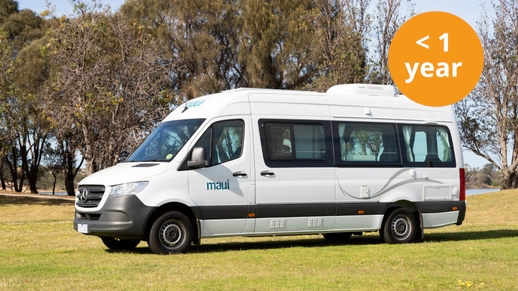 +7
2 adults
Automatic
Diesel
Kitchen
Unlimited kilometres
1 beds
AC
Shower/WC
€3,484.00
 / 
€248.86

 per night
Maui Ultima Plus Elite
Maui4.2(9 Reviews)20 km from Melbourne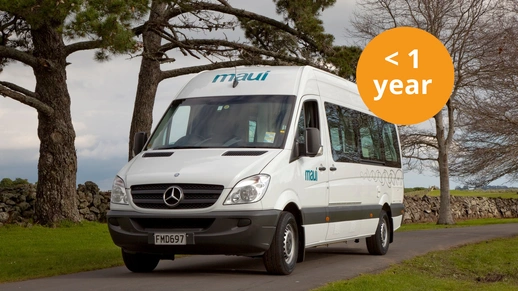 +10
2 adults/1 children
Automatic
Diesel
Kitchen
Unlimited kilometres
2 beds
AC
Shower/WC
€3,581.00
 / 
€255.79

 per night
Polaris 6
STARNew provider14 km from Melbourne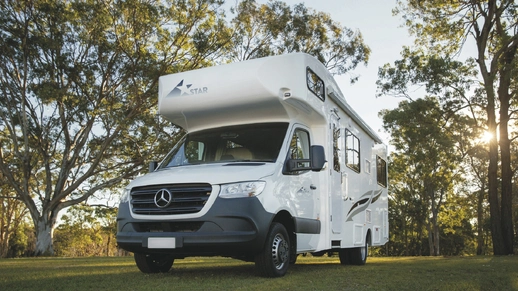 +6
4 adults/2 children
Automatic
Diesel
Kitchen
Unlimited kilometres
3 beds
AC
Shower/WC
Pets allowed
€3,602.00
 / 
€257.29

 per night
Mighty Double Up
Mighty4.3(9 Reviews)20 km from Melbourne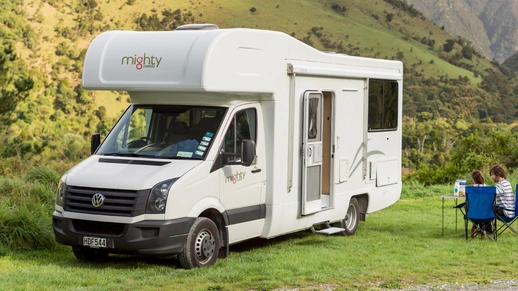 +9
4 adults
Automatic
Diesel
Kitchen
Unlimited kilometres
AC
Shower/WC
€3,627.00
 / 
€259.07

 per night
Mighty Big Six
Mighty4.3(9 Reviews)20 km from Melbourne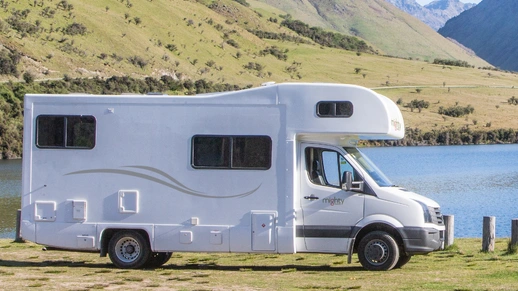 +10
4 adults/2 children
Automatic
Diesel
Kitchen
Unlimited kilometres
AC
Shower/WC
€3,627.00
 / 
€259.07

 per night
Cheapa 4 Berth
Cheapa Campa4.4(8 Reviews)20 km from Melbourne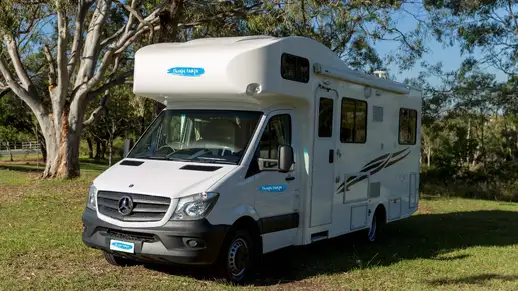 +6
4 adults
Automatic
Diesel
Kitchen
Unlimited kilometres
2 beds
AC
Shower/WC
€3,719.00
 / 
€265.64

 per night
Cheapa 6 Berth
Cheapa Campa4.4(8 Reviews)20 km from Melbourne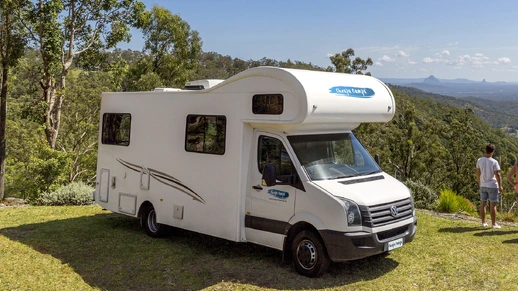 +7
6 adults
Automatic
Diesel
Kitchen
Unlimited kilometres
3 beds
AC
Shower/WC
€3,719.00
 / 
€265.64

 per night
Apollo Euro Camper
Apollo4.1(17 Reviews)20 km from Melbourne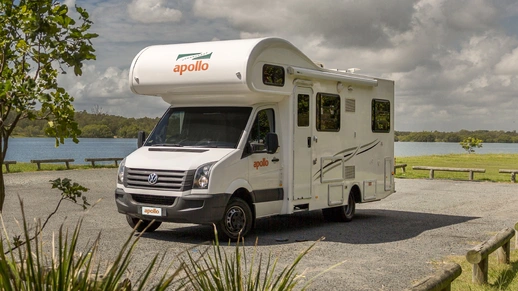 +9
4 adults
Automatic
Diesel
Kitchen
Unlimited kilometres
2 beds
AC
Shower/WC
€3,811.00
 / 
€272.21

 per night
Britz Frontier
Britz4.4(7 Reviews)20 km from Melbourne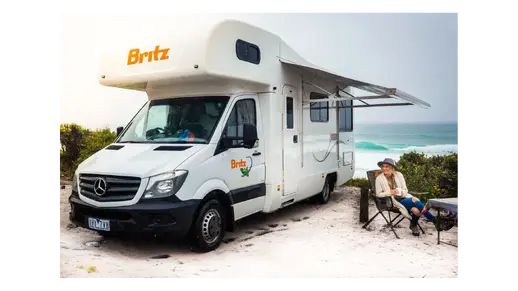 +9
6 adults
Automatic
Diesel
Kitchen
Unlimited kilometres
3 beds
AC
Shower/WC
€3,961.00
 / 
€282.93

 per night
Britz Discovery
Britz4.4(7 Reviews)20 km from Melbourne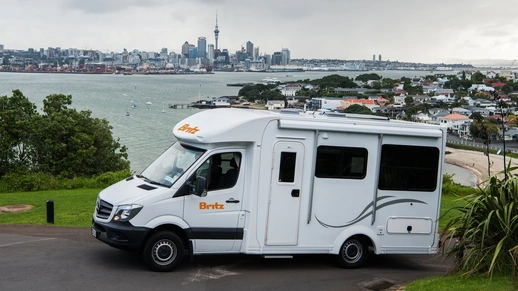 +9
4 adults
Automatic
Diesel
Kitchen
Unlimited kilometres
2 beds
AC
Shower/WC
€3,961.00
 / 
€282.93

 per night
Apollo Euro Deluxe
Apollo4.1(17 Reviews)20 km from Melbourne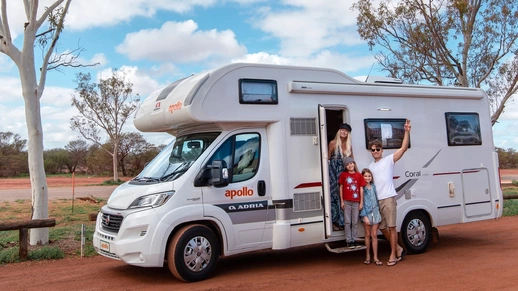 +13
6 adults
Automatic
Diesel
Kitchen
Unlimited kilometres
3 beds
AC
Shower/WC
€3,974.00
 / 
€283.86

 per night
Britz Explorer
Britz4.4(7 Reviews)20 km from Melbourne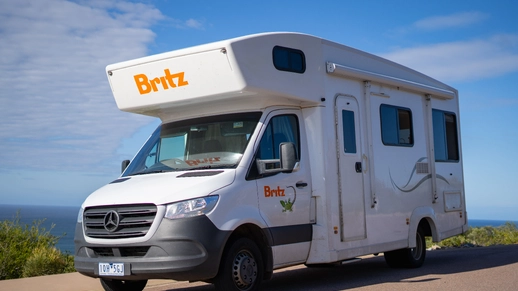 +9
4 adults
Automatic
Diesel
Kitchen
Unlimited kilometres
2 beds
AC
Shower/WC
€4,099.00
 / 
€292.79

 per night
Maui Cascade
Maui4.2(9 Reviews)20 km from Melbourne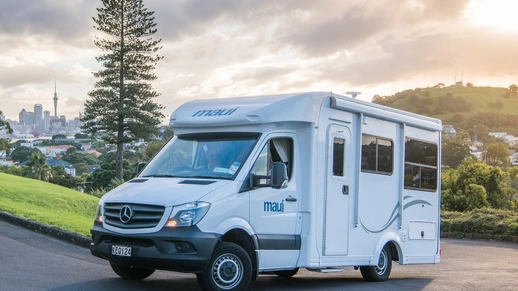 +10
4 adults
Automatic
Diesel
Kitchen
Unlimited kilometres
2 beds
AC
Shower/WC
€4,101.00
 / 
€292.93

 per night
Maui River
Maui4.2(9 Reviews)20 km from Melbourne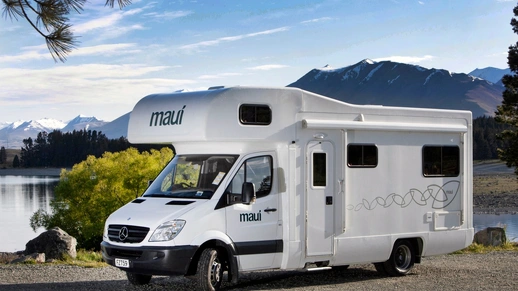 +8
6 adults
Automatic
Diesel
Kitchen
Unlimited kilometres
3 beds
AC
Shower/WC
€4,223.00
 / 
€301.64

 per night
Maui Beach
Maui4.2(9 Reviews)20 km from Melbourne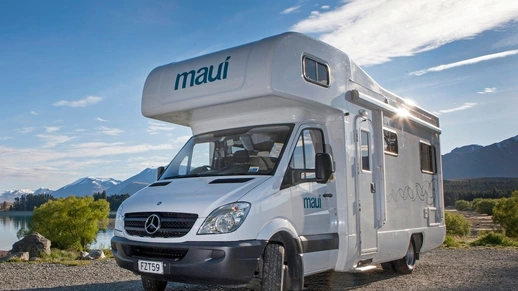 +9
4 adults
Automatic
Diesel
Kitchen
Unlimited kilometres
2 beds
AC
Shower/WC
€4,223.00
 / 
€301.64

 per night
Maui Cascade Elite
Maui4.2(9 Reviews)20 km from Melbourne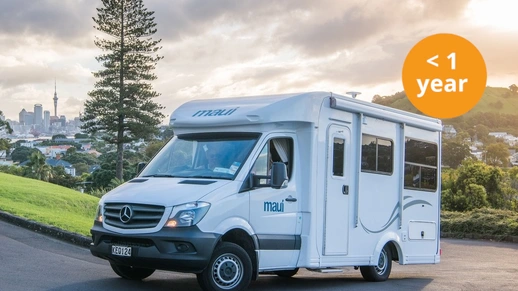 +10
4 adults
Automatic
Diesel
Kitchen
Unlimited kilometres
2 beds
AC
Shower/WC
€4,450.00
 / 
€317.86

 per night
Maui River Elite
Maui4.2(9 Reviews)20 km from Melbourne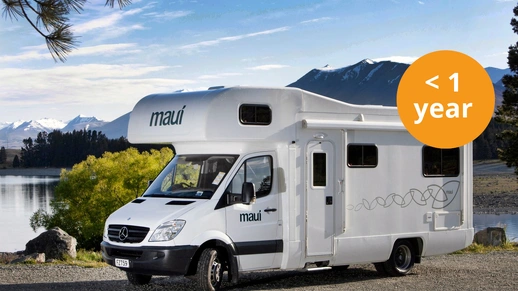 +8
6 adults
Automatic
Diesel
Kitchen
Unlimited kilometres
3 beds
AC
Shower/WC
€4,572.00
 / 
€326.57

 per night
Maui Beach Elite
Maui4.2(9 Reviews)20 km from Melbourne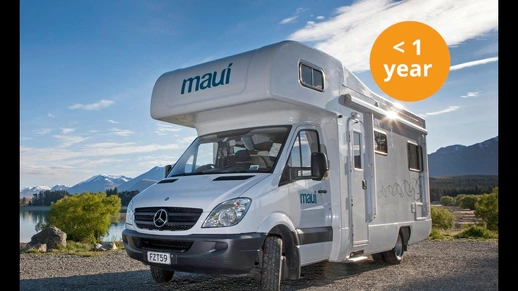 +9
4 adults
Automatic
Diesel
Kitchen
Unlimited kilometres
2 beds
AC
Shower/WC
€4,572.00
 / 
€326.57

 per night
Reviews Overview
CamperDays stands for transparency! That's why we give every customer the opportunity to share their experiences with other customers after their campervan trip.
Destinations and rental stations in Australia
Why is it worth booking an RV rental in Melbourne early?
Pick up a campervan in Melbourne and you're in the ideal place to start an adventurous road trip in Victoria or further afield. Spend a few days enjoying the attractions of the city before heading off to cruise along the Great Ocean Road admiring the beautiful scenery as you go. Or, head south to explore the delights of Phillip Island. Campervans hired in Melbourne are in high demand during the peak season of November to March. As this is one of the best periods for enjoying a road trip, CamperDays suggests booking your campervan rental in Melbourne at least three months in advance. By doing so, you'll get the pick of vehicles and dates as well as the best price deals. Don't worry about committing yourself so early. Should your vacation dates change, there are no charges for altering your reservation. Your booking also comes with a fair and transparent cancellation policy and the helpful support of the CamperDays customer service team. With a vacation in a camper hired in Melbourne, your time is your own. You can set your own itinerary and enjoy the fun of waking up somewhere different every day. Camper vacations are also very budget-friendly. To check this, compare their cost with the total cost of booking car rental and hotel accommodation along with the price of regular dining out. If you save money when booking your vacation, you can afford to stay longer!
Our partners
Pick-up locations in Melbourne and nearby
We need your consent to load the Google Maps service!
We use Google Maps to embed content that may collect data about your activity. Please review the details and accept the service to see this content.
Stations near Melbourne
STAR
1 Silicon Place
VIC 3043 Australia
Jucy
1 Silicon Place
VIC 3043 Australia
Travellers Autobarn
5 Assembly Drive
3043 Australia
Apollo
40 Hume Highway
VIC 3062 Australia
More questions about renting a campervan?
Would you like to enquire about your campervan before you book or do you need more information? We are here for you! You can reach us from Monday to Friday (9:00 am to 5:00 pm) by telephone or at any time at our .
Campervan offers for couples in Melbourne
For a romantic trip for two exploring Melbourne and other cities nearby, a smaller motorhome is just right. Discover our selection of vehicles for two people and explore together.


Campervan offers for families in Melbourne
If you want to go on a family camping holiday in Melbourne, we recommend a large motorhome. Alcove models are very popular with families with children, as the motorhomes are spacious and have several sleeping and seating areas.


Campervan offers for dog owners in Melbourne
Whether it's a campervan or a classic motorhome, there are now several rental companies in Melbourne that allow pets in their vehicles. In the CamperDays search, you can easily search for suitable offers using the "Pets allowed" filter.


FAQ - the most frequently asked questions about RV rental in Melbourne
The main driver should bring their credit card with them. This is used for the security and damages deposit.

A full and valid driving license issued in your country of residence is sufficient in Victoria. However, other states have different rules so carrying an IDP as well is recommended. These are easy to obtain before you leave home.

You can legally drive campervans in Australia from the age of 18. In reality, most rental companies ask that drivers be at least 25. Surcharges are made for younger drivers.

Away from the cities, some roads are not suitable for certain campervans. Your rental company will give guidance on this.

Always stay overnight in designated campsites as wild camping is strictly forbidden in all parts of Australia.

The fun and freedom of camper vacations are ideal for young families. Just remember to have appropriate child seats.

Most rental companies have a selection of vehicles where well-behaved dogs are allowed. Always read your terms and conditions carefully.
Categories of campervans in Melbourne
Small RV
2 - 4 people
Fuel consumption: 10 - 20 l / 100 km
For people who don't need much space
Pros: mobile, compact, low rental price
Luxury RV
3 - 7 people
Fuel consumption: ca. 25 l / 100 km
For people who like high comfort
Pros: spacious, high comfort, exclusive equipment
Large motorhomes
3 - 7 people
Fuel consumption: ca. 25 - 35 l / 100 km
For experienced drivers
Pros: comfortable, spacious
4WD campers
2 - 4 people
Fuel consumption: ca. 16 l / 100 km
For people who love exploring the landscape
Pros: powerful engine, all-terrain
Truck campervan
2 - 5 people
Fuel consumption: ca. 30 l / 100 km
For intermediate drivers
Pros: all-terrain, comfortable, mobile, powerful engine
More than 700 locations worldwide
Worldwide campervan rental
Compare the prices for different campervans, locations, and dates in our price comparison tool and find the most affordable option for your trip.
We will help you find the perfect campervan for your trip

Our partners are available across the globe at more than 700 locations

We guarantee clear pricing and 100% transparency