8 offers
for your holiday in Barcelona
Beach Hostel
roadsurfer4/52 km from Barcelona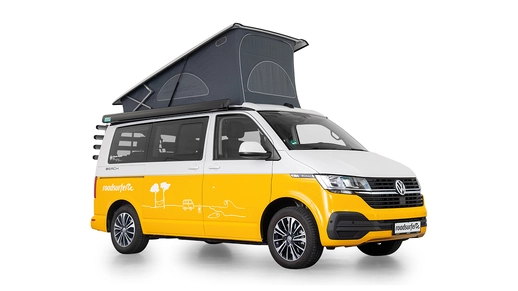 +9
4 adults/1 children
Automatic
Diesel
Kitchen
Unlimited kilometres
2 beds
AC
Pets allowed
€894.00
 / 
€63.86

 per night
Surfer Suite
roadsurfer4/52 km from Barcelona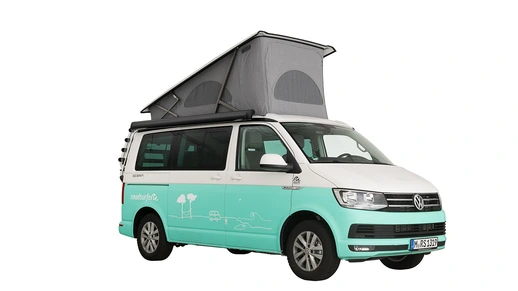 +9
4 adults
Automatic
Diesel
Kitchen
Unlimited kilometres
2 beds
AC
Pets allowed
€1,090.00
 / 
€77.86

 per night
Camper Cabin
roadsurfer4/52 km from Barcelona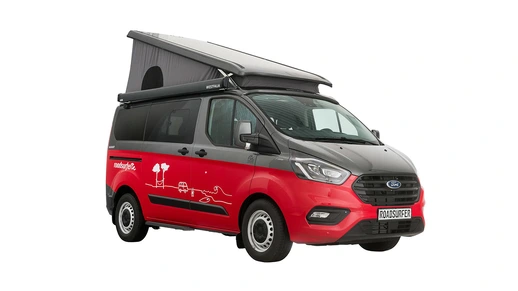 +9
4 adults/1 children
Automatic
Diesel
Kitchen
Unlimited kilometres
2 beds
AC
Pets allowed
€1,090.00
 / 
€77.86

 per night
Travel Home
roadsurfer4/52 km from Barcelona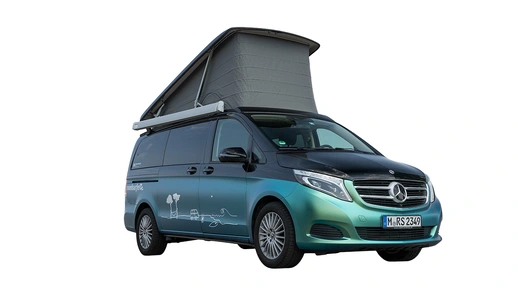 +7
4 adults
Automatic
Diesel
Kitchen
Unlimited kilometres
2 beds
AC
Pets allowed
€1,134.00
 / 
€81.00

 per night
Camper Cabin Deluxe
roadsurfer4/52 km from Barcelona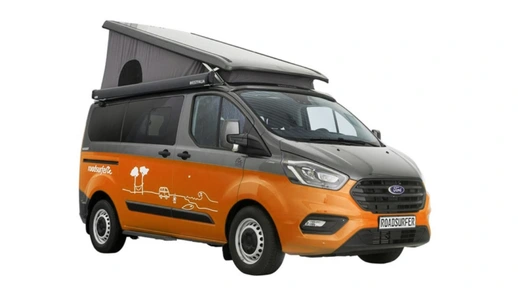 +8
4 adults/1 children
Automatic
Diesel
Kitchen
Unlimited kilometres
2 beds
AC
Pets allowed
€1,174.00
 / 
€83.86

 per night
Couple Cottage
roadsurfer4/52 km from Barcelona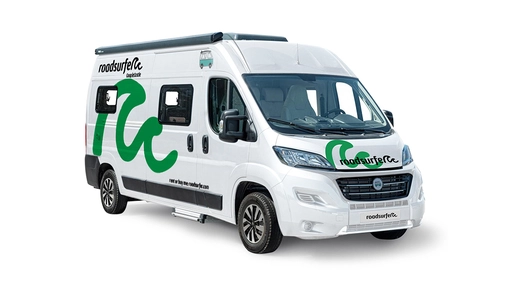 +7
2 adults
Diesel
Kitchen
Unlimited kilometres
1 beds
AC
Shower/WC
Pets allowed
€1,314.00
 / 
€93.86

 per night
Road House
roadsurfer4/52 km from Barcelona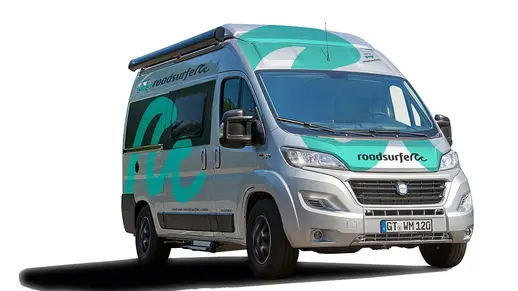 +5
4 adults
Diesel
Kitchen
Unlimited kilometres
2 beds
AC
Shower/WC
Pets allowed
€1,370.00
 / 
€97.86

 per night
Family Finca
roadsurfer4/52 km from Barcelona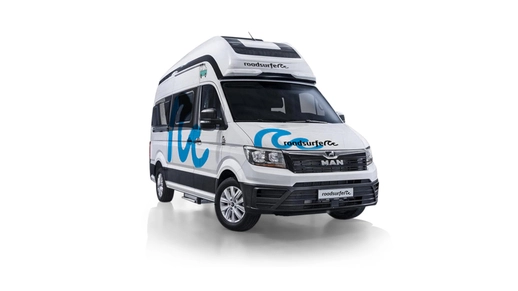 +9
2 adults/2 children
Automatic
Diesel
Kitchen
Unlimited kilometres
2 beds
AC
Shower/WC
Pets allowed
€1,510.00
 / 
€107.86

 per night
Reviews Overview
CamperDays stands for transparency! That's why we give every customer the opportunity to share their experiences with other customers after their campervan trip.
Renting a campervan in Spain and visiting Catalonia's capital city
When renting a campervan in Spain make sure to travel to Catalonia's vibrant capital city Barcelona. Barcelona is a seaside city known for its amazing scenery, breathtaking architecture and superb cultural attractions making it a top destination for an RV vacation. Antoni Gaudí gave the city its unique architectural flair and a number of the buildings are UNESCO listed, but Barcelona is also steeped in history with a large medieval quarter.
The city has a joyous vibe, which is perfect for a vacation. Visitors will enjoy strolling down La Rambla, where lots of people hang out and relax. During your stay make sure to try some Paella or Tapas, which are traditional types of dishes in Spain. One of the best ways to discover Barcelona is by going on a city trip and renting an RV, which gives you the flexibility to visit the city and the region.
Should you book a campervan early in Barcelona?
Spain is a promise of stunning highlights, inspiring architecture, and breathtaking vistas. Holidaymakers who dream to explore the country in a campervan should definitely head to Barcelona, where campervan hire is very popular. The three months characterised by the highest demand in this city are May, July, and December. The average daily price for hiring a campervan in Barcelona is 140.49 euros. In order to enjoy the most affordable deals, it is best to book a vehicle almost 4 months in advance. Early birds can easily get ahead of the competition and get a perfect combination of quality, availability, and price.
Hiring a campervan may seem challenging at first - our CamperDays customer service department is here to help you with all the details you should keep in mind regarding your booking. Our experts are happy to answer all your questions and find the best solutions for your problems. We also promise a fair cancellation policy. If you are still unsure about which month to choose for your holiday trip, do not worry – there are no charges for reservation changes.
Campervans are a means of transport ensuring full freedom of choice. If you are searching for full independence, a motorhome is the go-to vehicle for you. Despite the fact that campervan hire seems slightly expensive at first, you do not have to invest any money in accommodation, airline tickets, or restaurants. A campervan also guarantees that you will spend more quality time close to nature. The average travel time when renting an RV in Barcelona is 15 days.
Our partners
Pick-up locations in Barcelona and nearby
We need your consent to load the Google Maps service!
We use Google Maps to embed content that may collect data about your activity. Please review the details and accept the service to see this content.
Stations near Barcelona
roadsurfer
Carrer ďAndorra, 67
08840 Spain
More questions about renting a campervan?
Would you like to enquire about your campervan before you book or do you need more information? We are here for you! You can reach us from Monday to Friday (9:00 am to 5:00 pm) by telephone or at any time at our .
Our top tips for renting a campervan in Spain and going on a city trip to Barcelona
Going on an RV vacation in Spain is a great way to go on a city trip to Barcelona and explore the region of Catalonia. The busiest period for renting a campervan is from May until September so booking in advance is highly recommended.
Campervan offers for couples in Barcelona
For a romantic trip for two exploring Barcelona and other cities nearby, a smaller motorhome is just right. Discover our selection of vehicles for two people and explore together.


Campervan offers for families in Barcelona
If you want to go on a family camping holiday in Barcelona, we recommend a large motorhome. Alcove models are very popular with families with children, as the motorhomes are spacious and have several sleeping and seating areas.


Campervan offers for dog owners in Barcelona
Whether it's a campervan or a classic motorhome, there are now several rental companies in Barcelona that allow pets in their vehicles. In the CamperDays search, you can easily search for suitable offers using the "Pets allowed" filter.


Some of Barcelona's best attractions
Barcelona is known for its unique artsy flair and some of the best fresh food markets. Below we have put together some of the best sights to visit:
Basílica de la Sagrada Família
The Basilica was designed by Gaudi and it was not finished in his lifetime. After his death various architects continued to work on the Basilica.

The Basilica is still not finished; however, tourists may visit the interior to see the fantastic artworks. The main nave is an immense space of 295 ftlong by 200 fthigh. The ceiling sparkles with decorative details, and colorful stained-glass windows.
Mercat de la Boqueria
A traditional open-air market since 1836which has been a centerpiece in the heart of the city on La Rambla. Locals visit the market regularlyand shoppers come from all corners of Catalonia to this truly special gourmet food and produce market.

You can find a range of different tasty fresh foods and produce here such as fruits and vegetables, sandwiches, glistening candied fruits, savory and sweet pastries, chocolates and so much more.
Bogatell Beach
This is known as one of the best beaches in Spain. It is still within the city limits of Barcelona. It's a great place to sunbathe, socialize, relax, play volleyball, or go windsurfing. Other things to do include kitesurfing and kayaking.

The 1,970ft long beach features a sandy shoreline and excellent amenities. There is also a beachfront promenade with snack bars and ice-cream stores.
Parc Güell: Gaudí's Surrealist Park
The 19-hectare hillside park is a designated UNESCO World Heritage Site. It was created between 1900 and 1914. It includes 12 acres of landscaped gardens featuring surrealist architectural elements created by Antoni Gaudí.

You will need to get tickets to visit the Parc Güell. This is one of the most popular tourist attractions in Barcelona. It is highly recommended to arrive early in the morning to avoid large crowds. Guided tours are also available.
Events and festivals in Barcelona
Three King's Day (January): it is an important Christian festival that celebrates and honors the three wise men who came to visit Jesus Christ after his birth. This festival started in the 19th century in Spain, and it is one of the most celebrated events in the city with parades and events.
Candy Festival (February or March): this is an event for those who have a sweet tooth. It features beautiful exhibits and processions of candies and animals. This colorful and vibrant festival is a truly sweet experience that should not be missed out on. It is a time to let go and enjoy yourself and try one of the many candies.
La Mercè (24th September): this is an official holiday and lots of people go to the processions and events that take place throughout Barcelona. The colorful street parades, exhibits, and processions are a must-see. The best part of this festival is that all the events and parades are completely free.
Campsites in Barcelona
Camping del Mar
Avda Pomareda s/n
08380 Malgrat de Mar, Barcelona

Camping El Garrofer
C-246a, Km. 39
08870 Sitges Barcelona
La Rueda
Strada C-31, Km.146, 2
08880 Cubelles, Barcelona

Camping Globo Barcelona
Carrer Drassanes de Pla 46,
08360 Canet de Mar, Barcelona
Questions? We have answers.
The 5 most frequently asked questions
To drive an RV in Spain you will need to apply for an international driving permit in addition to your US driver's license. You will also need to be aged 25 or over. Make sure to check for local speed limits and road regulations before renting an RV in Spain as speed limits and road regulations differ to those in the America. You can stay in Spain for up to 90 days without needing to apply for a visa.

The price of camping grounds in and around Barcelona can vary depending on the location and facilities. The average cost is around $20.00 to $50.00 per night, but it's always best to check before booking because some camping grounds are only open during the high season.

Getting a tourist pass in Barcelona is a good idea depending on what you want to do on your city trip. The Go City Barcelona Pass is one of the most popular ones, which offers free entry to over 40 attractions and tours. It also allows you to skip the line and gives you a free 1-day Hop on Hop Off Bus Tour ticket.

We would recommend staying in Barcelona for three or four days. This will give you enough time to wander around the city and to visit some museums whilst still having enough time to relax at the beach.

The best time to visit Barcelona is from May – June as the temperatures are cooler during these months. In the height of summer Barcelona can get quite hot and humid.
More than 700 locations worldwide
Worldwide campervan rental
Compare the prices for different campervans, locations, and dates in our price comparison tool and find the most affordable option for your trip.
We will help you find the perfect campervan for your trip

Our partners are available across the globe at more than 700 locations

We guarantee clear pricing and 100% transparency