Filter
26 offers
for your holiday in Queenstown
Mighty Highball
Mighty 3/56 km from Queenstown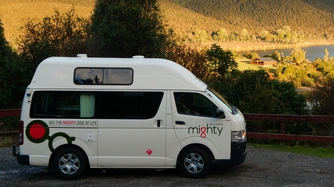 +9
2 adults
Automatic
Kitchen
Unlimited kilometres
AC
€1,979.00
 / 
€141.36

 per night
Jucy Cabana
Jucy 3/57 km from Queenstown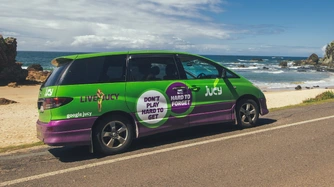 +10
2 adults
Automatic
Petrol
Kitchen
Unlimited kilometres
1 beds
AC
€2,012.00
 / 
€143.71

 per night
Mighty Double Down
Mighty 3/56 km from Queenstown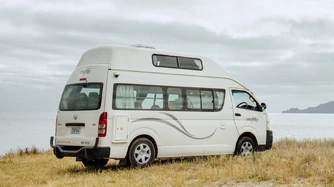 +9
4 adults
Automatic
Kitchen
Unlimited kilometres
AC
€2,043.00
 / 
€145.93

 per night
Britz HiTop
Britz 4/56 km from Queenstown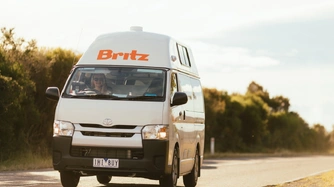 +12
2 adults
Automatic
Kitchen
Unlimited kilometres
1 beds
AC
€2,109.00
 / 
€150.64

 per night
Britz Voyager
Britz 4/56 km from Queenstown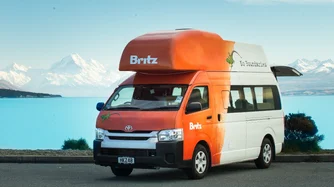 +10
4 adults
Automatic
Kitchen
Unlimited kilometres
2 beds
AC
€2,174.00
 / 
€155.29

 per night
Mighty Deuce
Mighty 3/56 km from Queenstown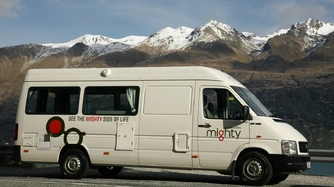 +10
2 adults
Automatic
Diesel
Kitchen
Unlimited kilometres
AC
Shower/WC
€2,383.00
 / 
€170.21

 per night
Jucy Condo
Jucy 3/57 km from Queenstown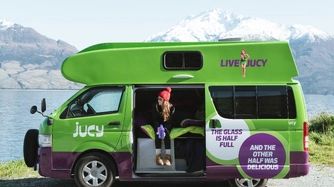 +12
4 adults
Automatic
Kitchen
Unlimited kilometres
2 beds
AC
€2,417.00
 / 
€172.64

 per night
Mighty Deuce Plus
Mighty 3/56 km from Queenstown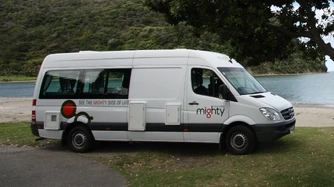 +9
2 adults/1 children
Automatic
Diesel
Kitchen
Unlimited kilometres
AC
Shower/WC
€2,456.00
 / 
€175.43

 per night
Britz Venturer
Britz 4/56 km from Queenstown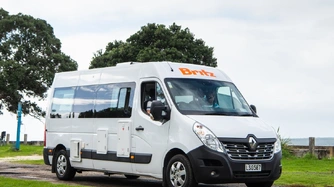 +9
2 adults
Automatic
Diesel
Kitchen
Unlimited kilometres
1 beds
AC
Shower/WC
€2,537.00
 / 
€181.21

 per night
Britz Venturer Plus
Britz 4/56 km from Queenstown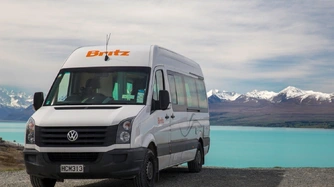 +10
2 adults/1 children
Automatic
Diesel
Kitchen
Unlimited kilometres
2 beds
AC
Shower/WC
€2,618.00
 / 
€187.00

 per night
JUCY Chaser
Jucy 3/57 km from Queenstown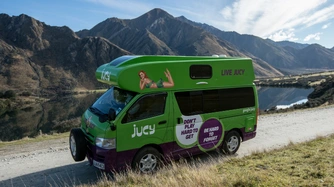 +11
3 adults
Automatic
Petrol
Kitchen
Unlimited kilometres
2 beds
AC
Shower/WC
€2,752.00
 / 
€196.57

 per night
Maui Ultima
Maui 4.5/56 km from Queenstown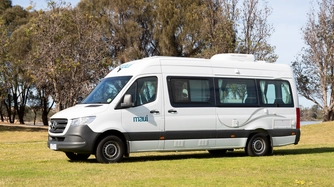 +8
2 adults
Automatic
Diesel
Kitchen
Unlimited kilometres
1 beds
AC
Shower/WC
€3,006.00
 / 
€214.71

 per night
Maui Ultima Plus
Maui 4.5/56 km from Queenstown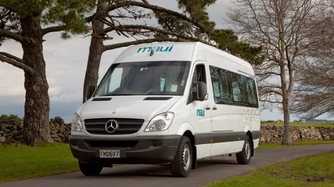 +11
2 adults/1 children
Automatic
Diesel
Kitchen
Unlimited kilometres
2 beds
AC
Shower/WC
€3,097.00
 / 
€221.21

 per night
Mighty Double Up
Mighty 3/56 km from Queenstown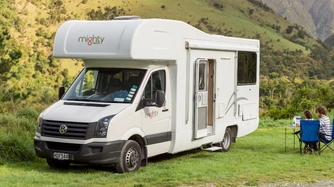 +10
4 adults
Automatic
Diesel
Kitchen
Unlimited kilometres
AC
Shower/WC
€3,221.00
 / 
€230.07

 per night
Mighty Big Six
Mighty 3/56 km from Queenstown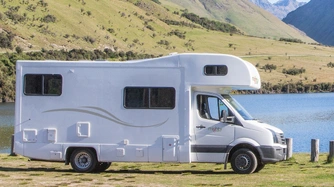 +11
4 adults/2 children
Automatic
Diesel
Kitchen
Unlimited kilometres
AC
Shower/WC
€3,221.00
 / 
€230.07

 per night
Maui Ultima Elite
Maui 5/56 km from Queenstown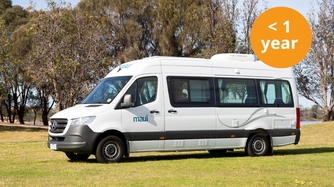 +8
2 adults
Automatic
Diesel
Kitchen
Unlimited kilometres
1 beds
AC
Shower/WC
€3,340.00
 / 
€238.57

 per night
Maui Ultima Plus Elite
Maui 5/56 km from Queenstown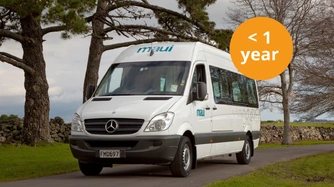 +11
2 adults/1 children
Automatic
Diesel
Kitchen
Unlimited kilometres
2 beds
AC
Shower/WC
€3,431.00
 / 
€245.07

 per night
Britz Discovery
Britz 4/56 km from Queenstown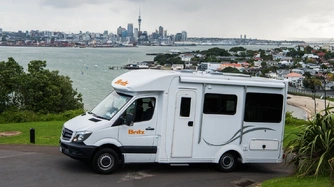 +10
4 adults
Automatic
Diesel
Kitchen
Unlimited kilometres
2 beds
AC
Shower/WC
€3,448.00
 / 
€246.29

 per night
Britz Explorer
Britz 4/56 km from Queenstown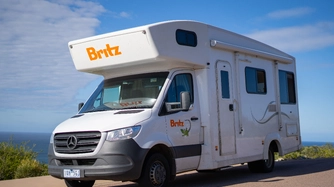 +10
4 adults
Automatic
Diesel
Kitchen
Unlimited kilometres
2 beds
AC
Shower/WC
€3,561.00
 / 
€254.36

 per night
Britz Frontier
Britz 4/56 km from Queenstown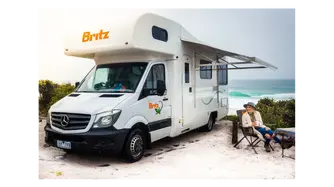 +10
6 adults
Automatic
Diesel
Kitchen
Unlimited kilometres
3 beds
AC
Shower/WC
€3,682.00
 / 
€263.00

 per night
Maui Cascade
Maui 4.5/56 km from Queenstown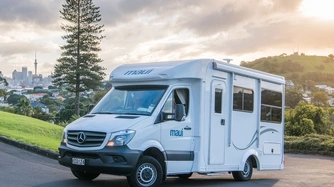 +11
4 adults
Automatic
Diesel
Kitchen
Unlimited kilometres
2 beds
AC
Shower/WC
€3,717.00
 / 
€265.50

 per night
Maui River
Maui 4.5/56 km from Queenstown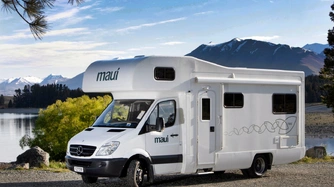 +9
6 adults
Automatic
Diesel
Kitchen
Unlimited kilometres
3 beds
AC
Shower/WC
€3,824.00
 / 
€273.14

 per night
Maui Beach
Maui 4.5/56 km from Queenstown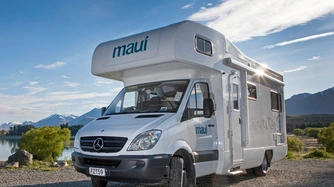 +10
4 adults
Automatic
Diesel
Kitchen
Unlimited kilometres
2 beds
AC
Shower/WC
€3,824.00
 / 
€273.14

 per night
Maui Cascade Elite
Maui 5/56 km from Queenstown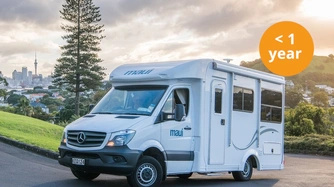 +11
4 adults
Automatic
Diesel
Kitchen
Unlimited kilometres
2 beds
AC
Shower/WC
€4,051.00
 / 
€289.36

 per night
Maui River Elite
Maui 5/56 km from Queenstown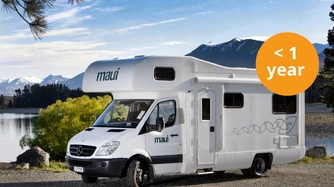 +9
6 adults
Automatic
Diesel
Kitchen
Unlimited kilometres
3 beds
AC
Shower/WC
€4,158.00
 / 
€297.00

 per night
Maui Beach Elite
Maui 5/56 km from Queenstown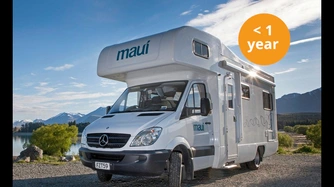 +10
4 adults
Automatic
Diesel
Kitchen
Unlimited kilometres
2 beds
AC
Shower/WC
€4,158.00
 / 
€297.00

 per night
Destinations and rental stations in New Zealand
A unique holiday experience
Motorhome rental in Queenstown
How does CamperDays work?
CamperDays is one of the most popular websites with a very diverse campervan hire offer. It has gained worldwide recognition thanks to a very simple booking system that saves your time and effort. Within a few steps, CamperDays allows you to enjoy your dream vehicle with all the necessary equipment pieces. Fill in the form with your travel dates to browse through a wide offer of campervans. The interesting choice of dedicated filters allows you to sort the list by the number of travelers, equipment, and rental company.
Simply enter your dates and location to begin your search.

Request or book the campervan you want to rent for a great price.

Complete your booking and your unforgettable adventure can begin!
Why is it worth booking a campervan in Queenstown as early as possible?
New Zealand is a land of endless opportunities when it comes to travelling in a campervan, and Queenstown is among the many places where you can easily find a reliable vehicle. What can you do to get the most affordable deal? Well, you need to remember that the highest demand in Queenstown is in the period between October and December. In order to get ahead of other potential campervan fans, it is advisable to book as early as a little over 3 months in advance. This is how you can benefit from the widest and the most diverse offer. The average daily price for a motorhome in Queenstown is 109.35 euros. If you have any concerns connected with your trip or your vehicle, the CamperDays customers service department is here to help you. When placing your reservation with us, you are guaranteed that there are no hidden charges for reservation changes and that the cancellation policy is very transparent. Our experts are eager to give you a helping hand! Your own RV is a perfect choice if you value your freedom. Campervan holidays are also an option for the creative, as you can come up with a list of thrilling and interesting highlights along the way. For the hesitant, there is also a possibility to change your plans overnight. Your own vehicle gives you an opportunity to avoid all the additional costs of expensive accommodation and restaurants. You also stay independent of all the tight schedules. The average travel time when renting a campervan in Queenstown is 25 days.
Which rental companies are available in Queenstown?
Queenstown holds something in store for all types of adventurers. The most popular campervan hire companies in this city are: JUCY Rentals, Britz, and Maui.
JUCY Rentals
It is one of the 3 most popular campervan hire companies in Queenstown. Each vehicle comes with unlimited kilometres and 24/7 roadside assistance.
Full address of the JUCY Rentals rental station in Queenstown:
52 Grant Road
9371 Queenstown
Britz
The wide variety of Britz vehicles caters to the needs of travellers who seek convenience. The company also offers a GPS and unlimited mileage.
Full address of the Britz rental station in Queenstown:
50 Lucas Place, Frankton
9300 Queenstown
Maui
Maui will be ideal for both rookie and more experienced drivers. The large fleet offers 24-hour emergency assistance and a great basic package.
Full address of the Maui rental station in Queenstown:
50 Lucas Place, Frankton
9300 Queenstown
All of the three companies offer free airport transfer from Queenstown Airport (ZQN). Remember to always contact the company beforehand if you are interested in the transfer. You can also reach the branches by taxi.
Categories of campervans in Queenstown
Small RV
2 - 4 people
Fuel consumption: 10 - 20 l / 100 km
For people who don't need much space
Pros: mobile, compact, low rental price
Luxury RV
3 - 7 people
Fuel consumption: ca. 25 l / 100 km
For people who like high comfort
Pros: spacious, high comfort, exclusive equipment
Large motorhomes
3 - 7 people
Fuel consumption: ca. 25 - 35 l / 100 km
For experienced drivers
Pros: comfortable, spacious
4WD campers
2 - 4 people
Fuel consumption: ca. 16 l / 100 km
For people who love exploring the landscape
Pros: powerful engine, all-terrain
Truck campervan
2 - 5 people
Fuel consumption: ca. 30 l / 100 km
For intermediate drivers
Pros: all-terrain, comfortable, mobile, powerful engine
More than 700 locations worldwide
Worldwide campervan rental
Compare the prices for different campervans, locations, and dates in our price comparison tool and find the most affordable option for your trip.
We will help you find the perfect campervan for your trip

Our partners are available across the globe at more than 700 locations

We guarantee clear pricing and 100% transparency