Filter
3 Offers
for your holiday in Alaska
Cruise America C-25
Cruise America3.5/59 km from Alaska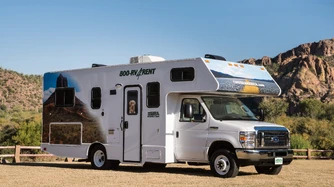 +14
4 adults/1 children
Automatic
Petrol
Kitchen
No kilometres incl.
3 beds
AC
Shower/WC
Pets allowed
€2,451.00
 / 
€175.07

 per night
Cruise America C-30
Cruise America3.5/59 km from Alaska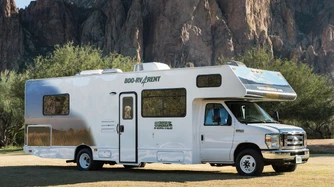 +14
6 adults/1 children
Automatic
Petrol
Kitchen
No kilometres incl.
4 beds
AC
Shower/WC
Pets allowed
€2,590.00
 / 
€185.00

 per night
Cruise America C-21
Cruise America3.5/59 km from Alaska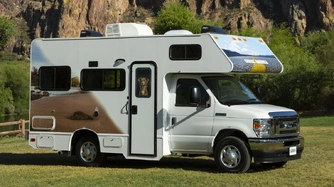 +11
2 adults/2 children
Automatic
Petrol
Kitchen
No kilometres incl.
2 beds
AC
Shower/WC
Pets allowed
€2,625.00
 / 
€187.50

 per night
A unique holiday experience
Motorhome rental in Alaska
Motorhome Rental In Alaska - So Easy With CamperDays
Alaska is a campervan paradise and there are plenty of camper rental Alaska companies to choose from. Nevertheless, don't worry, we have done the research for you. Renting a campervan in Alaska is easy with CamperDays, an online platform that compares prices and deals from different campervan hire companies. Just enter your starting point and your preferred duration of the rental period. We will do the rest. You will see all the available campervan Alaska companies and motorhomes in Alaska. You can easily compare prices of different campervan hire companies in Alaska on our website, so you can choose the best deal for your trip. Click on your preferred offer to see more information and book your campervan in Alaska now. At CamperDays we value transparency and therefore we show you all the extras that are included in the price of your rental. So have you found a suitable vehicle yet? Put in your details and book your campervan in Alaska now! In case you require assistance with your booking process or destination details, our infoline team is happy to help you.
1. Find an RV

Simply enter your dates and location to begin your search.

2. Receive offers

Request or book the campervan you want to rent for a great price.

3. Book and go

Complete your booking and your unforgettable adventure can begin!
RV Rental Alaska: Why Is It Worth Booking A Campervan Early?
If Alaska is your next destination on your bucket list, CamperDays allows you to make your wildest dreams a reality. With just a few clicks, you may rent a camper in Alaska. Fill in the search field with your desired travel period and starting point, and the appealing deals will begin to pour in. With early reservations, you're more certain you will get the vehicle of your choice. Also, early AR rental can save you money. This is because Hotel and rental car costs can add up, but with an RV rental, you have everything you need in one vehicle. This can save you money in the long run. Book with confidence, knowing that CamperDays guarantees fair cancellation conditions and free rebooking. Besides, camper hire Alaska would save you much hassle of arranging for a hotel or car rental, leaving you more time to explore the surroundings of your RV at will. Most importantly, you can always bank on our customer service from our customer service team. You will not only get assistance for booking, but also tailored advice according to your personal preferences.
FAQ
Campervan rental Alaska companies require a credit card deposit to reserve the vehicle. However, the card must be in the name of the primary driver.

The state of Alaska does not issue international driving licenses. However, you can check with your motorhome rental company in Alaska.

Yes, you can take your pet with you in the motorhome. However, make sure to inquire about it when you make your reservations.

There are no specific prohibited roads in Alaska. However, you will want to check with your RV rental Alaska Company about any restrictions they may have. They may make recommendations for certain roads based on the nature of their campervans.

Wild camping is not allowed in Alaska. Generally, you are allowed to sleep in RV parks and campgrounds, public land (National Forests) subject to certain rules. Overnight camping is also possible at some rest stops. When you stop anywhere overnight, be sure to keep an eye on the warning signals. However, you should inquire with your Camper rent Alaska renting firm about any special provisions they may have.

Some require you to be at least 25 years of age or older to rent a camper. You can check with your renting firm about their age restrictions.

Yes, you can bring your baby in the camper. However, make sure to inquire about it when you make your reservation. However, different rental companies have different policies regarding children. so, be sure to book a child's seat or baby car seat with the campervan.
Motorhome Rentals in Alaska
If you search campervan hire Alaska, you will find one of the best selections of RV rental companies in the region. There are also a number of companies located in Fairbanks and Juneau. Use a taxi from the airport to Fairbanks, or take a bus from downtown Anchorage to the RV rental depot, in less than one hour. If you're looking for a campervan rent Alaska companies with the best options, there are plenty of great companies to choose from.
Escape Campervans
Escape Campervans are the market leaders in campervan, motorhome and RV hire in America, Canada and Australia. Escape offers the best car rental deals to several worldwide locations. They will help you create memories that will last a lifetime on your next Escape Campervans vacation.
Alaska Motorhome Rentals
Alaska Motorhome Rentals is your source for all camper rental Alaska hot deals–RV, campervan and car rental. The fleet includes everything from basic economy to luxury class vehicles. The fleet has been designed to offer the best in comfort and reliability at competitive prices. All our vehicles are fully equipped with everything you'll need to enjoy your trip, including pots and pans, linens and towels, a GPS unit and more.
More than 300 locations worldwide
Worldwide campervan rental
Experience an Alaskan winter, explore the Australian Outback or embark on a road trip through Europe – renting a campervan is the best way to travel any part of the world! Discover the ideal starting point for your holiday at our international locations. At CamperDays you can rent a campervan from the USA, Canada, Australia, New Zealand, Namibia, Botswana and many other destinations.
Internationally, we work with many well-established providers who rent out campervans/motorhomes: from Cruise America and Road Bear RV, who are well-known U.S. rental companies, to Jucy, whose core business is Australia and New Zealand, and Apollo, which is a global company with lots of locations in Europe, Australia and New Zealand.
Discover gorgeous cities, sunny Mediterranean beaches, deep green forests, and endless mountain ranges across Europe. With an RV, you are the master of your own destiny. Whether you want to visit multiple countries or linger around in one area for a longer period, having an RV at your disposal gives you plenty of choices.
Compare the prices for different motorhomes, locations, and dates in our price comparison tool and find the most affordable option for your trip.
United Kingdom | France | Germany | Italy | Norway | Portugal
One of the best ways to explore the beautiful countryside and cities of the USA and Canada is a good old-fashioned road trip. There is an abundance of different routes to take and tourist attractions to see. From Route 66, the most iconic road trip in the USA, to the breath-taking national parks, every adventurer will find something to their liking. Experience the scenic landscapes of North America with an RV and discover its diverse regions on a camper trip of a lifetime.
USA
Las Vegas | Los Angeles | Denver | Houston | Phoenix | Salt Lake City | Anchorage | Miami | Orlando
Canada
Expert advice

We will help you find the perfect campervan for your trip

Wide selection

Our partners are available across the globe at more than 300 locations

No hidden costs

We guarantee clear pricing and 100% transparency