Filter
1 Offers
for your holiday in Bologna
Family Standard
McRent4.5/533 km from Bologna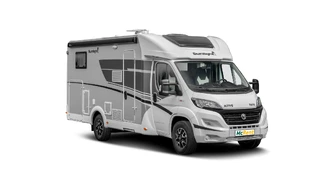 +11
4 adults
Manual
Diesel
Kitchen
Unlimited kilometres
3 beds
AC
Shower/WC
€2,201.00
 / 
€157.21

 per night
More than 300 locations worldwide
Worldwide campervan rental
Experience an Alaskan winter, explore the Australian Outback or embark on a road trip through Europe – renting a campervan is the best way to travel any part of the world! Discover the ideal starting point for your holiday at our international locations. At CamperDays you can rent a campervan from the USA, Canada, Australia, New Zealand, Namibia, Botswana and many other destinations.
Internationally, we work with many well-established providers who rent out campervans/motorhomes: from Cruise America and Road Bear RV, who are well-known U.S. rental companies, to Jucy, whose core business is Australia and New Zealand, and Apollo, which is a global company with lots of locations in Europe, Australia and New Zealand.
Discover gorgeous cities, sunny Mediterranean beaches, deep green forests, and endless mountain ranges across Europe. With an RV, you are the master of your own destiny. Whether you want to visit multiple countries or linger around in one area for a longer period, having an RV at your disposal gives you plenty of choices.
Compare the prices for different motorhomes, locations, and dates in our price comparison tool and find the most affordable option for your trip.
United Kingdom | France | Germany | Italy | Norway | Portugal
One of the best ways to explore the beautiful countryside and cities of the USA and Canada is a good old-fashioned road trip. There is an abundance of different routes to take and tourist attractions to see. From Route 66, the most iconic road trip in the USA, to the breath-taking national parks, every adventurer will find something to their liking. Experience the scenic landscapes of North America with an RV and discover its diverse regions on a camper trip of a lifetime.
USA
Las Vegas | Los Angeles | Denver | Houston | Phoenix | Salt Lake City | Anchorage | Miami | Orlando
Canada
How does CamperDays work?
If searching for your dream campervan is above you, there is nothing simpler than trying out the CamperDays booking system. It is an excellent tool to compare campervans worldwide, allowing you to secure a vehicle of your liking within minutes. The only thing that you need to do is fill in the online form with the selected travel dates.
After filling in the dates, you will be presented with a list of available motorhomes. One of the greatest benefits of our system is its transparent price display. If you are overwhelmed with the number of results, you can also try the dedicated filters that will help you to narrow down your search. CamperDays guarantees no surcharges on the pick-up.
1. Find an RV

Simply enter your dates and location to begin your search.

2. Receive offers

Request or book the campervan you want to rent for a great price.

3. Book and go

Complete your booking and your unforgettable adventure can begin!
Why is it worth booking a campervan in Bologna early?
The perfect Italian road infrastructure and a landscape studded with highlights can be easily explored with a campervan. An RV is an ideal means of transport to experience Italy at its best. Bologna is one of the cities to head to if you are searching for a reliable vehicle. The most popular period for campervan rental in Bologna is between July and August. The average price for campervan hire that you can expect is 165.93 euros per day, and the average travel time is 13 days. Is there anything you can do to secure yourself the best deal at the most affordable price? Of course, following the rule – first come, first served – you could try booking a vehicle as early as almost 4 months in advance. This will guarantee the most diverse and exciting choice when it comes to the available fleet. You will secure the most interesting vehicle make and avoid exorbitant prices.
If you are still unsure about the exact dates of your campervan trip, that is not a problem. We offer a very transparent cancellation policy as well as no additional charges for reservation changes. That is why you can change your travel dates without any negative consequences. What is more, the CamperDays experts are full of interesting solutions and tips that may come in handy while on the road. We are here to help you!
Despite the fact that renting a campervan might seem slightly daunting, you save a lot of money, time, and effort along the way. Such additional costs may be connected with accommodation, restaurants, or car rental. Your own vehicle is where you sleep and eat, promising full independence of any schedules and timetables.
FAQ - the most frequently asked questions about campervan hire in Bologna
If you have an EU driver's licence, you do not have to own an International Driving Licence.

The deposit should be paid with a credit card belonging to the main driver.

You can freely cross borders without the need to notify the authorities, but you should inform the rental company first.

Even though many companies have nothing against pets in their vehicles, you can also check the rental conditions to be absolutely sure.

Avoid wild camping as it is strictly forbidden in Italy.

The drivers are usually required to be as old as 21. However, a number of companies allows you to be even younger.

You can freely travel with a toddler in the vehicle in case of most campervan hire companies.
Which rental companies are available in Bologna?
The most popular campervan hire company in Bologna is McRent.
McRent
McRent is a guarantee of top-notch service and a wide choice of interesting vehicles. In its offer, you will find panel trucks, partially integrated vehicles, fully integrated campervans, and alcove options. Regardless of your choice, each campervan is fully equipped with superb amenities. Along with a favourable standard insurance, you can also enjoy unlimited mileage. There is a possibility to benefit from additional driver option as well.
Full address of the McRent rental station in Bologna:
Via P. Nenni, 7/A
40026 Imola (BO)
McRent's depot is located approximately 35 km away from Bologna Guglielmo Marconi Airport (BLQ). A taxi will be the easiest way to reach it. Our advice is to pick taxis up at official taxi ranks and avoid unlicensed vehicles.
Categories of campervans in Bologna
Small RV
2 - 4 people
Fuel consumption: 10 - 20 l / 100 km
For people who don't need much space
Pros: mobile, compact, low rental price
Luxury RV
3 - 7 people
Fuel consumption: ca. 25 l / 100 km
For people who like high comfort
Pros: spacious, high comfort, exclusive equipment
Large motorhomes
3 - 7 people
Fuel consumption: ca. 25 - 35 l / 100 km
For experienced drivers
Pros: comfortable, spacious
4WD campers
2 - 4 people
Fuel consumption: ca. 16 l / 100 km
For people who love exploring the landscape
Pros: powerful engine, all-terrain
Truck campervan
2 - 5 people
Fuel consumption: ca. 30 l / 100 km
For intermediate drivers
Pros: all-terrain, comfortable, mobile, powerful engine