Filter
4 offers
for your holiday in Ontario
Cruise America C-30
Cruise America 3.5/530 km from Ontario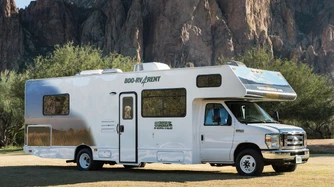 +14
6 adults/1 children
Automatic
Petrol
Kitchen
No kilometres incl.
4 beds
AC
Shower/WC
€1,171.00
 / 
€83.64

 per night
Cruise America C-19
Cruise America 3.5/530 km from Ontario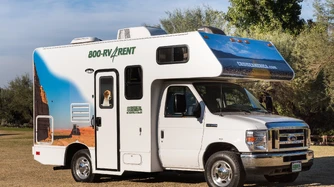 +11
3 adults
Automatic
Petrol
Kitchen
No kilometres incl.
2 beds
AC
Shower/WC
€1,229.00
 / 
€87.79

 per night
Cruise America C-25
Cruise America 3.5/530 km from Ontario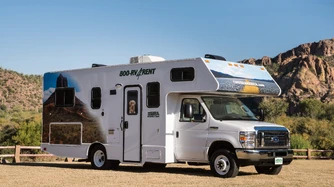 +14
4 adults/1 children
Automatic
Petrol
Kitchen
No kilometres incl.
3 beds
AC
Shower/WC
€1,301.00
 / 
€92.93

 per night
Cruise America C-21
Cruise America 3.5/530 km from Ontario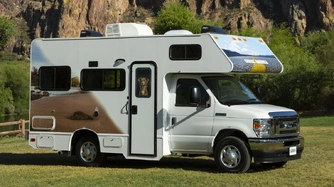 +11
2 adults/2 children
Automatic
Petrol
Kitchen
No kilometres incl.
2 beds
AC
Shower/WC
€1,673.00
 / 
€119.50

 per night
Destinations and rental stations in Canada
A unique holiday experience
Motorhome rental in Ontario
Motorhome Rental in Ontario - Easy With CamperDays
The selection of Motorhomes for rent at CamperDays.com covers all needs and budgets, from small campers to the most luxurious and spacious models. If you are looking for a camper rent Ontario Motorhome that can accommodate your whole family or a group of friends, you will find a Motorhome that matches your needs. Some models have a small kitchenette, seating area and even an AC unit! To rent a Motorhome in Ontario, Canada, visit CamperDays.com and simply enter your dates and place of departure and the search can begin. CamperDays.com gives you several offers for you to select. Once you select a camper and submit the request, we will start working for your booking to be accepted by our partners and owners. Once your booking is confirmed, we send you an email with all the instructions on how to get to the pickup location where the motorhome is ready for you. For any assistance, be sure to contact our customer care team.
Simply enter your dates and location to begin your search.

Request or book the campervan you want to rent for a great price.

Complete your booking and your unforgettable adventure can begin!
Motorhome RV Rental Ontario - Why Is It Worth Booking A Campervan Early?
Have you dreamt of visiting Ontario? From Toronto to Ottawa, Niagara Falls to Algonquin Provincial Park, there's much to explore in this great Canadian province. The best way to see everything that Ontario has to offer is by hiring a campervan or motorhome. CamperDays brings your dreams to reality with a few clicks. We work with the top RV rental companies in Ontario to bring you the best rates and selection possible. Enter your chosen travel period and we'll show you a variety of campervan Ontario options and their prices. CamperDays encourages early booking for a reason. Firstly, there is a better chance you will get exactly what you want for your RV rental Ontario holiday. If you leave it until the last minute there might not be any suitable vehicle left for your trip. Secondly, CamperDays guarantees you fair cancellation conditions and free rebooking. In addition, with camper rental Ontario options, you get to save money. This is because you don't have to pay for accommodation and related expenses. Be sure to make use of the customer care team for any questions, from booking to campervan options and others. It's easier to answer your questions early on rather than when you're about to make a booking. This gives you room to make informed decisions and make necessary adjustments.
FAQs about Your Motorhome in Ontario
Yes, the campervan hire Ontario companies require a credit card to pay the deposit for the vehicle. This must be under the name of the primary driver.

The International Driver's License (IDL) is valid in Canada. However, some camper rentals might have a restriction on where you can drive your campervan to. So, ensure your rental agreement allows for international travel.

Many rental companies allow pets in their motorhomes. However, be sure to ask your rental company in advance.

In Ontario, those who drive a motorhome or a recreational vehicle are subject to special rules of the Ontario Highway Traffic Act. Therefore, the driver must obey the provisions as well as those provided by the general rules of the road. Please check with your camper hire company before making a booking or traveling on any road in Ontario.

No. Campgrounds are the only places where RVs can legally be parked overnight in Canada. Shopping malls and rest stops are prohibited for overnight parking.

The minimum age varies from one provider to another and is usually between 21 and 25. Check the minimum age requirements with various landlords for this information.

Yes, it is generally permitted to take a small child or baby with you in the motorhome. Ensure that you book a kids seat together with your campervan rental Ontario reservation. However, In Canada, child car seats must meet the National Safety Mark (NSVAC). So you need to be sure your camper rental Ontario company adheres to this condition before you bring a kid on board.
Motorhome Rentals in Ontario
Campervan rent Ontario agencies offer a great way to see all the sights this province has to offer. The nearest one can be found in Windsor, just a short drive from Detroit, Michigan. Alternatively, you can take a flight to Toronto or Ottawa and choose from any of the other regional options.
Share My Coach Chino
If you are looking for a reliable and experienced motorhome rental company in Ontario, Share My Coach Chino is the perfect choice. They've been in the business for over 25 years, and are dedicated to providing clients with high-quality vehicles at excellent rates. They offer a wide range of motorhomes to choose from. The perfect way to get to this campervan agency is via the Chino Airport. From the airport, it's just a short drive to the depot, most probably with a taxi.
Inland Empire RV Rentals
Inland Empire RV Rentals is another great option for those looking for a motorhome rental in Ontario. A family-owned and operated business, they take pride in providing the clients with quality vehicles and services. They have a wide variety of motorhomes to choose from at competitive rates. Take a taxi from Ontario Airport to Chino and rent your campervan in just seven to twelve minutes.
More than 700 locations worldwide
Worldwide campervan rental
Compare the prices for different campervans, locations, and dates in our price comparison tool and find the most affordable option for your trip.
We will help you find the perfect campervan for your trip

Our partners are available across the globe at more than 700 locations

We guarantee clear pricing and 100% transparency