Filter
2 Offers
for your holiday in Tampa
Cruise America C-30
Cruise America3.5/526 km from Tampa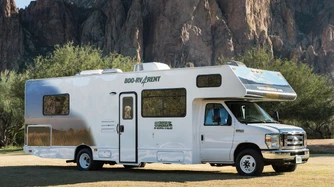 +14
6 adults/1 children
Automatic
Petrol
Kitchen
No kilometres incl.
4 beds
AC
Shower/WC
Pets allowed
€1,614.00
 / 
€115.29

 per night
Cruise America C-25
Cruise America3.5/526 km from Tampa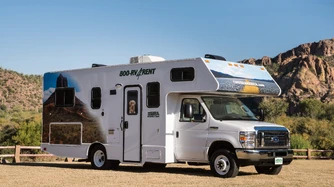 +14
4 adults/1 children
Automatic
Petrol
Kitchen
No kilometres incl.
3 beds
AC
Shower/WC
Pets allowed
€1,754.00
 / 
€125.29

 per night
A unique holiday experience
Motorhome rental in Tampa
How does CamperDays work?
CamperDays has come up with a very intuitive and user-friendly booking system that will live up to
the expectations of the most demanding campervan fans. The easy search engine takes you through a few simple steps and allows you to quickly secure your dream vehicle. The online form should be filled in with your holiday dates, and you will see a detailed list of results. On your left-hand side, there is a list of dedicated filters that will help you to narrow down your search. These include the number of passengers, equipment, rental company, or vehicle type. We also guarantee no surcharges on the pick-up.
1. Find an RV

Simply enter your dates and location to begin your search.

2. Receive offers

Request or book the campervan you want to rent for a great price.

3. Book and go

Complete your booking and your unforgettable adventure can begin!
Should you book a campervan early in Tampa?
Campervan enthusiasts love the States for the perfect condition of their roads, the abundance of highlights, beautiful nature parks, and interesting cultural monuments. It is a wonderful environment for campervan holidays, and there are plenty of places where you can rent a reliable vehicle. You can for example travel to Tampa, where you will be welcomed by a wide range of interesting campervans. In order to get hold of the best possible deal with the most affordable campervan, you should definitely consider becoming an early bird.Do not worry if you have many concerns or are still unsure about the exact time of your holidays, CamperDays is here to help you. Our experts will be pleased to answer all your questions and give you a few interesting pieces of advice that might come in handy while behind the wheel. Remember that with CamperDays, you can enjoy a wide range of benefits, including a transparent cancellation policy. If you wish to change the dates of your travel, there are also no hidden charges for reservation changes. Renting an RV is a go-to holiday option for free spirits, who enjoy staying independent of all schedules. Booking affordable airline tickets when they are still available is no longer your nuisance. inside a campervan, you can enjoy your own sleeping space, a place to rest, and kitchen, where you can prepare delicious meals. That allows you to save a lot of money that you would otherwise spend on accommodation and restaurants. What is more, travelling in a campervan is a perfect opportunity to get closer to your nearest and dearest.
FAQ - the most frequently asked questions about campervan hire in Tampa
An International Driving Licence is not mandatory in Tampa. Your national driving licence will be enough to rent a vehicle in this city.

Yes, it is one of the requirements to pay for the deposit with the main driver's credit card.

Some companies allow for pets in their vehicles. Check the rental conditions for more information on that topic.

Usually, it depends on the company. However, it is vital that you always inform the rental company of your choice about your plans.

Yes, there are multiple places where you are not allowed to enter while travelling in a campervan. Check the rental conditions or contact the CamperDays customer service for more details.

Yes, it is allowed within the areas of US national forest and grasslands as well as on Bureau of Land Management lands.

21 is the minimum age if you wish to rent a campervan in Tampa.

The majority of campervan hire companies in Tampa have nothing against toddlers in their campervans and will be pleased to welcome one in their vehicle.
Which rental companies are available in Tampa?
There are a number of interesting campervan hire companies in Tampa, including Cruise America.
Cruise America
Cruise America is an ideal choice for travellers who seek top-notch services. Apart from a standard insurance, you will enjoy 24/7 roadside assistance, a campsite manual, and motorhome introduction, which might come in handy for the less experienced campervan fans.
Full address of the Cruise America rental station in Tampa:
1601 US HWY41 South
FL 33570 Ruskin
Cruise America does not offer airport transfer. Do not worry – the branch can be easily reached from Tampa International Airport (TPA) with public transport or a taxi. Remember to avoid unlicensed vehicles.
More than 300 locations worldwide
Worldwide campervan rental
Experience an Alaskan winter, explore the Australian Outback or embark on a road trip through Europe – renting a campervan is the best way to travel any part of the world! Discover the ideal starting point for your holiday at our international locations. At CamperDays you can rent a campervan from the USA, Canada, Australia, New Zealand, Namibia, Botswana and many other destinations.
Internationally, we work with many well-established providers who rent out campervans/motorhomes: from Cruise America and Road Bear RV, who are well-known U.S. rental companies, to Jucy, whose core business is Australia and New Zealand, and Apollo, which is a global company with lots of locations in Europe, Australia and New Zealand.
Discover gorgeous cities, sunny Mediterranean beaches, deep green forests, and endless mountain ranges across Europe. With an RV, you are the master of your own destiny. Whether you want to visit multiple countries or linger around in one area for a longer period, having an RV at your disposal gives you plenty of choices.
Compare the prices for different motorhomes, locations, and dates in our price comparison tool and find the most affordable option for your trip.
United Kingdom | France | Germany | Italy | Norway | Portugal
One of the best ways to explore the beautiful countryside and cities of the USA and Canada is a good old-fashioned road trip. There is an abundance of different routes to take and tourist attractions to see. From Route 66, the most iconic road trip in the USA, to the breath-taking national parks, every adventurer will find something to their liking. Experience the scenic landscapes of North America with an RV and discover its diverse regions on a camper trip of a lifetime.
USA
Las Vegas | Los Angeles | Denver | Houston | Phoenix | Salt Lake City | Anchorage | Miami | Orlando
Canada
Expert advice

We will help you find the perfect campervan for your trip

Wide selection

Our partners are available across the globe at more than 300 locations

No hidden costs

We guarantee clear pricing and 100% transparency