Filter
2 Offers
for your holiday in Albuquerque
Cruise America C-25
Cruise America3.5/58 km from Albuquerque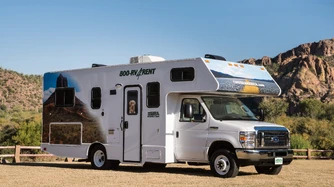 +14
4 adults/1 children
Automatic
Petrol
Kitchen
No kilometres incl.
3 beds
AC
Shower/WC
Pets allowed
€1,929.00
 / 
€137.79

 per night
Cruise America C-30
Cruise America3.5/58 km from Albuquerque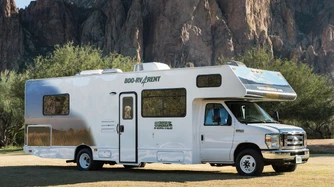 +14
6 adults/1 children
Automatic
Petrol
Kitchen
No kilometres incl.
4 beds
AC
Shower/WC
Pets allowed
€1,972.00
 / 
€140.86

 per night
A unique holiday experience
Motorhome rental in Albuquerque
How does CamperDays work?
CamperDays has prepared a smooth booking system that will help you to quickly find your dream campervan, along with all the essential features that you need on the road. Its intuitive interface will take you through the booking steps in next to no time. The online form has to be filled with your travel dates, and you will be presented with the available campervan options. In order to narrow down the list, there is a price range slider and a list of dedicated filters for your convenience. With CamperDays, you can be sure to expect no surcharges on the pick-up.
1. Find an RV

Simply enter your dates and location to begin your search.

2. Receive offers

Request or book the campervan you want to rent for a great price.

3. Book and go

Complete your booking and your unforgettable adventure can begin!
FAQ - the most frequently asked questions about campervan hire in Albuquerque
The most important document that will be required to rent a vehicle in Albuquerque is your national driver's licence. An International Driving Licence is not compulsory, but it might come in handy.

Yes, you always need the main driver's credit card to pay for the deposit.

Usually, rental companies in Albuquerque allow pets inside campervans. For more information, check the rental conditions.

There are rental companies that allow to cross borders. To be extra sure, check the rental conditions for details.

In the USA, you will find a number of areas where campervans are not allowed. Check the rental conditions for more details or contact the CamperDays customer service department.

When it comes to camping wild in the States, it is advisable to camp only in US national forests and grasslands as well as on Bureau of Land Management lands.

You need to be at least 21 in order to rent a campervan in Albuquerque.

The majority of campervan hire companies in Albuquerque will have nothing against toddlers inside their vehicles.
Which rental companies are available in Albuquerque?
In Albuquerque, the most popular campervan hire company is Cruise America.
Cruise America
Cruise America is known for its reliable alcove campervans. Apart from access to a very wide fleet of vehicles, you will enjoy a standard insurance and 24/7 roadside assistance.
Full address of the Cruise America rental station in Albuquerque:
10625 Central Ave NE
NM 87123 Albuquerque
In order to reach the depot from Albuquerque International Sunport (ABQ), it is best to take a taxi. It is the most convenient and the fastest option to reach the rented vehicle. Remember to always pick up taxis at official taxi ranks and avoid unlicensed vehicles.
More than 300 locations worldwide
Worldwide campervan rental
Experience an Alaskan winter, explore the Australian Outback or embark on a road trip through Europe – renting a campervan is the best way to travel any part of the world! Discover the ideal starting point for your holiday at our international locations. At CamperDays you can rent a campervan from the USA, Canada, Australia, New Zealand, Namibia, Botswana and many other destinations.
Internationally, we work with many well-established providers who rent out campervans/motorhomes: from Cruise America and Road Bear RV, who are well-known U.S. rental companies, to Jucy, whose core business is Australia and New Zealand, and Apollo, which is a global company with lots of locations in Europe, Australia and New Zealand.
Discover gorgeous cities, sunny Mediterranean beaches, deep green forests, and endless mountain ranges across Europe. With an RV, you are the master of your own destiny. Whether you want to visit multiple countries or linger around in one area for a longer period, having an RV at your disposal gives you plenty of choices.
Compare the prices for different motorhomes, locations, and dates in our price comparison tool and find the most affordable option for your trip.
United Kingdom | France | Germany | Italy | Norway | Portugal
One of the best ways to explore the beautiful countryside and cities of the USA and Canada is a good old-fashioned road trip. There is an abundance of different routes to take and tourist attractions to see. From Route 66, the most iconic road trip in the USA, to the breath-taking national parks, every adventurer will find something to their liking. Experience the scenic landscapes of North America with an RV and discover its diverse regions on a camper trip of a lifetime.
USA
Las Vegas | Los Angeles | Denver | Houston | Phoenix | Salt Lake City | Anchorage | Miami | Orlando
Canada
Expert advice

We will help you find the perfect campervan for your trip

Wide selection

Our partners are available across the globe at more than 300 locations

No hidden costs

We guarantee clear pricing and 100% transparency