1 offers
for your holiday in Zagreb
Family Standard
McRent4.5(33 Reviews)11 km from Zagreb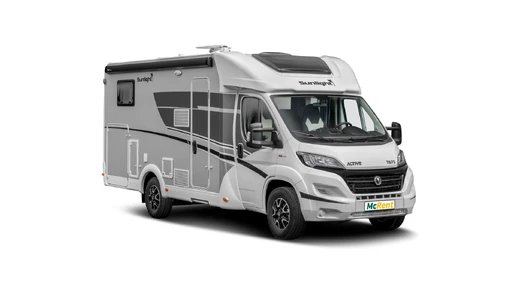 +10
4 adults
Manual
Diesel
Kitchen
Unlimited kilometres
3 beds
AC
Shower/WC
€2,325.00
 / 
€166.07

 per night
Reviews Overview
CamperDays stands for transparency! That's why we give every customer the opportunity to share their experiences with other customers after their campervan trip.
How does CamperDays work?
If searching for a perfect vehicle gives you sleepless nights, there is nothing simpler than trying out our simple booking tool. Our online system has been created for campervan enthusiasts in mind. You will secure your RV within minutes. Fill in the dates of your trip, and leave the rest to the search engine.
After the dates are filled in, you will be presented with a list of available vehicles along with their specification and photos. You can also read the terms and conditions for each vehicle. The list can be easily modified with the wide choice of filters. Among the most popular ones, there are availability, type of vehicle, and the number of people that a given campervan can accommodate. You can also decrease or increase the price range with a special slider. What is more, our prices are transparent and easy to follow - without any hidden surcharges on the pick-up.
Simply enter your dates and location to begin your search.

Request or book the campervan you want to rent for a great price.

Complete your booking and your unforgettable adventure can begin!
Why is it worth booking a campervan in Croatia early?
Croatia offers a perfect environment for long family campervan trips. There are plenty of places around the country where you can easily rent a campervan. Even though its climate makes the country suitable for travelling virtually all year round, the most popular period for campervan rental is in May and between July and August. Due to the fact that this particular period is also characterised by the highest demand, it is best to take early steps and secure your dream vehicle as early as almost 4 months in advance. At that time, the competition among travellers is rather low. Thus, you will have the biggest chance to get your dream vehicle at the most affordable price. The average daily price for campervan hire in Croatia is 137.56 euros, whereas the average travel time is 17 days.
If you are still unsure about the exact dates of your holidays or you would like to ask our experts a few questions, you can contact the CamperDays customer service department. It is filled with professionals who will answer all your questions connected with rental companies, vehicle makes, and cancellation conditions. Remember that at CamperDays, there are no hidden charges for reservation changes and that you will enjoy a very transparent cancellation policy.
If you are searching for autonomy during your holidays, a campervan will be your go-to vehicle. You are not bound by any schedules and you do not have to worry about booking airline tickets when they are still available at an affordable price. Along the way, you can change your plans whenever you please, and you do not have to worry about accommodation, car rental, or restaurants. You will also spend more time close to Mother Nature. A campervan is also a promise of waking up to the most wonderful views!
FAQ - the most frequently asked questions about campervan hire in Croatia
If your driver's licence has been issued in the EU, you do not have to own an International Driving Licence.

Yes, you need to pay for the deposit with the main driver's credit card.

Yes, but you should notify the rental company if you are planning on crossing borders.

Many companies have nothing against pets in their motorhomes. For more details, check the rental conditions.

Never camp wild in Croatia as it is strictly forbidden.

You need to be 25 in order to rent a vehicle in Croatia.

Most of the rental companies apply no special restrictions when it comes to travelling with babies.
Which rental companies are available in Croatia?
Croatia is a treasure trove of diverse campervan hire companies; however, the most popular one in McRent.
McRent
Number one company in terms of the demand in Croatia is McRent. There are a number of complimentary amenities that it offers in its basic package. These include: a standard insurance, unlimited mileage, and outside cleaning. You will also benefit from the option of additional driver. The company is available in Zagreb.
Many campervan rental companies in Croatia offer airport transfer services. However, it is best to contact the company to arrange it in advance. If you would like to reach any of the branches on your own, it is advisable to take a taxi. Remember to pick them up at official taxi ranks near the airport.
More than 700 locations worldwide
Worldwide campervan rental
Compare the prices for different campervans, locations, and dates in our price comparison tool and find the most affordable option for your trip.
We will help you find the perfect campervan for your trip

Our partners are available across the globe at more than 700 locations

We guarantee clear pricing and 100% transparency